Photos by Bowery Bagels
Michael Madigan and his wife, Lynn, love to feed people. Hosting brunch for groups both big and small is their forte. Plus, it's the perfect venue to feature Madigan's phenomenal Bowery bagels. In fact, they recently built a home at the coast, which they designed specifically for entertaining. "A couple of times a year, we bring guest chefs out from Portland to host charity dinners," says Madigan, "but every time we go out there, we end up throwing a big brunch."
He likes to keep the bagel buffet the focus and design accompaniments around what's seasonal. He dials up the bagel toppings with herbed and roasted vegetable cream cheeses (or "schmears," if you want to keep it authentic), pickled fruits, vegetables and, of course, cured fish. "I like doing gravlax instead of lox in the home kitchen because it's easy to make. Most people already have the key ingredients in their pantries and need only to buy a pound or two of fish. You can also experiment with the ingredients. Most variations include vodka or aquavit, but local Clear Creek Distillery's Douglas Fir Brandy is unbelievable as a fish cure," explains Madigan. He makes many of his own pickled fruits and vegetables but swears by local MoonBrine pickles when it comes to cucumbers.
---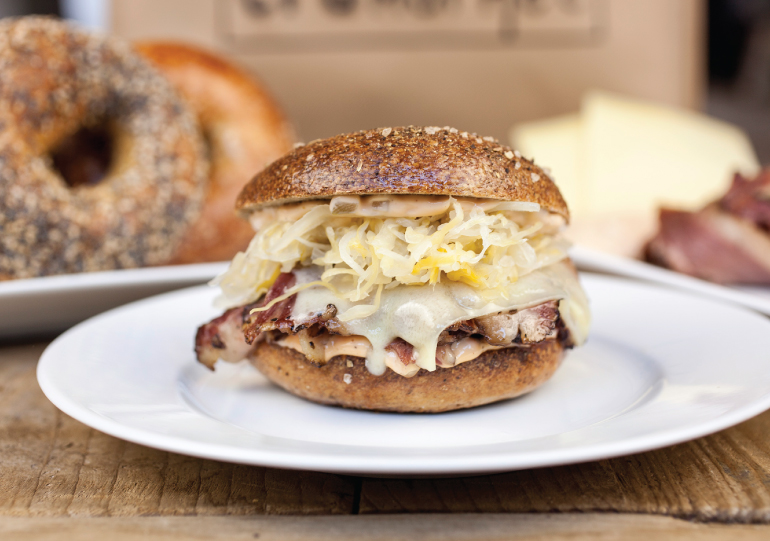 ---
In addition to the bagel toppings, a simple frittata of seasonal veggies, a fruit salad and some breakfast meats round out the meal. In the spring, citrus is still in season, and asparagus is a good fit for egg dishes. As the weather warms, berries and berry compote make a premier. Madigan brings his house-cured bacon, and they occasionally splurge on fresh crab for the frittata since they're right by a port.
Madigan has a strategy for maximizing the mingle. "When people first arrive, we like to have small finger foods out to get started — a small baked bite or a frittata square to go with the drinks and coffees," he says. "This way guests can take full advantage of the drink options, and we can steer everyone to the primary meal around the same time." And by drinks, he means the make-your-own-mimosa bar and homemade Bloody Mary mix, which are a signature at any Madigan brunch.
Finally, don't forget dessert! "While you're carb loading anyway, why not?" laughs Madigan. "Lynn is a wonderful self-taught pastry chef. We usually finish with her blintzes, black-and-white cookies or rugelach to keep it East Coast authentic. And for pastry, she goes old-school with lard, and that makes all the difference. Tails & Trotters got their start with us at KitchenCru, so we've got the best hookup."
---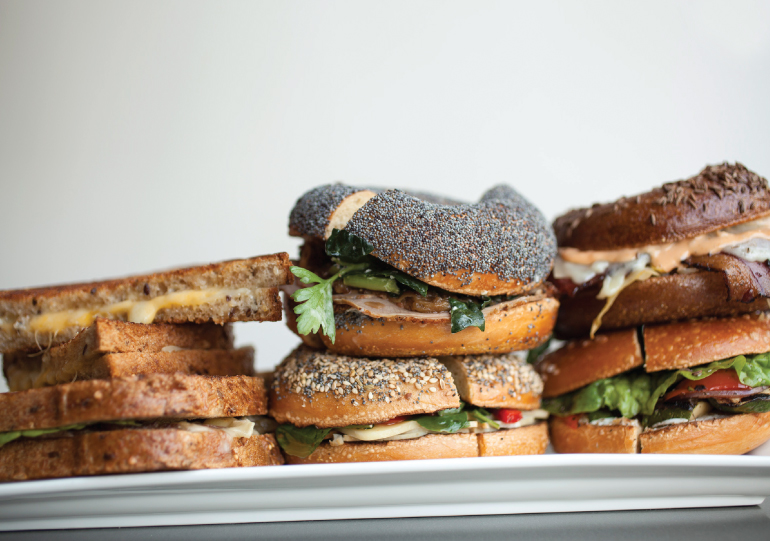 ---
MADIGAN's recommendations for staying local while you go all NYC on your next brunch:
Gravlax from local, wild-caught salmon (We published a recipe for Gravlax in our latest issue. Find it here!)
Gravlax cure with Clear Creek Distillery's Douglas Fir Brandy
Pickled things from MoonBrine Pickles
Cured meats and bacon from Tails & Trotters
Include a schmear that's vegan (it's Portland, after all)
Seasonal produce from your local farmers market for salad and frittata
Bowery bagels!
---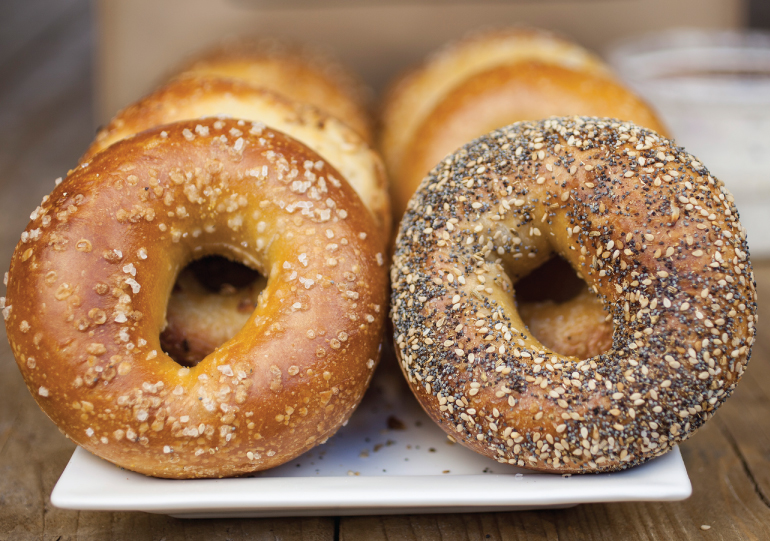 ---
The Best Way to Heat your Bagels
To Warm Up:
Wrap the bagel in aluminum foil with a few drops of water before placing in oven to warm for eight to 10 minutes. If you want it toasted, take the bagel out, slice it in half and then place it in toaster or oven.
To Toast in the Oven:
1. Preheat the oven to 150C/300F.
2. Cut the bagel in half so that you don't have to do it after heating the bagel – it's going to be hot!
3. Put the bagel on a baking sheet.
4. Toast the bagel until the top is crusty and the color you desire.
Pro Tip:
Every toaster seems to be different. Experiment with different heat settings to find the one that works best with your toaster and the brand of bagels that you buy.
---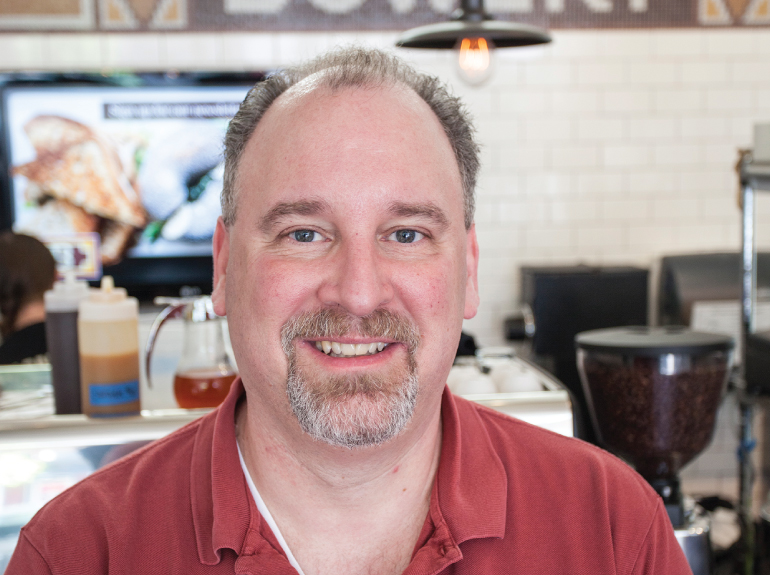 ---
Michael Madigan is a warm and engaging East Coast transplant who's called Portland home for almost 30 years. His think-tank approach to culinary startups resulted in his brainchild, KitchenCru. Many of Portland's well-known food brands got their start at this "culinary incubator" — a 4,800-square-foot community kitchen in Portland's Old Town neighborhood. When the only PDX bagelry, Kettleman, sold to a national chain a few years back, Madigan saw an opportunity. He set up a bagel pop-up shop at KitchenCru and started selling his classic, NYC-style bagels out the front door. They sold out within minutes. Within a matter of months, Bowery Bagels became the bagel of choice for everyone from New Seasons to Burgerville. In 2012 Madigan opened his own brick-and-mortar bagel shop across the street from KitchenCru. In 2016, Bowery moved into a brand-new bakery in the Kenton neighborhood of North Portland, where the bagels are still baked fresh daily.