Photography by Jason Kaplan
Nothing says summer quite like the feeling of dining al fresco; with the sun on your shoulders and good friends around, Oregon's food bounty truly sings. Chef Gregory Gourdet of Portland's famous rooftop mecca, Departure in the Nine's Hotel, created a few Asian-inspired recipes for Oregon Home, perfect for capturing the truly savory flavors of summer.
---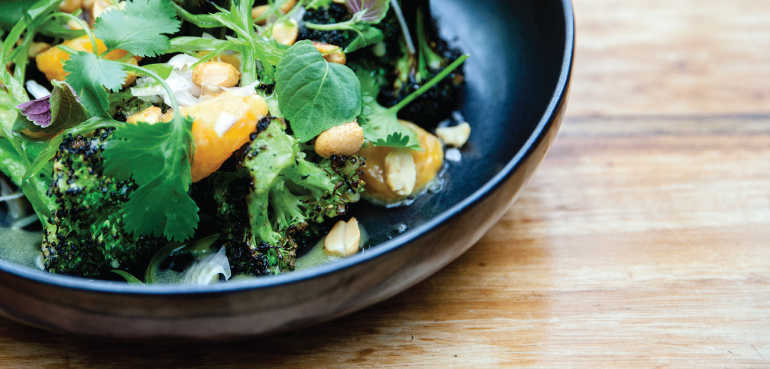 ---
Grilled Broccoli, Orange, Peanuts, Hot Mustard Dressing
FOR THE DRESSING
1 tbs mustard powder
2 tbs water
3 oz dijon mustard
3 oz honey
1 tbs kosher salt
6 oz rice wine vinegar
5 oz extra virgin olive oil
FOR THE SALAD
2 cups broccoli mostly tops, stems peeled
3 whole oranges peeled and segmented
1 small red onion, sliced thin
2 oz toasted peanuts, crushed
cilantro leaves, to garnish
vegetable oil, for grilling
kosher salt, for seasoning
flake sea salt, for finishing
In a bowl, whisk together mustard powder and water to form a paste. Whisk in dijon mustard, honey and salt then rice wine vinegar. Slowly whisk in extra virgin olive oil to emulsify dressing. Reserve. Toss broccoli with vegetable oil to just lightly coat and kosher salt to season. Grill on high heat until it becomes bright green, charred around the edges and just tender but still crisp. Let cool briefly and cut into bite size pieces. In a large bowl, combine broccoli with orange segments, red onion, cilantro leaves and flake sea salt. Sauce with dressing to just lightly coat salad. Place in a serving platter and garnish with toasted peanuts. Enjoy!
WINE PAIRING
Maryhill 2016 Viognier
Brooks Wine 2015 Willamette Valley Riesling
---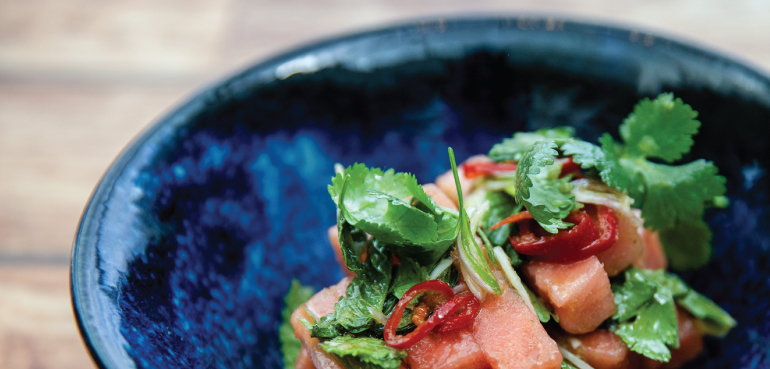 ---
Watermelon Salad, Thai Basil, Fish Sauce, Chilies
FOR THE DRESSING
1 small red chili, sliced thin, or more for spicy
1 small clove garlic, minced
4 oz fish sauce
4 oz maple syrup
6 oz lime juice
FOR THE SALAD
1 whole watermelon sticks, cut 1/2"x3" long
1 small red onion, sliced thin
10 leaves Thai basil
20 leaves mint
20 leaves cilantro
flake sea salt, to season
extra virgin olive oil, to garnish
Combine sliced chili, minced garlic, fish sauce, maple syrup and lime juice in a bowl. Whisk well and reserve. In a larger bowl combine watermelon sticks with red onion, and season with flake sea salt. Drizzle salad well with enough dressing to just coat watermelon. Add herbs and toss gently to mix all ingredients. Plate stacking sticks and building herbs around. Drizzle with olive oil and serve. This dish is best served using cold watermelon. Extra dressing holds for 4 days. Enjoy!
WINE PAIRINGS
Rain Dance Vineyards Nicholas Vineyard Estate Riesling
Adelsheim 2015 Willamette Valley Chardonnay
---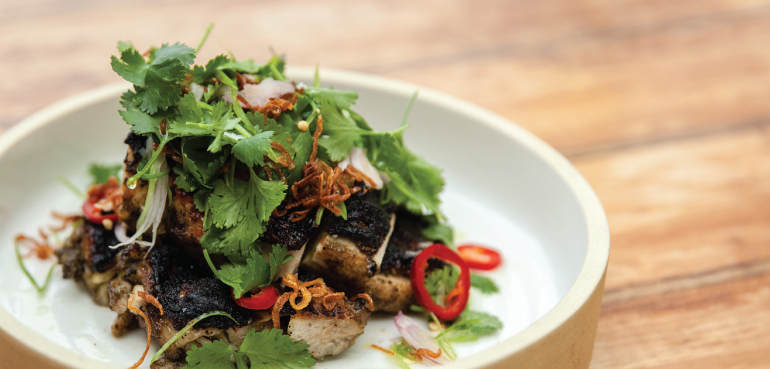 ---
Grilled Lemongrass and Black Pepper Chicken
FOR THE MARINADE
4 stalks lemongrass, tough outer layer peeled, stalk pounded and sliced thin
15 cloves garlic, minced
4 oz tamari soy sauce
2 tbs fish sauce
6 tbs palm or brown sugar
1 tbs black peppercorn, toasted
1 bunch cilantro stems, chopped
1 tbs coriander seeds, toasted
1 tsp salt
FOR THE SALAD
1 bunch cilantro leaves
1 small red fresno chili, sliced thin
1 small shallot, sliced thin
2 whole limes, for juice
extra virgin olive oil, for dressing
flake sea salt, for seasoning
FOR THE DISH
1 whole chicken, boneless, skin on, cut into quarters
vegetable oil for grilling
salt for seasoning
In a blender, crush peppercorn and coriander into a powder, add lemongrass, garlic, soy sauce, fish sauce, sugar, cilantro stems and salt. Puree all until as smooth as possible. Rub chicken well with marinade and let marinade overnight. To grill, drizzle chicken pieces with vegetable oil and grill until cooked and skin is well charred. For the salad, combine cilantro, red chili, shallots, and dress with juice of limes, sea salt and olive oil. Let chicken rest from grilling, cut into bite size pieces, place in a platter and serve with salad. Enjoy!
WINE PAIRINGS
Dobbes Family Estate Grenache Blanc
---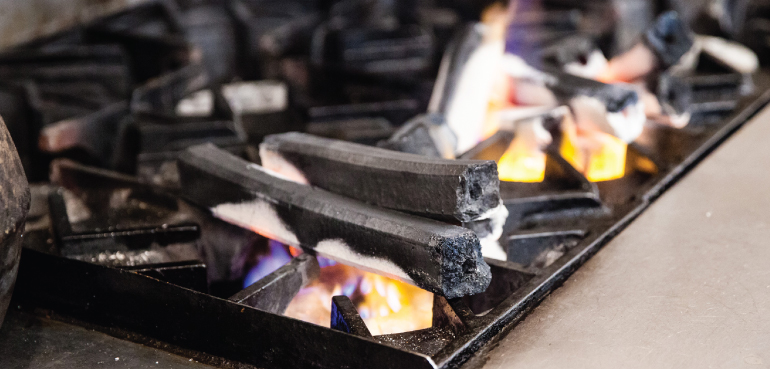 ---
Tips for Hosting the Perfect Backyard BBQ
Plan ahead
Make a list of tasks and determine what you can do ahead of time.
Let guests do the work
Set up two tables: one for dining and one for food and drinks. Guests serve themselves. Provide pre-rolled silverware in a basket and place condiments on the dining table.
Make easy look elegant
For a casual party, gather greenery and flowers from your back yard, use mason jars and serve water with fresh fruit for garnish.
Stock your home bar
To make things easier, don't offer drinks that require mixers. Serve beer and wine casual-style in colorful tubs full of ice.
Send them off with a parting gift
As the night goes on, some guests will linger past bedtime. Offer to send them home with a few leftovers packaged. Works every time.