Pick up some just-made rustic pizza bread or bucatini at Portland's Cooperativa Market, a curated Italian market by chef Sarah Schafer. Add your choice of spring vegetables and you'll have a quick meal that slays for every member of your quarantine household.
---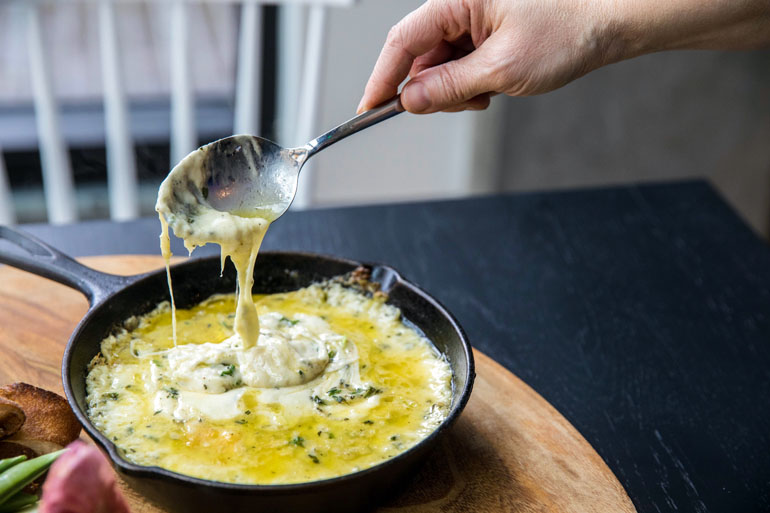 ---
Cooperativa Baked Spring Italian Fonduta with Green Garlic and Thyme
Serves 4
This dish unites the richness of fontina with a celebration of spring green garlic and vegetables. Meant to be enjoyed much in the same way as fondue, prepare an assortment of spring vegetables such as carrots, radish, peas, artichokes, roasted spring onions, charred hearty greens, overwintered potatoes or new potatoes.
Spring carrots, radish and peas in shell can simply be washed and set aside. Artichokes can be cooked with your favorite method — steaming or roasting. Spring onions and potatoes may be roasted in the oven with olive oil, salt and pepper. Firm radicchio or endive may be cut in half, charred in a cast-iron pan and seasoned with salt and pepper.
Gather the bounty of the season and keep it simple; this is meant to be a relaxing recipe to share. We also like to cut some pizza bianca (rustic bread we bake daily at Cooperativa) into strips for dipping. The more items you assemble for dipping, the more beautiful your presentation will be. But there is no harm in enjoying just the fonduta with freshly baked bread!
1 ½ pounds good Italian fontina, rind cut off, cheese cut into 1-inch pieces
¼ C extra-virgin olive oil
3 stalks green garlic (bulb and scape), sliced thin
1 t fresh thyme, picked
1 t fresh rosemary, chopped
Smoked flake sea salt
Freshly ground black pepper
Preparation:
Turn on the broiler of your oven. The fonduta can be made as individual servings each in their own small dish or as one whole sharing dish (these recipe instructions are for individual dishes). In four small cast-iron pans (small baking dishes will work, too), divide the cheese between the pans evenly. Drizzle each dish evenly with olive oil. Distribute the garlic, thyme, rosemary, salt and pepper between each dish. Broil until the cheese is melted and bubbly, 6 to 7 minutes. Carefully place each dish on a napkin or trivet. Begin dunking vegetables and bread.
---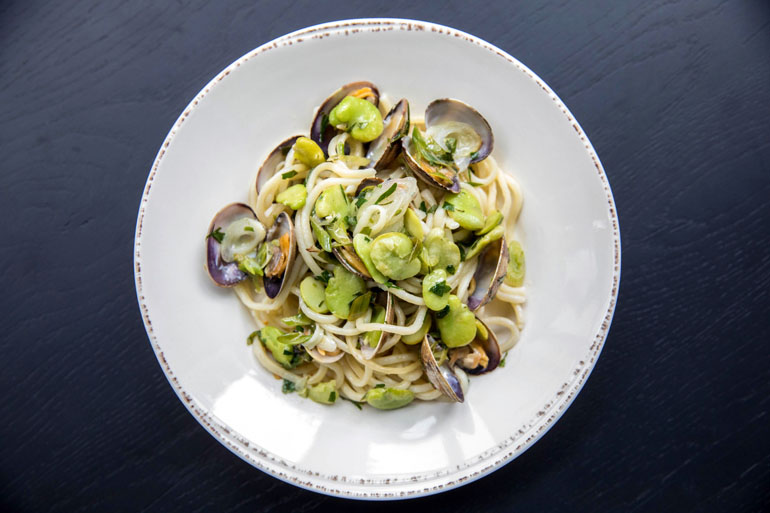 ---
Cooperativa Spring Bucatini and Clams in Parchment
Serves 4
1 pound bucatini pasta, or spaghetti
1 ½ pounds clams (about 32, for 8 per parchment), scrubbed
6 T butter, softened, divided
2 T green garlic, chopped (greens included)
1 C fava beans, shelled
8 T olive oil
¼ C white wine
¼ t chili flakes
½ C chopped parsley
Salt and freshly ground pepper
Preparation:
Bring a large pot of salted water to a boil (salted like the sea, as they say in Italy). Drop in pasta and cook for about 5 minutes, just half of what you normally would cook it for (remember, you will be cooking again in the parchment). When finished par cooking, drain and run under cold water. Toss par-cooked pasta in a touch of olive oil to keep from sticking. Refrigerate until needed.
Preheat your oven to 425 degrees. Tear four sheets of parchment, each about 2 inches long. Rub 1 tablespoon of the butter in the center of each piece of parchment. Divide the pasta amongst the four parchments equally, keeping to the center. Add your clams, green garlic, fava beans, olive oil, wine, chili flakes, chopped parsley, the rest of the butter, a touch of salt (not too much as the clams will add some salt on their own naturally) and fresh pepper.
Next, pull the long-edge sides of the parchment up over the mixture to meet in the middle, and fold the edges down, rolling tight over the mixture like a cigar. Then fold the other two sides separately to meet the middle fold, in a rolling fashion. You are left with a small package securely holding the contents of the recipe. The parchment will keep the flavor and steam inside and allow the clams to open.
Transfer your packets carefully to sit on a baking sheet. Bake in your preheated oven for 7 to 8 minutes or until you can tell the clams have opened. When the paper browns a little, that is another sign the clams have cooked. Transfer the parchments to individual large rimmed bowls or plates, and open each one carefully as there will be steam trapped inside.
---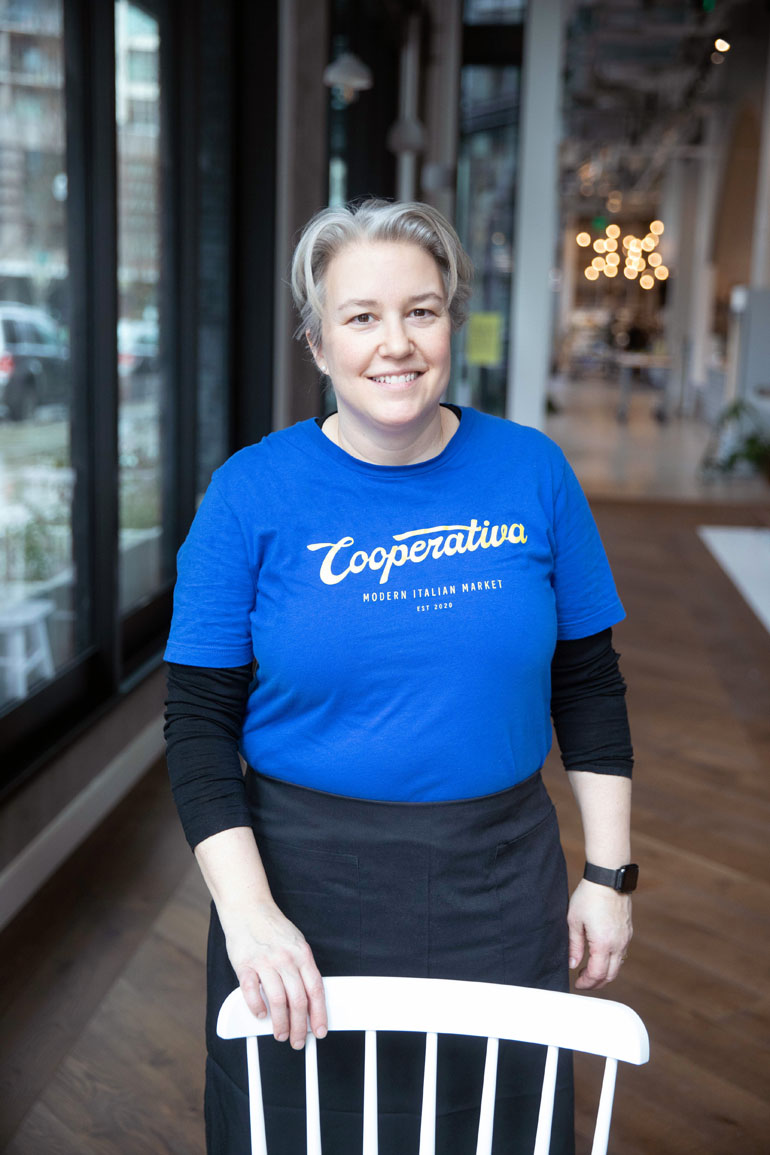 ---
"Dinner doesn't need to be overly complex. I can grab pizza, fresh pasta or farm produce for however I'm feeling at the end of the day on my way home."
–Chef Sarah Schafer