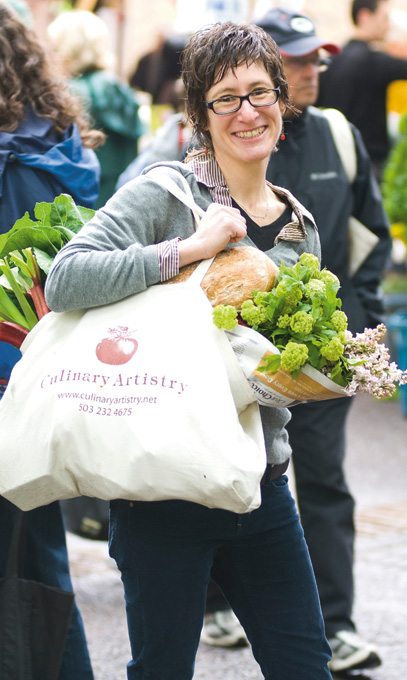 Chef Jenn Louis chooses ingredients at the Portland Farmers Market based on a loose plan. 
// Photo by Paula Watts
One blustery spring Saturday morning, Jenn Louis, executive chef and co-owner of Lincoln restaurant and Sunshine Tavern, hit the Portland  Farmers Market — like so many Portland chefs — with an empty canvas tote slung over her shoulder.
Instead of looking for food for her Portland restaurants or catering company, Culinary Artistry, Louis sought out ingredients for a simple meal she would cook at home: three courses to represent the season.
To avoid ending up with a collection of ingredients that wouldn't work together — like elongated French radishes, pickled watermelon rinds and a stick of sopressata —Louis suggests arriving at the market with a loose plan, especially if you're the kind of chef who doesn't like to improv.
"Today I'm thinking bruschetta, baked eggs and a rhubarb shortcake," she said, as she examined a bundle of pencil-thin asparagus. "But I've got to see what I can find."
Sounds easy, but as any farmer's market shopper understands, the challenge comes from having a plan and simultaneously playing it by ear. Louis always begins by identifying the protein in the meal. "The protein is usually the thing I want to highlight. Buy the other ingredients around it. Things that go well together."
---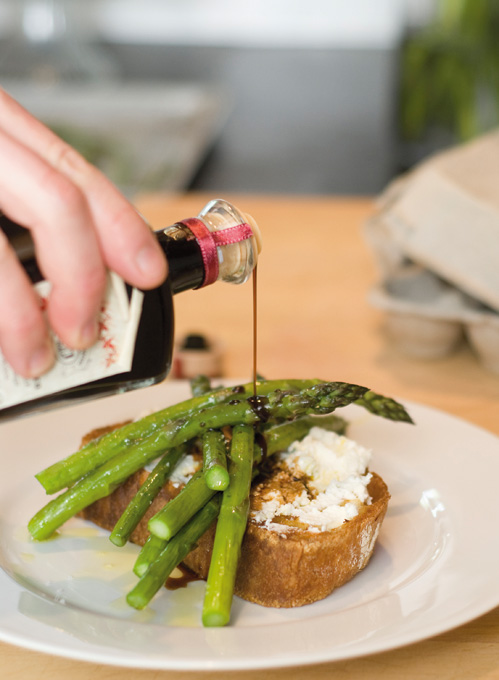 In her home kitchen, Louis pulls together the simple supper: asparagus bruschetta, baked turkey eggs, tesa and greens, and rhubarb shortcake.
// Photo by Paula Watts
She also recommends keeping it simple.
"You go to the farmers market to get really good product that's really fresh. If you add too many things you're not going to taste what it is you're actually trying to highlight."
For the first-course bruschetta, Louis knew she needed fresh bread, some kind of cheese and a vegetable she could quickly sauté. While she had a crumbly cheese in mind, a soft chevre from Fraga Farm grabbed her attention. "I like that it's on the softer side. I can just swipe it over slices of bread then top it with the asparagus."
At the Pine Mountain Ranch stall, Louis spotted eggs that looked like they came from Labrador-sized chickens.
"Turkey eggs," she exclaimed. "I never find these!" While she was already planning to bake chicken eggs among sautéed greens flavored with some cured pork, the large, orange-yolked turkey eggs would make the dish extra special.
---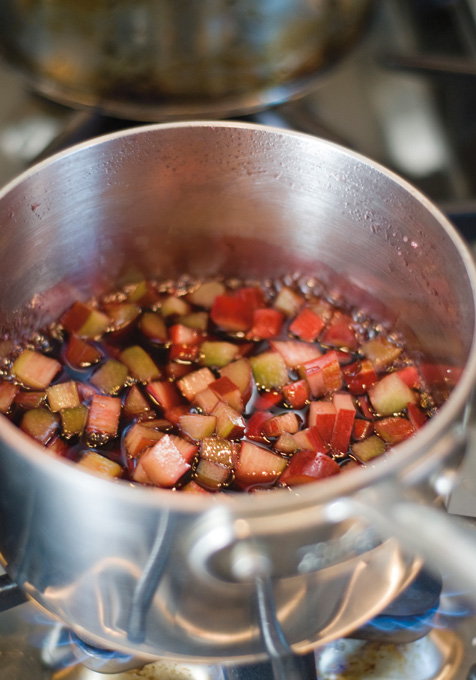 Rhubarb simmers in a red wine, sugar and spice mixture.
// Photo by Paula Watts
Louis navigated stalls filled with butterhead lettuce, carrots, leeks, turnips, sugar snap peas, rapini, chives, parsnips, spinach and fiddlehead ferns, choosing a pint of spongy morels, a slipper loaf of ciabatta, green garlic and collard greens.
She stopped periodically to say hello to friends, scribble notes and cross items off her list.
Finally, she bagged some rhubarb for a "conserva," a jammy sauce that could be made with any kind of seasonal fruit and spooned over biscuits.
At home, she pulled out biscuit dough she made the night before — a good way to make day-of preparations easier. She chopped vegetables and started sautéing greens in one of her many cast-iron pans. "You should cook everything in cast iron," she says, "except for fried eggs." She likes it for its great conducting ability, "and it's lovely to look at."
Within about an hour, her three-course supper came together, the result of basic cooking techniques and just a few special ingredients. "I'm not very fussy," Louis said. "Simplicity is gold for me."
---
Jenn Louis' Tips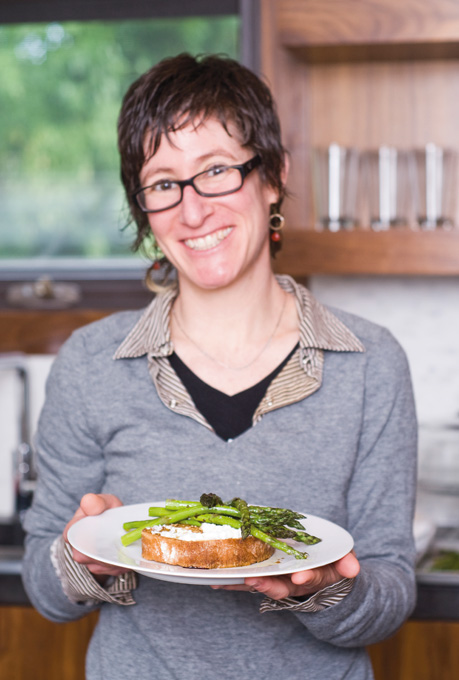 Arrive at the market as early as possible to get the best produce.
Bring a simple bag or tote so you don't have to fuss with plastic bags.
Take the time to talk to vendors. "They spend a lot of time and love growing their food. Besides, it's always nicer to have a story about what you're eating and sharing with friends," she says.
Don't forget to buy fresh flowers, especially if you'll be entertaining later that evening.
Buy one ingredient you've never cooked before. "Learning is part of cooking. It's important to try new things and not be afraid to fail."
Know what you have at home before you leave. No need for a full inventory, but know if you have dry pasta, butter, olive oil, garlic and other basics.
Base your meal on a protein, either one you can count on finding at the market or something you have at home. Eggs are always a good bet.
Make a list, even if it's as basic as "vegetable to top bruschetta."
Prepare to be flexible. Don't become distraught when you can't find pears for a crumble. Instead, buy whatever fruit looks good and adapt.
---
Recipes
Baked Turkey Eggs with Tesa, Collard Greens, Green Garlic, Morel Mushrooms and Cream
Serves 6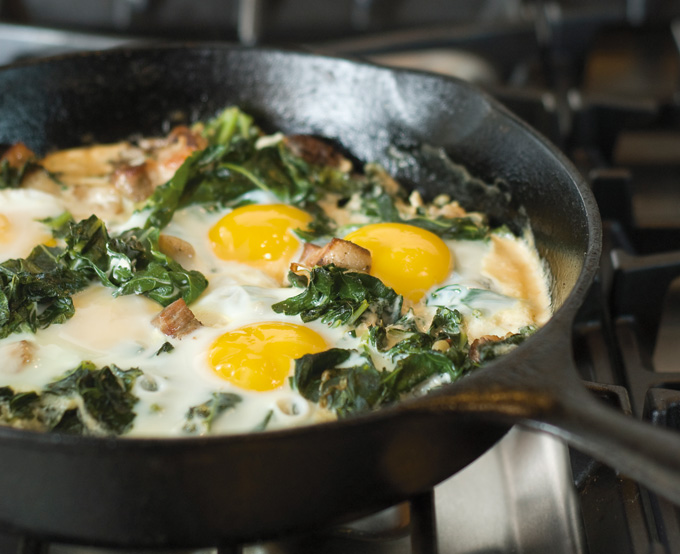 3 tablespoons olive oil
½ pound tesa (or bacon), cut into lardons
¼ pound small morel mushrooms, cleaned
1 medium length green garlic, white part only, sliced thinly
1½ pounds collard greens, blanched and cut into 1-inch ribbons
1½ cup heavy cream
6 turkey eggs
Kosher salt
Freshly ground black pepper
Preheat oven to 400 degrees. Over medium heat, pour olive oil into a 10-inch cast iron pan. Add lardons and sauté until starting to brown. If morel mushrooms are large, cut into bite-sized pieces. If small, use whole. Add morel mushrooms to pan and lower heat to medium. Add green garlic and collard greens.  If mixture is dry, add 2 tablespoons of olive oil. Season with salt and pepper, add cream and stir until combined. Crack eggs over mixture, season eggs lightly with salt and pepper and place in oven. Bake until egg whites are set and yolks remain runny. Serve immediately.
---

Laminated Buttermilk Biscuits
Makes 6 biscuits
2 cups all-purpose flour
1 teaspoon kosher salt
1 tablespoon plus 1/4 teaspoon baking powder
1/2 teaspoon baking soda
5 tablespoons unsalted butter (2 ½ ounces), thinly sliced
1 cup buttermilk
Preheat the oven to 450 degrees. Position a rack in the upper third of the oven. In a large bowl, whisk 2 cups of flour with salt, baking powder and baking soda. Using fingers, rub in the sliced butter, leaving pea-sized pieces of coated butter. Freeze the mixture until very cold.
Stir in the buttermilk until a raggy dough forms. Transfer the dough to a lightly floured work surface and press or roll into a 9-by-7-inch rectangle, about 3/4 inch thick. Fold the rectangle in thirds like a letter, then fold the rectangle in half to make a little package. Press or roll out the dough to a 9-by-7-inch rectangle again. Repeat the folding process once more, then roll the dough out one more time to a 9-by-7-inch rectangle. Using a 3 1/2-inch round cutter, cut 4 biscuits. Gently pat the scraps together and cut out 2 more biscuits.
Arrange the biscuits on a large baking sheet. Bake for about 12 minutes, or until the tops and bottoms are golden and the biscuits are cooked through. Rotate the baking sheet halfway through.
---

Rhubarb Conserva
Serves 8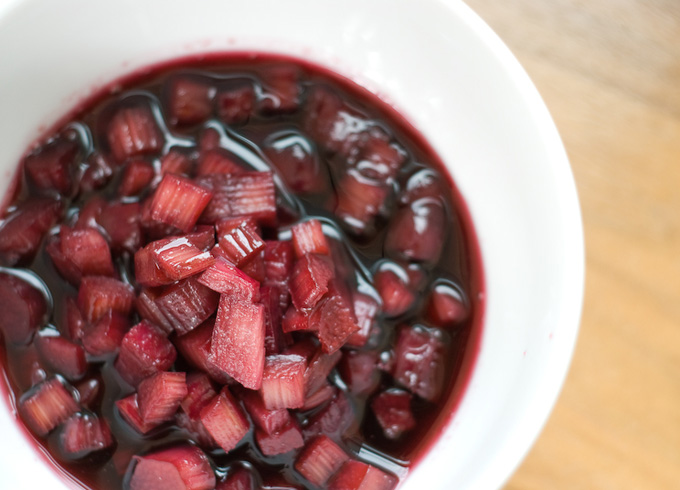 2 cup red wine
2 cups sugar
1 stick cinnamon
2 teaspoons coriander seed
1 teaspoon anise seed
3 cups rhubarb, small dice, no leaves or stems
1 teaspoon lemon juice, or just enough to raise acidity
Kosher salt
Make an ice bath: Fill a bowl with ice and place another bowl on top, sitting on top of ice.
In a small saucepot, bring first 5 ingredients to a simmer until sauce coats the back of a spoon, but is not thick. Strain through fine mesh sieve into an ice bath.
When cold, place syrup into a small sauce pot and bring to a simmer. Add rhubarb and cook in syrup for a couple minutes, just until fruit is cooked. Pour conserva into the ice bath and adjust flavors with lemon juice and salt to taste.