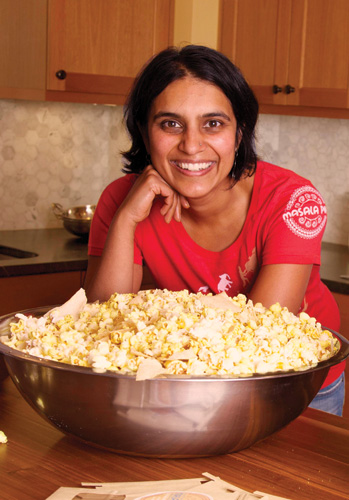 Neha Patel wanted to launch a small food business in Portland, but the cost of leasing a large commercial-grade kitchen proved prohibitive. Fortunately, Oregon is one of only three states that will license production of commercial foods at home as long as certain requirements are met. "It's a nice little opportunity for people who want to tinker around and see if the food business is for them," Patel says. When it came time to remodel the home kitchen in her 1901 Portland cottage, Patel made sure the design worked not only for her young family of four but also for her spiced popcorn snack company, Masala Pop.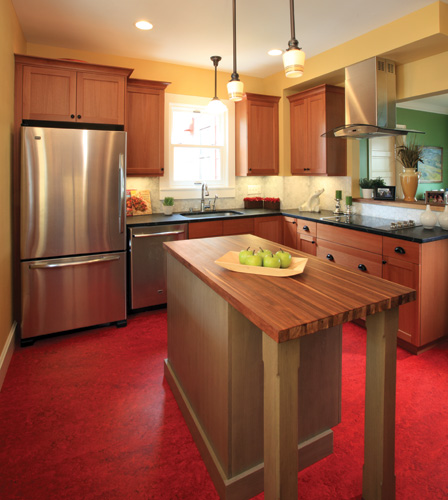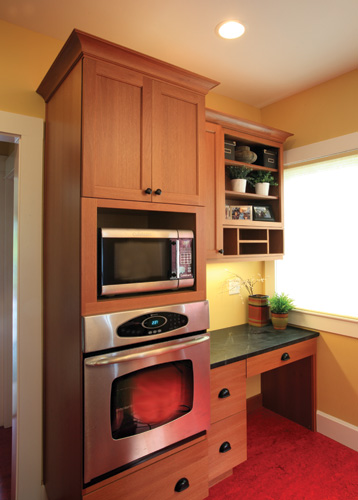 CHALLENGE:Patel struggled to design the space herself. The budget was tight and the space limited, about 140 square feet. "I blue-taped the entire floor in all these different configurations; tape on top of tape on top of tape."
SOLUTION: Patel contacted the interior design department at Portland Community College to ask for recommendations of graduates looking to build their portfolios. She met Patricia Dilworth. "She was fantastic. She really listened," says Patel. And her fee was "more than reasonable."
TIP: By rethinking the space, Dilworth found room for an island with outlets, storage, spice rack and countertop to serve as "popping central." A separate cooktop and oven made storage and prep space flow better. Vintage-style pendant lights from Schoolhouse Electric & Supply Co. in Portland are so stylishly spot-on, "they make the lights in the rest of the house look bad."
CHALLENGE: Eco-friendly construction was important to Patel, who previously worked as a sustainability consultant, but price was an issue.
SOLUTION: Patel chose eucalyptus-wood cabinetry from Huggy Bear's Cupboards in Portland because the tree grows almost as quickly as bamboo. The natural linoleum flooring from Linoleum City is bio-based, durable and affordable.
TIP: Go bold. The red color of the Marmoleum flooring "is the first thing everyone comments on."
CHALLENGE: Every business has paperwork, but the house had no room for an office.
SOLUTION: By forgoing a little drawer space, they created a small desk beside the oven, perfect for responding to email or managing the website.
TIP: The bar between kitchen and dining room served as a labeling station when the "Masala Pop R&D Team" — her mom and dad — visited from Maine.
CHALLENGE: The state requires separate storage for foods processed for commercial use. "I can't mix my kids' cereal with my popcorn," says Patel.
SOLUTION: A designated "pantry" cabinet was designed and built. The moldings match others in her cottage-style house.
TIP: Patel found a single deep sink more useful for cleaning large pots and pans than a traditional divided kitchen sink.