Cameron Lee Dunlap likes it wild. At Morchella, the foraging-inspired restaurant he opened in Irvington last fall, the chef's menu features dishes that aren't just inspired by Oregon ingredients but from the forest floor, its shrub layer, its understories. One focal point is the many species of mushroom that proliferate in Oregon forests season by season. Chanterelles, porcini and the morels that give the restaurant its name ("morchella" refers to the morel genus) — they all find inventive pairings in both meat-inspired and vegan preparations. We hiked Forest Park with Dunlap to see what we could forage for dinner.
---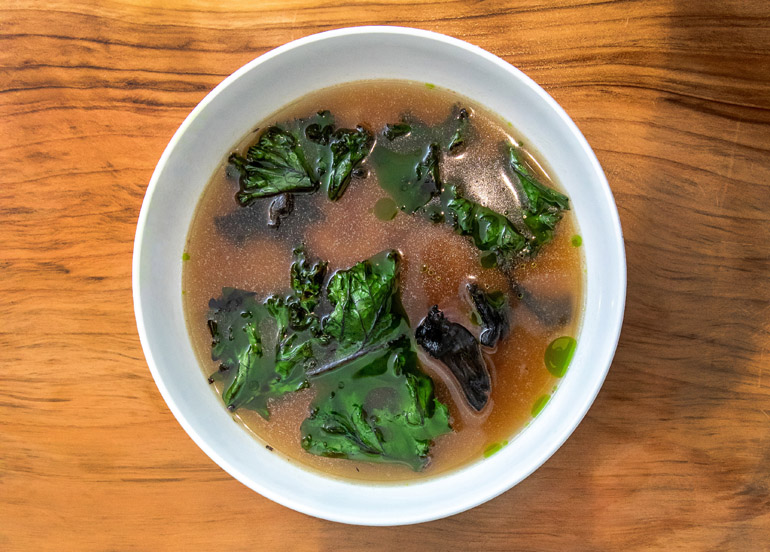 Porcini Broth and Vegetable Soup
Recipe by Cameron Lee Dunlap
Broth ingredients:
1 yellow onion
1 cup dried porcinis (or other mushrooms, foraged)
2 stalks celery
2 carrots, peeled
4 garlic cloves
2 tsp black peppercorns
4 sprigs thyme
2 bay leaves
1 tbsp sherry vinegar or red wine vinegar
1 tbsp salt
Vegetables for soup:
1 cup wild mushrooms (or store-bought)
1 cup wild mustard greens (or store-bought)
1/2 cup sliced radishes
Wild leek oil:
1 cup wild leeks or leek tops
1 cup canola oil
Broth preparation:
Cut in half and peel the onion. Place in a pan cut-side down with the oil on medium heat until well caramelized. Add all of your ingredients to a large stock pot with 4 quarts of cold water. Bring to a boil and reduce to a simmer for 90 minutes. Strain through fine mesh or cheesecloth. Season with salt and vinegar to your liking.
Oil preparation:
Blend leeks and canola oil together on high for 30 seconds. Next heat a pan on high heat. When the pan is very hot, turn off the heat and add the oil/leek mixture. Cook for one minute, and then remove from heat and strain through a coffee filter or other fine mesh.
Vegetable preparation:
Sauté the vegetables for the soup in a couple drops of olive oil, season with a pinch of salt, pour the broth over the top and serve with a big spoonful of wild leek oil on top.
---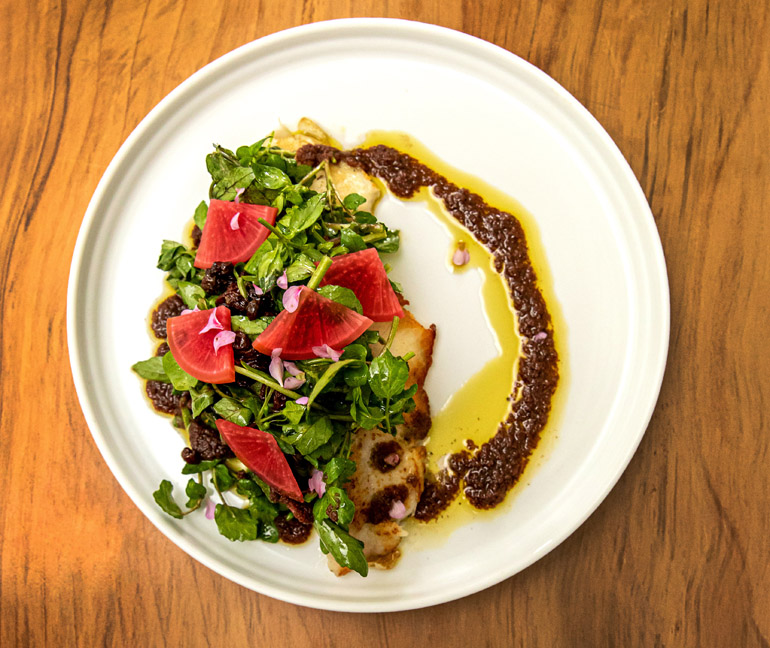 Wild Rockfish Salad
Recipe by Cameron Lee Dunlap
Ingredients:
1/4 cup dried currants
1/4 cup red wine vinegar
1 bunch dandelion greens
1 shallot
1 clove garlic
Zest of 1 lemon
2 tbsp olive oil
2 rockfish fillets
1/2 cup chickweed
1/2 cup watercress
1/2 cup miner's lettuce
Preparation:
First soak the currants in the red wine vinegar an hour before making the salad. Next make the dandelion salsa verde. Pan roast the dandelions first with a little bit of salt. Chop finely with shallot, garlic and lemon zest. Add olive oil slowly to make a pesto-like sauce, and season with more salt and vinegar to taste.
Season the rockfish lightly with salt and fry on high heat for 2 minutes each side. Lay some of the dandelion sauce down on the plate, and layer the rockfish on top.
In a salad bowl, add your chickweed, watercress and miner's lettuce with the currants. Toss the greens with olive oil, sherry vinegar and a teaspoon of the currant vinegar. Add pretty, edible flowers on top to serve.