Outdoor rooms conjure up dreamy images of dining with friends on lazy summer evenings. Picture a gentle breeze billowing sheer curtains in a pavilion and giving hair just the right tousle. Cushy sofas are usually involved, maybe even an outdoor bed. It's a lovely fantasy.
Reality is a bit dodgier.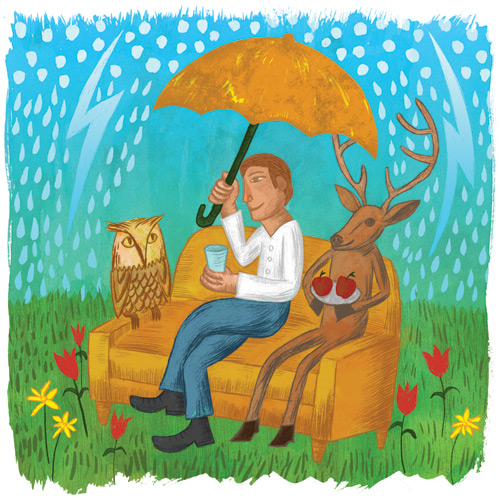 // Illustration by Santiago Uceda
What we most often need in order to enjoy outdoor entertaining in Oregon is a roof.
"People are wanting to build pavilions but are sometimes surprised at how much they cost," says Kristine Le Vernois, design consultant with Neil Kelly.
Engineering is required to ensure structural safety when you are dealing with wind shear, weight and infill-land issues. Covered decks, overhangs and awnings attached to existing structures can be more cost-effective choices, although wind remains an issue on some sites.
Covered or exposed, everyone wants a "no-maintenance" deck, but there is no such thing, says Le Vernois. Engineered products may resist mold better than many woods, but they still require care in the rainy valleys and coastal regions. For natural wood decking, she favors red meranti and ipe woods, because they are dense, durable and naturally resistant to decay, insects and wet conditions.
"Cedar used to last longer because it was old growth," she says. "It isn't anymore." 
Stone requires the biggest up-front costs but is worth the investment, she notes, if you plan to stay put awhile. Consider installing it in stages.
"We put stone in one area and pea gravel around the fire pit," says Le Vernois of one project. "They can add more stone later if they want."
By removing a large evergreen tree from one client's property, they opened it to the sun, resolving its boggy backyard issues. Now it's a favorite spot for croquet and cricket games. They have a zip line for the grandkids and a place to set up a large screen for outdoor movie parties. For other clients, it was a matter of creating a covered area with a hooded outdoor barbecue and fire pit, so they could move their Thanksgiving tradition of playing cards and smoking cigars outdoors.
A long, narrow deck with a low railing and built-in benches wasn't being used much, but the problem wasn't lack of square footage. Adding a fireplace and creating zones for seating and dining created more inviting spaces.
"They wanted to provide an environment where they would gather and get together," she says. "That's what everyone wants."
We want to bring friends and family together under one roof — even if that means no roof at all.
Read on for 9 design tips for outdoor rooms.
---
Consider installing a hood over the outdoor grill or under an overhang to prevent smoke and smells from entering the house.
A fireplace is great for ambience and marshmallow roasting, but bear in mind a chimney funnels most heat up and out. A fire pit can do a better job of providing warmth.
Burning gel products provide some heat, though they're nothing like gas fireplace inserts and gas.
Engineering and construction of a pavilion is nearly as complicated as a house. Costs reflect that.
Decking must be attached to houses properly to avoid water seeping back under siding.
Consider creating covered "wells" in raised decking, storing hoses in little hatched cubbies or putting tools in planters — out of sight and close at hand.
Local codes can be very strict about wind shear. Awnings and pavilions may require engineering to accommodate wind exposure.
Sturdy, decorative steel meshing attached to decks and buried slightly into the earth greatly discourages wild critters from setting up house beneath your deck yet still allows it room to breathe.
No-maintenance decking does not exist. Synthetic and wood composites require less care than wood but still can get mossy and slippery.