Photos by Dominic Arizona Bonuccelli | Modern-Shed
Sheila Meehan's home office is only steps away from her 1926 house in Northeast Portland.
The light-filled, 120-square-foot room by the outbuilding experts at Modern-Shed allows her to settle into her daily tasks as an art-licensing agent and tune out noises that were not easily ignored in her former office in the second bedroom of her house.
"The building has helped me to be a better agent," she explains. "It allows me to focus — I don't even hear the front door now."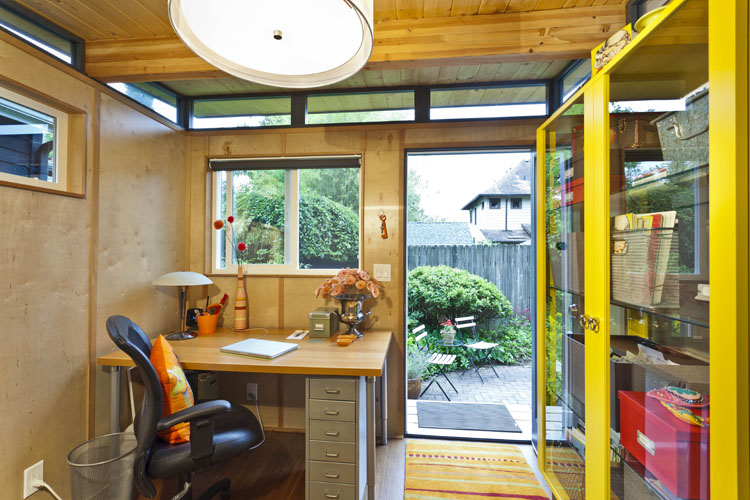 Modern Shed solves space challenges with striking, contemporary structures ranging from 100-200 square feet. The company balances the desire for escape with the timeless yearning for community.
"Our customers are in some of the most beautiful parts of the country," says Tim Vack, general manager. "Once they are in and involved, people want to stay in their neighborhoods, stay in their homes and do something with them. People are also tired of being in debt," he adds.
For a craft studio, exercise room, guest quarters, a "Man Cave" or "She Shed," the process is the same: a small, dedicated team helps homeowners confirm square footage, ceiling height, window configuration and orientation. An average of four to five weeks after drawings are complete, a series of panels made in Sedro-Woolley, Wash., are hand-delivered, and in two to four days for a 10' x 12' building, a new space is up and ready for use.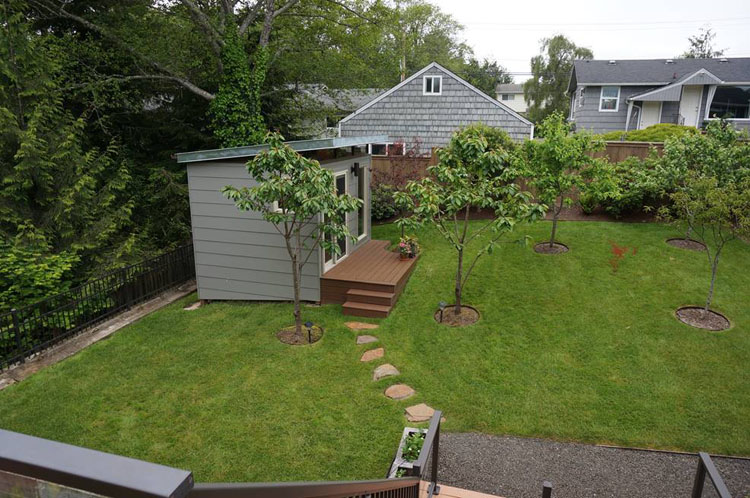 Customers have access to green windows made in Washington, efficient insulation and low-VOC paints. Once complete, if homeowners need to move, buildings can even be broken down and reassembled in a new location.
William Arens and his wife, in Lincoln City, considered remodeling their home to add on a small dedicated workout room, but remodeling costs were daunting. Modern Shed built them a 10' x 12' structure at a far smaller price that houses exercise equipment, an entertainment center and a cozy porch.
"It's been the best thing," says Arens. "Whoever is out there can be as loud as they want. It was a great experience working with the crew and company. And you can't beat the quality."
Meehan also sings the praises of Modern Shed. "Their aesthetic was lovely and they were very easy to work with. The best part about the experience? The building went up within a day and a half! If I had more room, I'd build another one."
The Logistics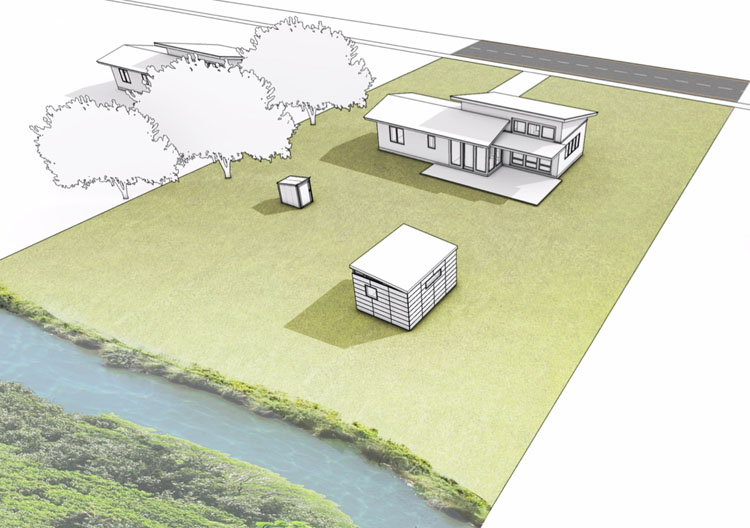 Prices range from $100 to $200 per square foot. Choose from insulated or uninsulated walls, interior and exterior building materials options, windows and hardware. Though loans for outbuildings remain largely uncharted territory, the tide may be turning: A local credit union in Western Washington has recently begun offering 10-year loans for Modern Sheds.
Assess land to determine the feasibility of adding an outbuilding, and then look into local permitting requirements, which vary across state and city lines. In Portland, to avoid permits, structures must remain under 200 square-feet; in places where restrictions may be tighter, Modern-Shed can help guide the customer through the paperwork process. Site placement, also influenced by local setback laws, along with height restrictions are also easily navigated with the help of the company.