Don't let the 80 acres of gardens intimidate you; there is something for everyone here. From the Rose Garden to the Children's Garden- and everything in between- you will surely feel inspired to bring back a few ideas to recreate at your own home.
Upgrade your plain fence by adding planter boxes to the top Your fence doesn't have to be boring! Adding planter boxes to the top is a great way to add vibrant color to an otherwise underwhelming item in your yard. Make sure your fence has a wide enough ledge on the top and will be able to hold a box full of dirt. Permanently securing the planter boxes is also highly recommended. No one wants their beautiful flowers to fall 6 feet to their death.
For easy watering, our boxes have drip irrigation hoses installed. It's up to you to decide what plants you want to showcase in your boxes. We chose some beautiful petunias and wildflowers.
Build a mock tree house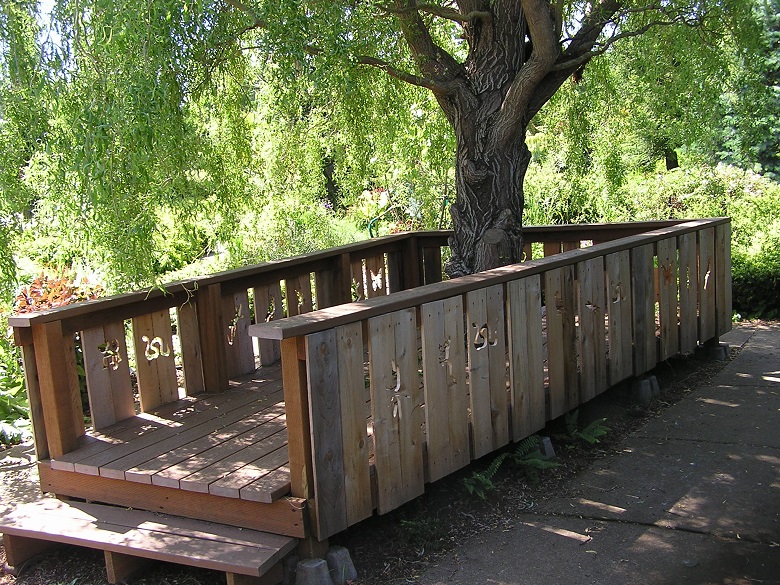 Want a tree house but don't have the right tree? Weather it's too small or doesn't have the strength you need, we have the solution. This tree house in our Children's Garden is just high enough off the ground and shaded with branches for kids to feel like they are hiding away in their own oasis. Simply using cinderblocks, wood, and nails- you can create the tree house of every kid's dream.
Add a little whimsy and character by installing a ship's wheel to turn your tree house into a flying tree boat.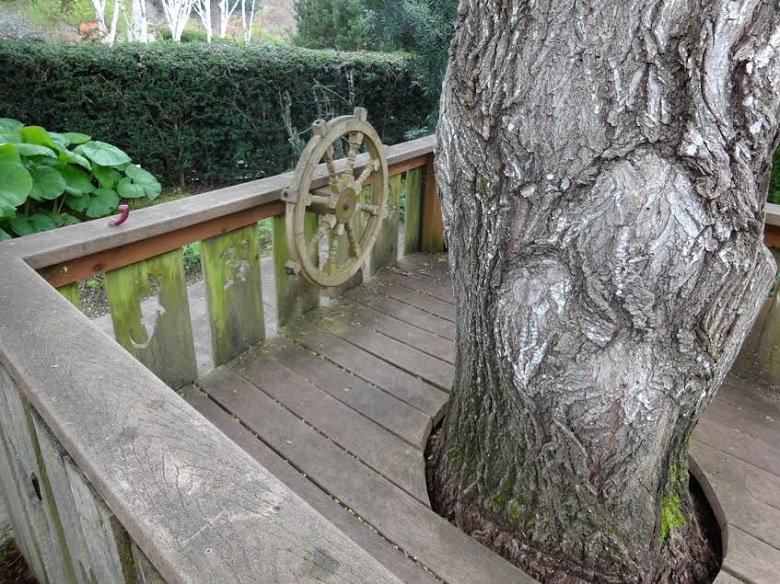 Repurpose old furniture into funky planters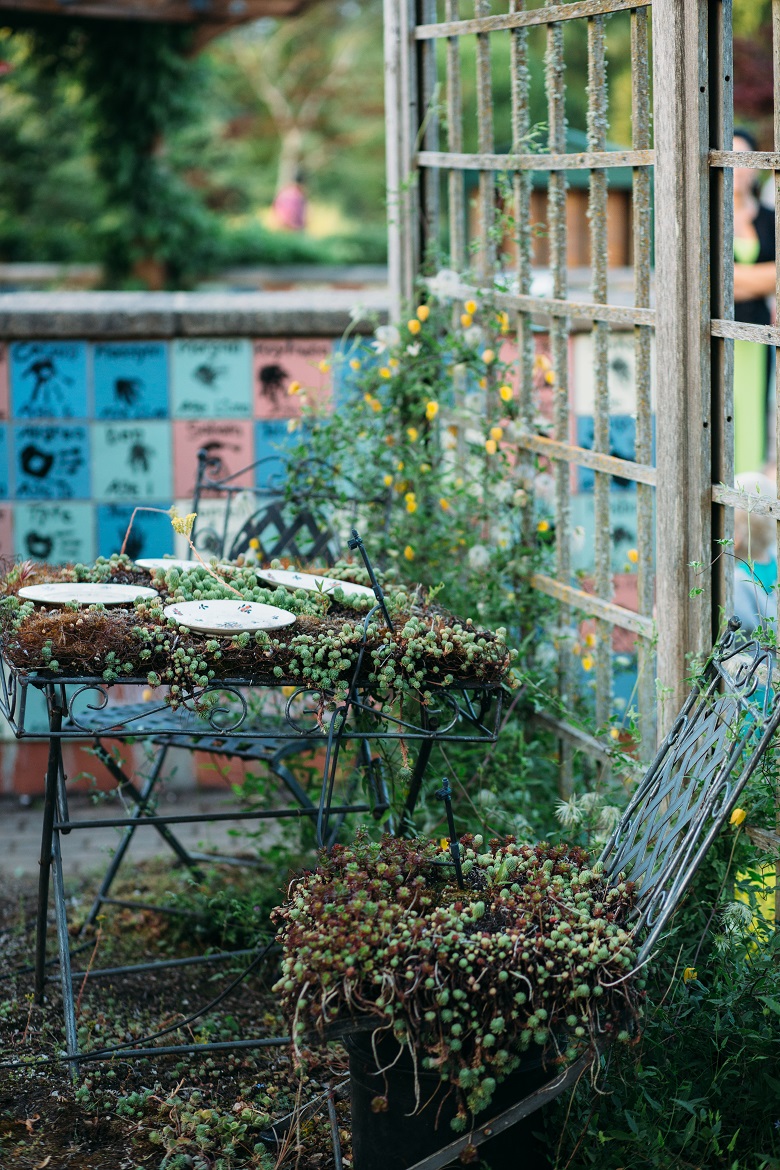 Nobody ever knows what to do with that old furniture just lying around, taking up space in the house. Remove your clutter while simultaneously making a few new, unique pieces to spice up your garden. This old metal table and chairs get a new life covered in vines. Anything from a bicycle to a bathtub; use your creativity to see these worn down items in a new light.
Use climbing plants to create a natural roof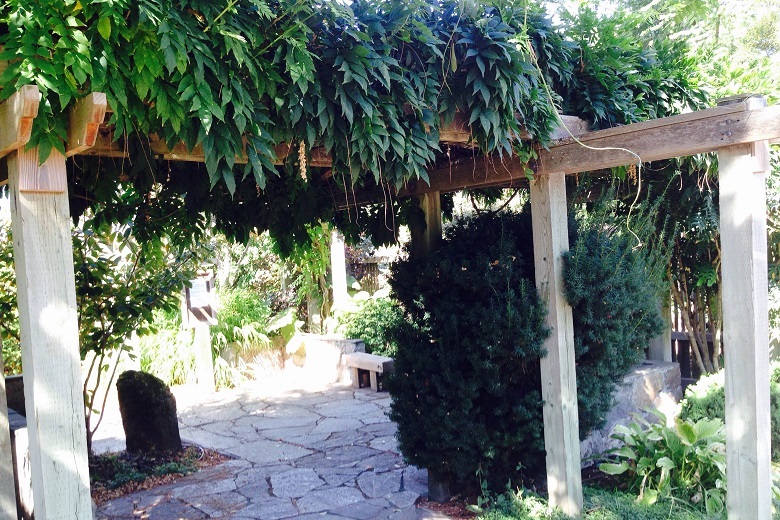 A great way to add some shade to your yard or garden is with climbing plants. Not only do they give your back yard a jungle vibe, they also provide a cool area for your friends and family to relax. Add some bistro lights for added nighttime ambiance.
Turn an old stump into something new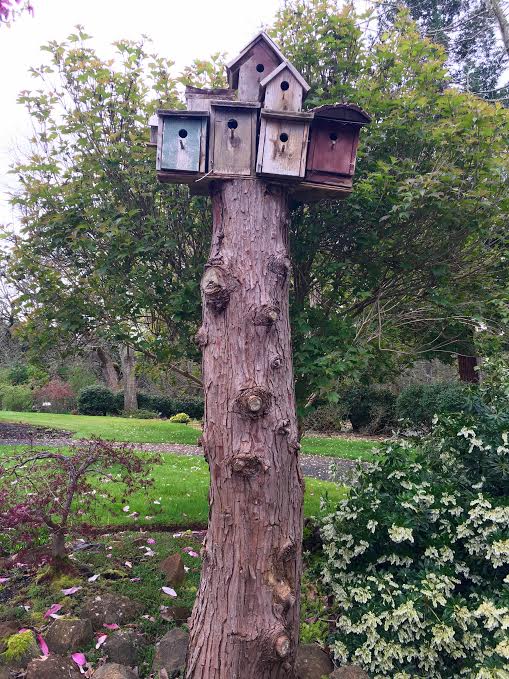 Removing a stump can be very difficult. Instead of going to all the trouble to get rid of an old tree, get creative with it. This one is pretty tall and conveniently the perfect size for a bird condo. Attaching a few bird houses to the top makes the out-of-place stump look great and gives this old tree a new purpose.
The Oregon Garden is filled with endless ideas for your yard and garden. Spring is the perfect time to get your inspiration and start bringing your visions to life. Visit The Oregon Garden for spring motivation.