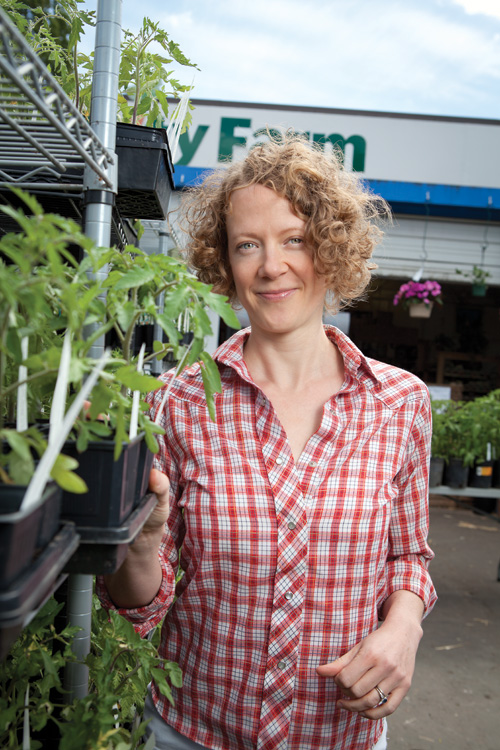 Editor-at-large Lucy Burningham buys her tomato starts at City Farm in North Portland.
// Photos by Adam Wickham
Every spring I look forward to buying tomato starts. Even though my yard suffers from neglect rooted in lawn hate (I just can't bring myself to care for a lawn I plan to remove one glorious day), I love my raised garden beds. I can't remember the last year I didn't grow tomatoes. Even when I rented a duplex, I'd plant beefsteaks in containers and hope for the best.
The small plants emanate possibility. They remind me that the rains will let up. Their roots will grow well below the lawn line. And one hot summer day, I'll make a BLT with a tomato fresh from the vine, a sandwich I'll remember well into December.
As the new editor-at-large for the magazine, I'm definitely thinking about fresh beginnings. It's a theme that resonates throughout this issue, starting with former Oregon Home editor Robin Doussard's story about Donna Reynolds. When a vintage fighter jet from a nearby air show crashed into Reynolds' home, destroying nearly everything she owned, she vowed to begin again from the ground up. Today her Craftsman-style home and garden are a strong symbol of rebirth.
Another transformation happened in the garden of Craig Quirk and Larry Neill, who turned a drab yard into a vibrant and whimsical space. The story on painter Peggy Del Rosario shows how she creates the look of time through faux finishes — her own inspired interpretation of beginnings.
If you're interested in looking at your own outdoor spaces from a fresh perspective, read garden editor Lucy Hardiman's story about adding art to your garden. Her tips are invaluable, starting with the wise advice not to follow all the rules. After all, it's your garden.
As you embrace this sweet season of exponential growth and light, remember that every plant started small, filled with possibility. I'll pause to remember the joy I found in my little tomato starts, especially as I pluck lots of juicy tomatoes from the vine.