Photos by Jason E. Kaplan | Tobey Spitzer
The living room was redesigned to feel more elegant and spacious.
Tobey Spitzer's home used to be filled with walls. Guests would walk in the front door and see a rather underwhelming view of a wall and a sheetrocked stairway.
"The front door was so close to the stairs, they were practically on the bottom stair," Spitzer recalls.
To the right was the dining room with a wall that blocked off the view to the rest of the house. And straight ahead past the stairway was a small kitchen and yet another wall with an opening to the family room.
"Everywhere your eye turned, there was a wall, which created a very chopped-up feeling in the house," Spitzer says. "It was not very practical."
Today everything is different. Thanks to Spitzer's skilled remodel of her own house, guests walk in and see right into the heart of the home. And as far as Spitzer is concerned, that is where the action is.
"You have an expansive feel to the house now," says Spitzer, a Southwest Portland interior designer, who utilized her skills on her own home.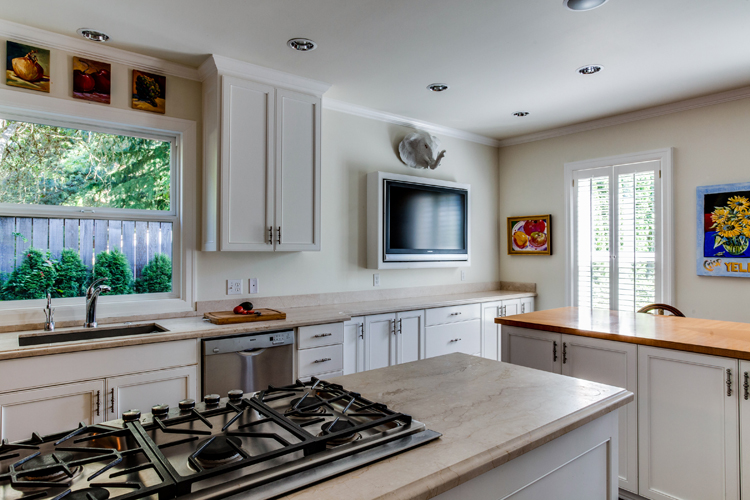 As an art lover and occasional painter, Spitzer tries to collect most of her art from local Oregon artists.
Among other things, she moved her front door out 18 inches and opened up a stairwell, while cutting back the living room and dining room walls in order to create a 15 1⁄2' x 18 1⁄2' great room/kitchen that is open and welcoming. The old adjacent dining room space became a part of the kitchen, and the dining room moved into the space that used to be a family room.
"The kitchen is the room I love the most. When you have a party, everyone ends up there. Now there is plenty of space to have lots of people in there and plenty of space to work. That is the highlight of the house for me." And with two dishwashers, clean up is easy.
After she was divorced in 2003, she started turning her passion for design and renewing spaces, into an actual vocation.
The 1990 house was her second project, which involved a major renovation. Over the next two years, she gutted the house from top to bottom, adding 1,400 square feet, and creating not only the great room area downstairs but also a new master suite and adjacent office, where she works as an interior designer.
The 3,800-square-foot house is now much more user friendly and allows her to both work and live under one roof. Even the front of the house appears much more welcoming. "It had no portico on the front and was inset by 18 inches. I moved that out and added the portico and the front steps," she explains.
Because the backyard was torn up when Spitzer created the large addition, she also overhauled the landscaping, starting from scratch with a new yard and plantings.
"My vision was that one would be able to sit at the island and look out to a swing in the backyard. "And I accomplished that. With the addition, we opened views from the central part of the house, creating a better flow and a more open feeling."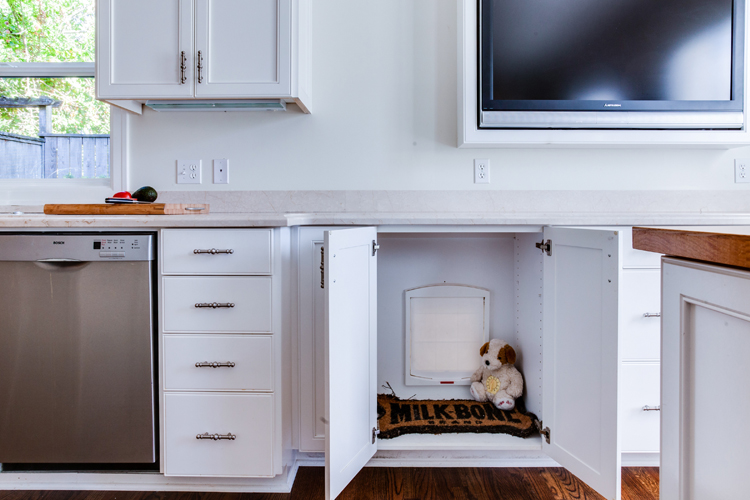 Spitzer cleverly added a doggy- door underneath her kitchen countertop.
Her office is now above the garage, and she splurged on an ultra-functional master bedroom with an attached laundry room.
"I wanted my laundry room next to my master—and I also use that as a work space. It's next to my office, and so if I am doing drawings, I have a counter that is 13 1⁄2 feet long, and I can spread everything out."
So why not a downstairs office?
"It's better to have everything up- stairs close to my bedroom and not near the kitchen. Otherwise I eat," she says with a laugh.