Photos by Dave Wierth | Sustainable Havens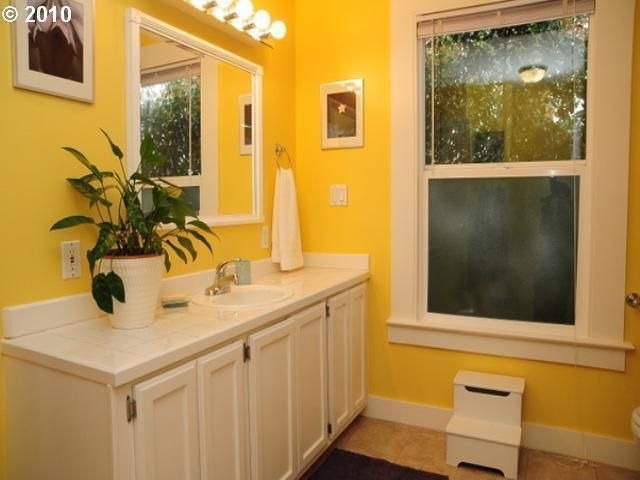 Before on the left.  The bathroom door, which is on a track system, is from the first dental school in Oregon. Havens refinished the door in its original dark mahogany stain.
The man-cave concept is nothing new. But craftsman Ted Havens may be starting a new trend with his "man-cave bathroom."
"I had finished a really cool bathroom for my wife inside our 1908 house. There's this bathroom off the hallway near my boys' rooms, and I realized that since she had hers, that we wanted one for us," says Havens, a Portland woodworker.
"The man-cave bathroom is for the boys only."
Havens works with reclaimed materials, including recycled old-growth timber from local demolished commercial or residential buildings. His specialty is "urban industrial" coffee tables made with repurposed materials.
"At Sustainable Havens, sustainability comes in the ways we source our timber, materials and remnants from our projects, and in our relationships with our clients and community. Because we source our materials and timber locally, we take pride in being able to provide background on the historical origins of our projects."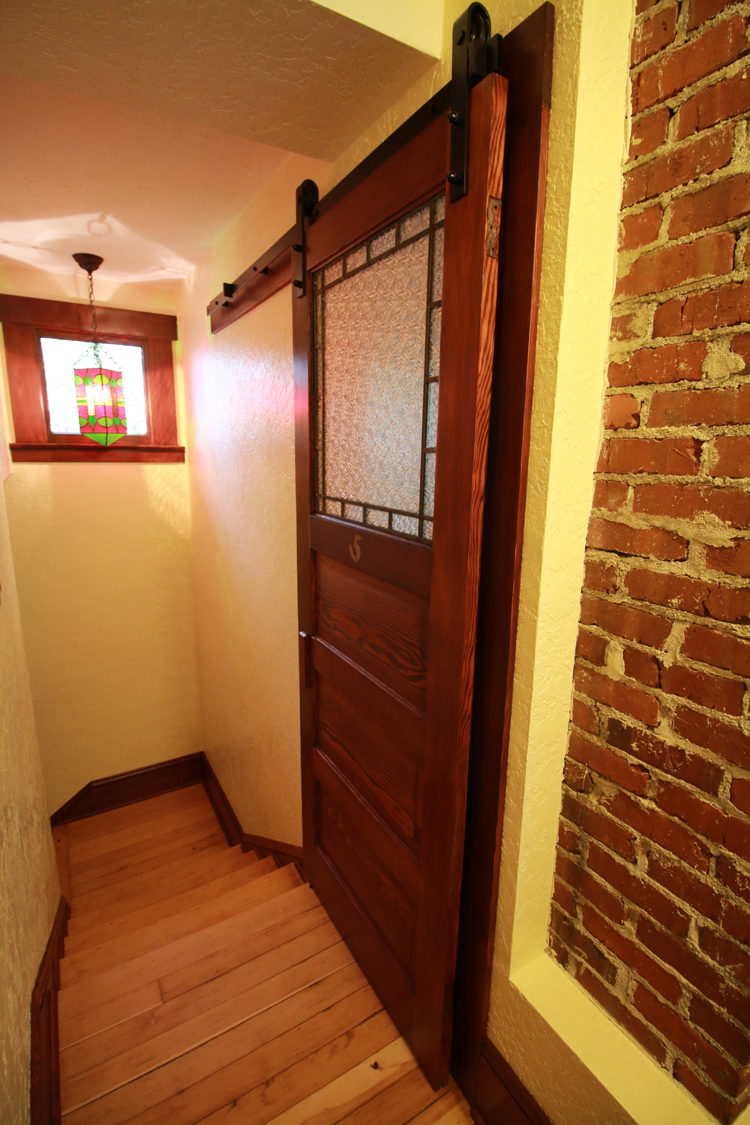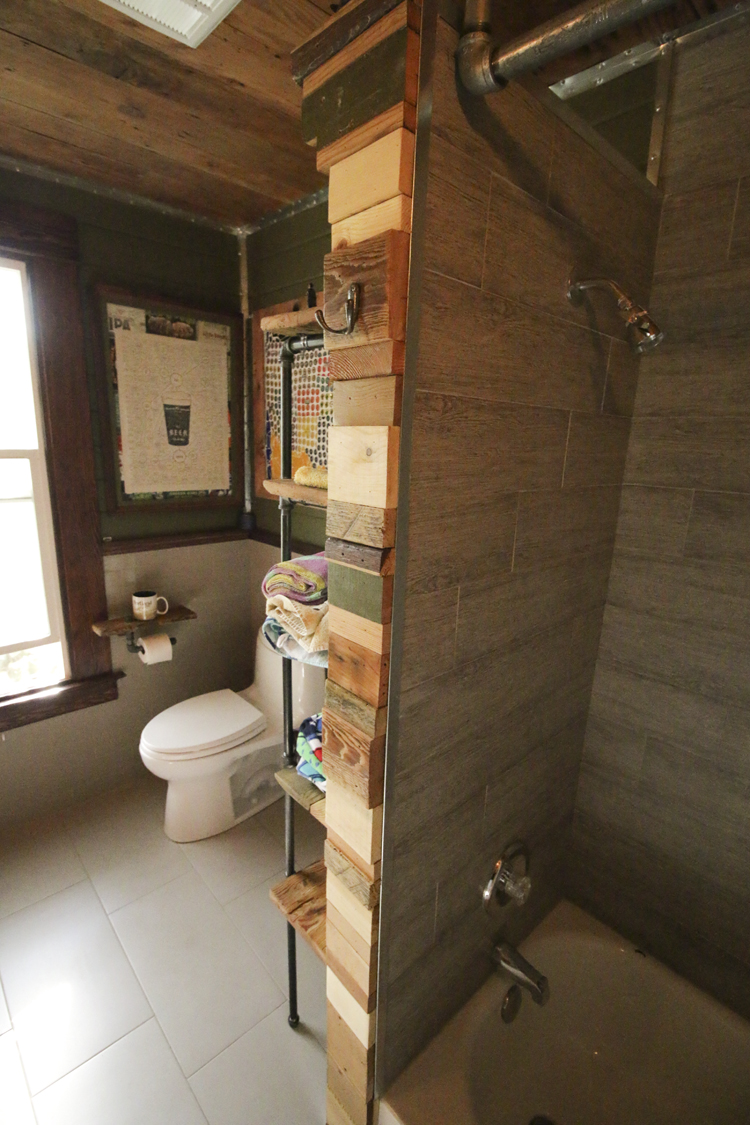 Havens uses a rough mixture of materials. Bathroom hooks reflect the company theme of "being creative with older materials."
Havens says he wanted a bathroom that would not only encapsulate all these values but was comfortable for the males in his house and their friends.
The "before" bathroom looked like it had gone through many renovations. Walls were painted bright yellow. Building materials were cheap, and wiring and plumbing were not
to code.
So Havens took everything out, down to the studs, and updated electrical and plumbing. He then set out to create a warm, almost antique-feel- ing space using reclaimed materials that he salvaged from his day job running Sustainable Havens, a company that reuses reclaimed wood and other artifacts to build furniture — mainly coffee tables — and interiors.
Once the old sheetrock was gone from the bathroom, Havens installed green tile and wood planks on the wall in order to get a look that keyed off "how the house may have looked" a century ago. On the ceiling, he installed old siding that he reclaimed from an antique house that was being taken down in North Portland. "I milled that, cleaned it up and sealed it before putting it up. I left the old nail holes in there for character.
"I tried to think about the elements that you would build with if you lived in the early part of the 20th century. They didn't have sheetrock, but if you walked into a bathroom 110 years ago, it might look like this. That's a theme throughout my company: Being creative with older materials."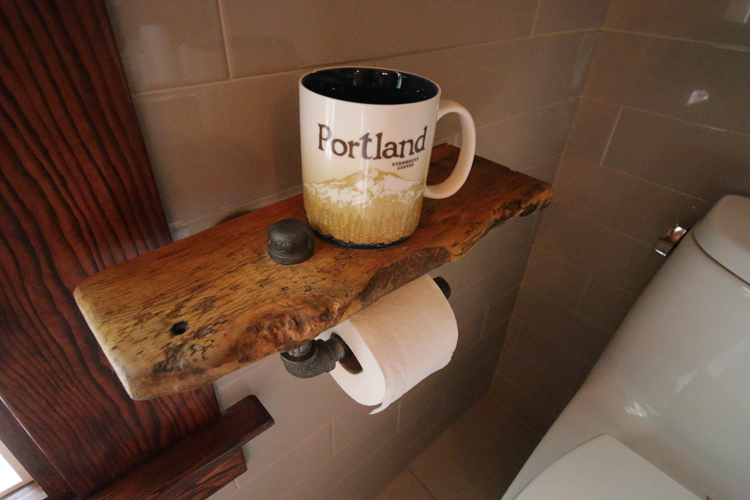 A spot for your coffee or beer is a man-cave must.
He also removed the previous flooring and installed 24×12-inch tile in a cement-like hue. The new 24×6-inch tiles in the shower have a wood- grain appearance that ties in with the room's rustic ambience.
Havens put in a new water-efficient toilet and reworked the sink's vanity, which he stripped down, removing old wood veneer and the top before using reclaimed timber to build new siding and trim for it, as well as doors that hide the plumbing underneath. He then installed a new concrete countertop (a slab he poured himself), as well as a new shelf on the right side of the vanity. He even constructed the mirror over the sink and framed it with reclaimed timber. Similarly the frames around artwork — a beer poster and a vintage comic book collage — are also constructed of salvaged wood.
But the feature that grabs the most attention is the mosaic of the United States made from beer caps he and his wife have collected over decades, many of them from micro-breweries in Oregon and in Michigan, where they used to live. "Florida is orange for the sun, and I tried to represent Oregon with the Laurelwood Brewing Co. and Washington with Pike's Brewery. And then we completed the Atlantic and the Pacific with colored glass."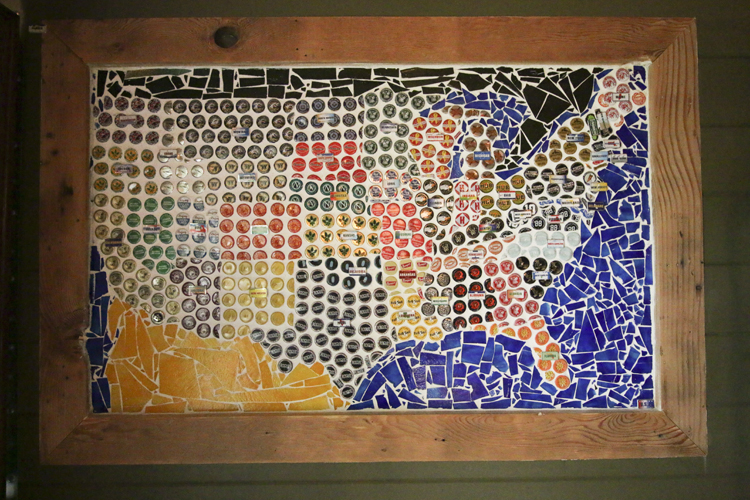 A guest favorite: the beer-cap map mosaic made by Ted Havens and his wife, Shalena.
So what do 8-year-old Jack and 11-year-old Fin think of their dad's man-cave bathroom?
"They love it. My male friends who have been over love it too, especially the piece over the toilet paper roll that you can put your beer on. It's comfortable and dimly lit with Edison bulbs."
Mostly he likes that it puts a smile on his friends' faces.
"How many people have I caught standing in front of the map, looking at all the different states and saying, 'I've had that beer and I've had that beer.'"