Artwork in the living room includes watercolors by Brenda Schwartz Yeager of Wrangell, AK and a metal sculpture above the fireplace by Brad Lorang of Cascade Locks, WA.
Photos by Jason E. Kaplan
Meet the Winners
The winners of Oregon Home's Free Room Makeover contest were the Probst family, a clan of four who live at the edge of a picturesque neighborhood in Hillsboro. The contest allowed them an opportunity to completely transform their living room with the help of a professional local designer. Along the way, they faced an array of challenges ranging from a tight budget to a tight space, and all while working around the needs of two young children. But in the end, they turned a previously cluttered living room into a sophisticated yet accessible space that perfectly showcases the family's unique spirit.
"I remember seeing the contest online late one night and I thought, 'My life is pretty chaotic. I'd like a pretty room,' " says matriarch of the family Erika Probst, with a laugh as she carried around her youngest boy, Sawyer.
The news of winning came as a pleasant surprise to not only revive a room but also save a little bit of her sanity as well. "I remember I was having a bit of a rough go at the time. My six-week-old son had colic, and I had just made the decision not to go back to my 15-year career as a nurse," Erika explains. "So I was feeling this sense of loss, and then I got the phone call that I'd won. It helps to have something good happen when you've given something up, so it was really good timing."
Over the course of more than six years living in the house and raising two kids, the existing space of their living room was gradually overtaken by toys and various clutter. It became such a point of concern for Erika and her husband, Brad, that they worried there was nothing to be done to save the space. "Brad was even to the point where he was looking into other houses," Erika says. "But the contest was a perfect opportunity to see how we can still make the house work for us."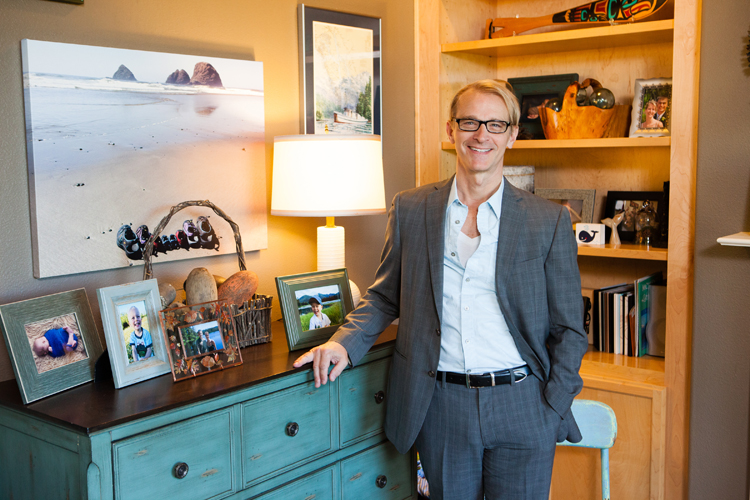 And in came John Thompson, interior designer and design teacher at Portland Community College with over 20 years, experience in the industry. The first meeting Thompson had with Erika and Brad began with an engaging interview to learn who they were as people and also gauge what needed to be done with the room. "One of the things that was vital to Erika and Brad was to make the living room more adult- like," Thompson explains. "But they also have small children, so the challenge was finding a way to make it an adult space that would also be family friendly."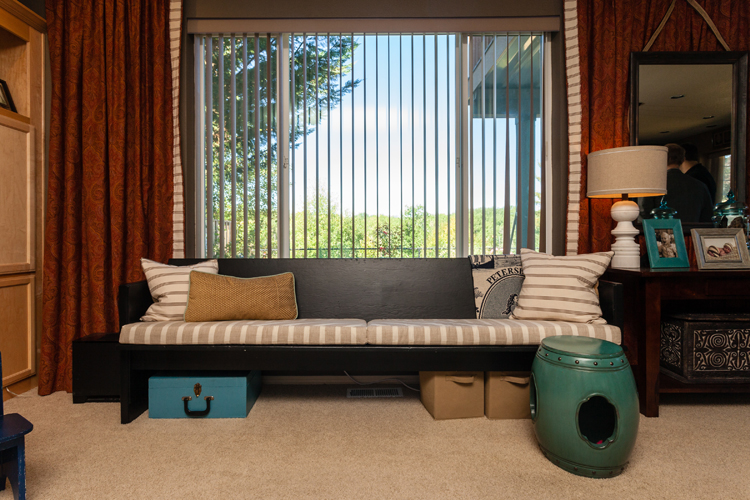 An old church pew from Camas Antiques adds comfort and storage.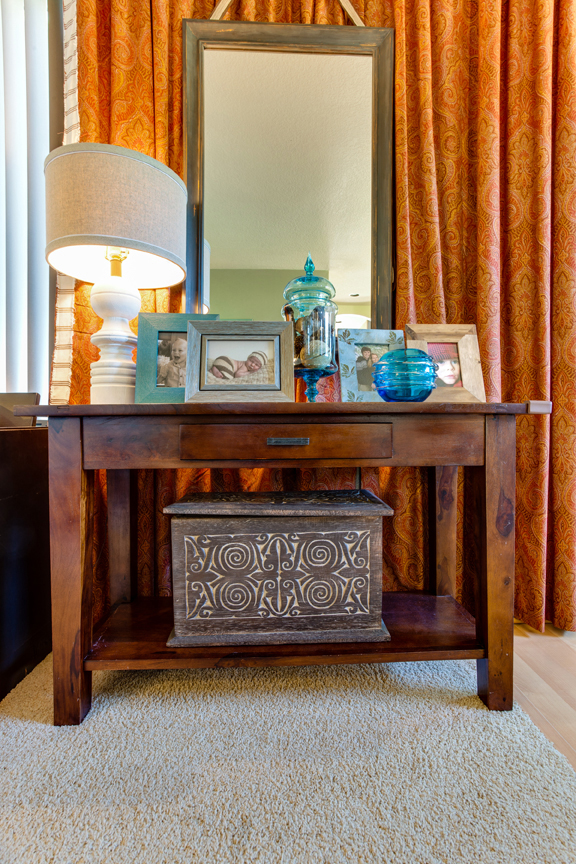 A beautiful, hand-carved box was found at Curiosities, a vintage mall in Beaverton.
Thompson quickly discovered that the Probsts are an adventurous family with a deep love for the outdoors. Erika herself is originally from Alaska and regularly takes her family back to visit. With this information, Thompson developed a design plan to help open the existing space as well as utilize the fun characteristics of the family for a theme in the room.
"I wanted it to have a homemade feel," Thompson explains as he reviews the process. He points out Alaskan artwork and family photos proudly dispersed throughout the room as being key to creating a custom aesthetic for the space. "We found different little containers to help declutter the toys, but we also wanted the room to be fun and visually interesting with all the different collections they have," he says.
To help maximize more space, they replaced two bulky chairs with a beautiful old church pew, discovered by Erika while braving Camas Antiques with her two boys. As part of their Free Room Makeover, they got free expert painting by Fresh Coat of Portland and free paint from Colorhouse. They chose Colorhouse's STONE .06 paint, a warm rich neutral color, and repositioned the rest of the room's furniture for a final touch.
"I'd originally thought a darker-colored paint would make the room feel smaller, it actually did exactly the opposite," Erika says while admiring Thompson's work. "The way this room works now, we gained a lot more space."
Now that the transformation of their living room is complete, Erika and Brad have not only put their house hunting to rest but are also eager to put their newfound design experience into further use. "Our next big project is to help our kids design their own rooms," Erika reveals with a smile.