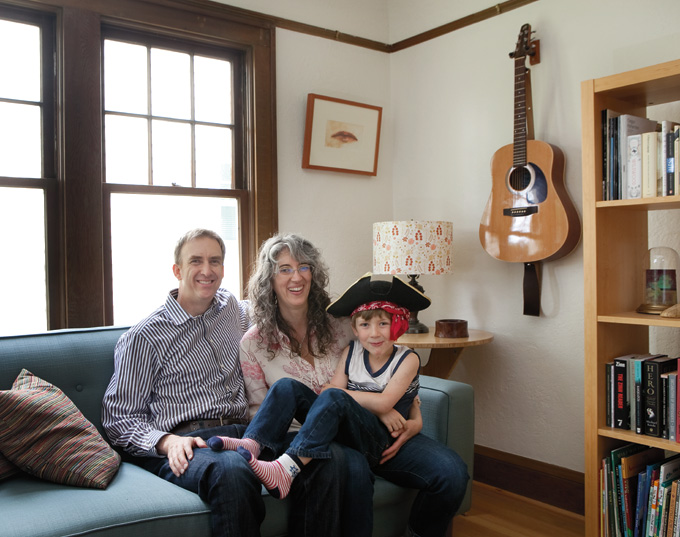 Above: homeowners Fritz Paulus and Jennifer Viviano and their son, Will.
Below: A thoughtful plan opened the rooms to accommodate modern life while maintaining the home's 1930s style by using curved archways.
// Photos by Vivian Johnson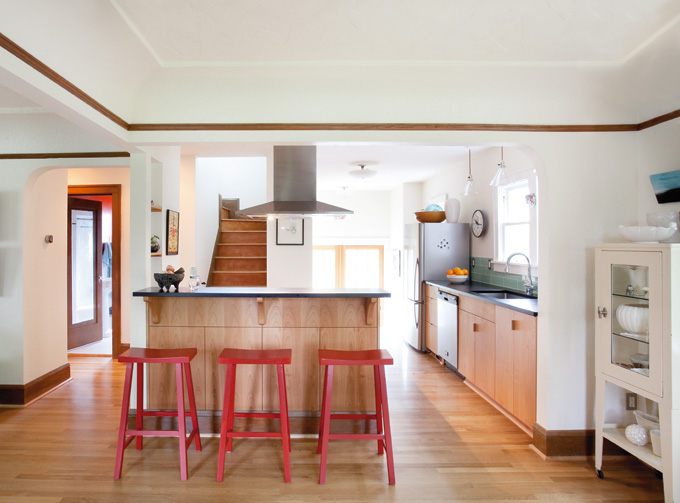 The road home isn't always a straight shot.
Jennifer Viviano and Fritz Paulus struggled with a domestic dilemma. For several years, they debated whether they should stay in their less-than-ideal home in inner Southeast Portland or move on to greener pastures. The discussion intensified after their son, Will, now 5, was born.
Paulus, a real-estate negotiator in the sustainability department of Metro, wanted a green, energy-efficient house.
"I grew up during the oil-crisis days, and that was kind of drilled into our heads," he says.
Viviano, a graphic designer and artist, appreciated the Old World charm of their 1930s' cottage home but wanted a healthy environment that vintage construction couldn't promise.
The couple considered remodeling. They met with an architect to talk about "the things we thought we wanted," says Viviano. The resulting design was beautiful — and far beyond budget. "We sat with it awhile," she says, and concluded that even if they could afford it, the proposed modern addition felt too large and disconnected from their traditional house. So they shelved the project and looked into buying a new, green-spec home. But after years of living in pedestrian-friendly neighborhoods, they were uneasy about moving to a drive-everywhere suburb. They even considered buying a teardown in the city and building green from the ground up.
"But then we'd be putting another building in the world," says Viviano.
And that didn't sit well with the deep green ethos the couple shared.
They weighed all their options. Should they stay or should they go?
In the end, they decided to stay put and go green with a more fitting remodel.
---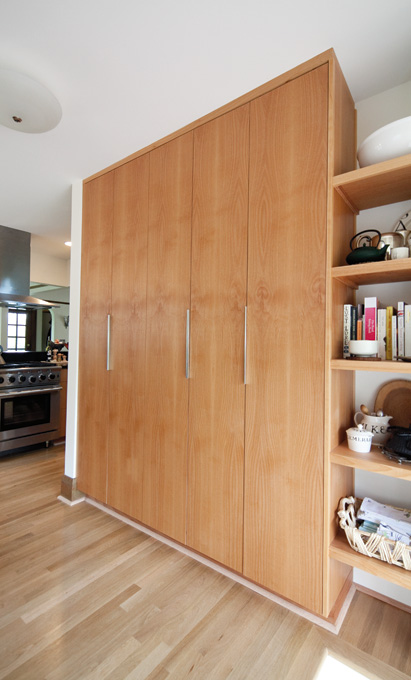 Above: One splurge was this set of custom-made cabinets built from FSC-certified alder by Green Hammer.
Below: The open kitchen allows Viviano to cook while also chatting with friends and family.
// Photos by Vivian Johnson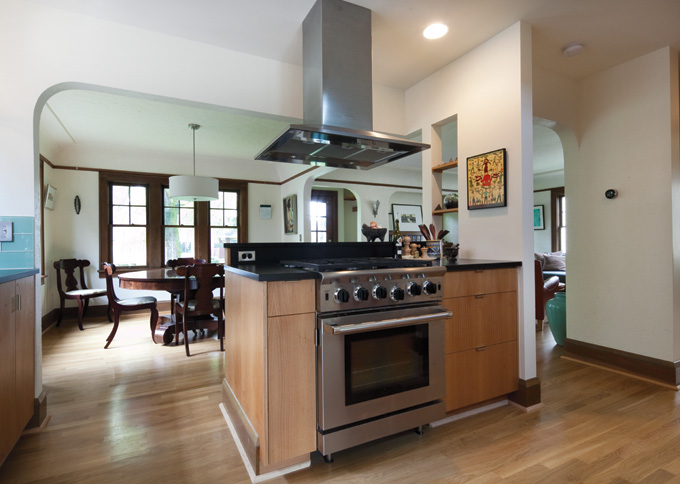 "We like things that are of quality," says Paulus, "but we don't have to have a lot of them."
Architect Katie Foote with the Portland design/build team Green Hammer came up with a plan that she says "honors the past" but functions better for modern life. Removing a utility chimney and a wall between the kitchen and dining room improved traffic flow. It also allowed for a slight extension of a living room wall to obscure the bathroom that had previously been in full view from the front door. That slight adjustment also brought morning light from a window on the landing into the rest of the house.
The addition of an approximately 50-square-foot mudroom created better access to the backyard and the basement. Now the kitchen "doesn't get pinched down," says Foote, if someone walks through while Viviano is cooking. That added space — Viviano jokes that calling it a mud "room" is too generous, so refers to it as a mud "porch" — changed everything while staying true to an earth-friendly small footprint. The two-story house, basement and additions total 1,818 square feet.
Viviano selected glass tiles and matte-black granite countertops that coordinate with the light tones of the certified-sustainable wood cabinetry. The paints and finishes on the cabinets are low in toxins. The conservation-minded Paulus is excited about the energy-efficiency aspects of the project, such as insulation, air sealants and a furnace.
"Some people buy fancy cars," he says. "I have a nice furnace downstairs."
Those changes not only translate into future savings for the couple but also, says Paulus, "from an ethical standpoint, it's a good thing."
Green Hammer "walked the talk," says Paulus, noting the company recycled onsite and reused framing and trim when possible. But the old asbestos siding is staying on the house for now because it still functions, and the environmental and health issues of removal are problematic. "Despite its deservedly bad reputation," Viviano says, "once you have it, it may be better to leave it alone."
"Not only do we love what we've done so far," she says, "we essentially have a master plan that is really elegant and really thoughtful. We will be able to chunk it down."
Future plans include an upstairs bathroom in space reclaimed from two back-to-back closets. Green Hammer created new closets that run the length of both bedrooms, where the ceilings were too low for living space but fine for hanging clothes. Viviano can imagine transforming a garden shed into an art studio or finishing the basement as a family room.
"The conventional use of the word 'sustainable' was high priority," says Viviano of their remodel project. "But we were also thinking of the notion of, 'Can we love this house, and can we love this design, for 20 or 40 years?' It works for Will [now]. Will it work when he is 14? When he is 18?"
They expect their remodel to sustain them as the family grows and changes with time.
Katie Foote of Green Hammer puts it succinctly.
"If you have to remodel over and over again," she says, "then that isn't sustainable."
---
Making choices
Homeowners Jennifer Viviano and Fritz Paulus had to pick and choose among the best green updates for their needs and budget. Here's what they did.
Replacing old windows is often the first thing homeowners do to save energy. Viviano and Paulus were surprised when the results of an energy audit suggested they'd get more bang for their green buck spent elsewhere. The existing windows stay for now but were made tighter with air sealants.
They chose Forest Stewardship Council (FSC)-certified alder for custom cabinets. The FSC label guarantees wood is harvested in accordance with good forestry-management practices.
Opting for low or zero volatile organic compounds (VOC) paints and finishes, they avoided carcinogens that can continue to seep into the air up to a year after application. Once exclusive to specialty paint companies, low-VOC products are now available in a wide — and growing wider — range of brands and colors.
To save the carbon emissions of shipping products cross-country, and to support the local economy, they used nearby sources for everything except the backsplash tiles and sink. They opted for natural material surfaces, including wood and stone floors, and granite countertops in a matte finish.
Design/build team Green Hammer recycled materials on site and reused wood and trim when possible.
A super-smart new thermostat called The Nest was their tech splurge. It senses movement and "learns" homeowners' habits in a week, adjusting temperatures accordingly. Other thermostats can be programmed to do the same, but few homeowners bother to learn how, according to an Environmental Protection Agency survey. The Nest sells for about $250 at nest.com.
Insulation and air sealants save energy but can also make a house feel stuffy. A new high-efficiency heat-recovering ventilator furnace draws air from outside, so the house environment is always fresh and healthier.
---
Get an energy assessment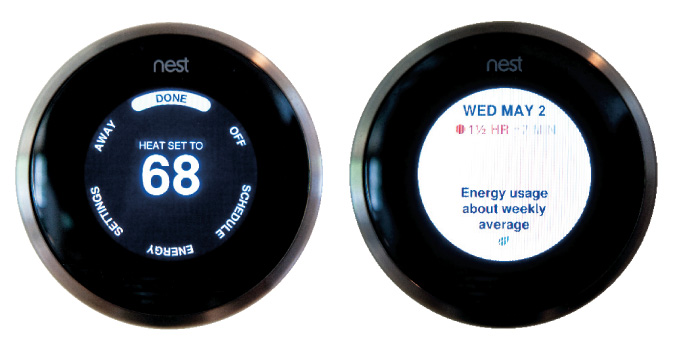 The Nest thermostat "learns" the habits of the homeowners and adjusts accordingly, saving energy.
Who wouldn't want to save the planet and save some money in the process? Retrofitting your home to be more energy efficient is not only good for the earth but good for the pocketbook. Still, it's hard to know where to start.
A home energy assessment can provide the answers. It takes a certified contractor about four hours to inspect the crawl space and attic, test furnace and air-conditioning equipment, check for hot and cold spots with infrared cameras, and perform a blower test to detect air leaks. The resulting report can help homeowners focus on the fixes that offer the greatest return in energy savings.
Clean Energy Works of Oregon (cewo.org) offers free energy audits and rebates to retrofit houses to be more energy efficient. An audit is valued at $500. You must first qualify for their low-interest financing, which takes into consideration the age of your home and your current energy bills. Many remodel companies direct clients to the program.
You can even set it up so that you repay the loan through your utility bill. That allows you to easily compare the money you save on utilities by retrofitting your house to the money you spend paying back the loan for those retrofits.