By Sheila De La Rosa, Illustration By Julianna Swaney
Only a frenemy would put you up in a typical guest room. You know, the one with the lamp you can't read by and the decades-old mattress with the ditchlike dip in the middle. How to be a Hostess with the Mostest to your overnight pals? Oregon Home asked two interior designers, a home-couture seamstress and a designer-builder for the elements you need to end up with a stylish retreat.
1. ONCE A YEAR, SLEEP IN YOUR OWN GUEST ROOM TO TRULY EXPERIENCE WHAT YOUR HOUSE GUESTS DO.
Your appreciative house guests may ply you with an orchid on the last day of their stay, but to really know what they experienced, pack an overnight bag and move into your guest room for a night or two. Your back will tell you in the morning whether you were, say, pulling zzz's on an air mattress with a slow leak or in a deep slumber on a Tempur-Pedic® Grand. "I've never stayed in my own guest room, but I just returned from being a house guest for a week at my friend's house on Pawley's Island, and I recently redid my own bedroom," says Kate Nason, the proprietress of Chairwear, a home-couture studio in Portland that whips up custom slipcovers, drapery, cushions and pillows for clients' primary and second homes. "Cynthia has an amazing bed in her guest room—and she believes in crisp white linens! It has a great mattress and a plush mattress topper that made me feel as if I were sleeping on a cloud. I hate when I visit someone and their guest room has a bed with an old mattress with a big dip in the middle or, even worse, when the mattress is rock-hard."
2. REPLACE YOUR GUEST ROOM MATTRESS IF IT'S MORE THAN 5 YEARS OLD.
If your house is on the map for visiting friends and relatives, upgrade your mattress when half a decade has flown by. "That's what I suggest when I'm helping a client with a guest room," says designer Alice Dillon, the owner of Applied Design in Lake Oswego, Ore. "These days, you can buy a basic mattress in a queen size for about $300 and a thick feather mattress topper for another $150 at a place such as Macy's or Pottery Barn. You don't want guests talking about a bad bed experience. That's what's happened in my family: Some eight years later, we still refer to our stay in my sister's basement guest room as The Night to Remember."
3. THINK BEYOND THE BEDSIDE READING LAMP.
Ever have to tiptoe away from a jury-rigged, bell-shaped opaque lamp in an attempt to get a circle of light you can read by to fall somewhere on the bed? "Good lighting is critical in a guest room," says designer Barbara Siudy, the owner of reFresh It in Portland. "And you need light at different levels. You need a ceiling light on a dimmer switch, so you can set the mood as your guests arrive. You need a good nightstand light—that doesn't have an opaque or metal shade—with a three-way switch. I like the telescoping lampbases you can get at a place such as Lamps Plus, which builds flexibility and function into a bedside lamp in addition to it just being a decorative object."
4. GIVE YOUR GUESTS PILLOW FIRMNESS OPTIONS.
With all of the buzz about bedbugs in the media (They're in the overhead bins on airplanes! They're in the big hotels! They're in mom-and-pop motels!), let your guests know that they needn't lug their favorite pillow to your place because you've got their pillow preference covered. "My father still travels with his own pillow, but most of our other house guests don't," says Dillon. "I like to have a variety of pillows, from soft to firm, layered at the head of the bed in my guest room. Pillows are so inexpensive and so often on sale that you can buy a lot of them over time."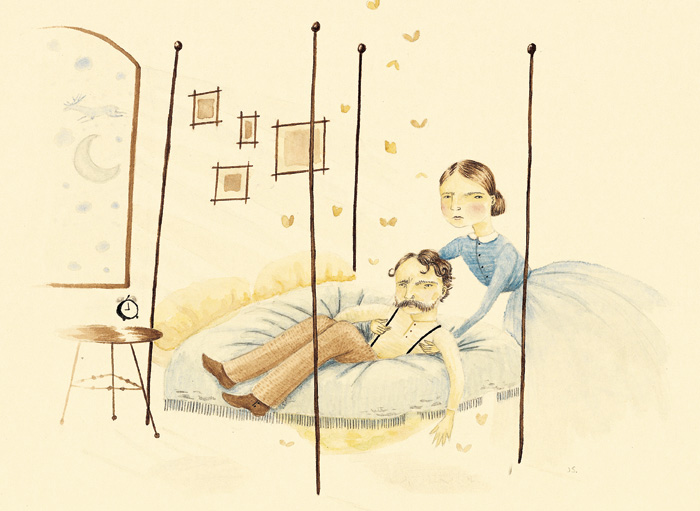 5. IF YOU SHELTER GUESTS INFREQUENTLY, CONSIDER INSTALLING A MURPHY BED.
If you prefer to live without a designated guest room, consider installing a Murphy bed to keep a room's functionality flexible. "I just finished a project in the Pearl District where the condo owners didn't want a bed eating up all of the space in the middle of a 12-by-10-foot room, so we put in a Murphy bed," says designer-builder Robert Kraft of Kraft Custom Construction, a Salem, Ore.-based company that does a lot of work in Portland. "The architect on the project—Karl Anderson—came up with the idea to flank each side of the bed with a maple cabinet on rollers so that after the bed was lowered, you could tug on a drawer handle and pull the nightstands forward, too. The designer—Jerry Sawyer—and I figured out how to spring-load the wires so that the nightstands could be pulled out or pushed back with their lamps intact."
6. BREAK FROM YOUR DÉCOR STYLE IN THE ROOM.
If you're a modern furniture devotee who's doing the Dwell thing throughout your house, why not let your closeted love for white lace and oatmeal-colored linen emerge in a guest room that leans Edwardian? "The only people who stay  in your guest room are people you love, right?" asks Nason. "Why not have a little fun and make the room a sanctuary for them in a style that uses things you love but that may not fit in with the rest of the furnishings in your house. My friend Cynthia has a house filled with incredible antiques, but her guest room is decorated around her love for Thai furniture."
7. ILLUMINATE BOTH SIDES OF THE BED, PLEASE.
The selfless among us are tired of giving up that good read that leads to a good night's sleep because there's only one reading lamp in a guest room, and how could you not let your spouse enjoy his or her latest novel. "If that's too matched a look for you, you can always do a lamp on a nightstand on one side of the bed and a floorlamp on the other," says Siudy.
8. INVEST IN THE BEST SHEETS YOU CAN AFFORD.
As inexpensive as pillows are, high-thread cotton sheets can set you back a bit, so think about your guest room bedding when the white sales hit both boutiques and Big Box stores. "I just think white sheets in a high-thread cotton are like no other for a guest room," says Dillon. "They're just tried and true. And they help keep guests cooler as they sleep, too."
9. DON'T SKIMP ON WELL-MADE DRAPERY.
You may like to awaken to the sun streaming onto your face, but don't assume your house guests will. Invest in drapery that looks good and is functional, too. "If you buy curtain panels off the shelf, they're often too narrow and not the perfect length for your windows," says Nason. "When I make custom drapes,
I multiply the width of the window 21/2 times to get the drapery width, then line and interline them. When there's a heaviness to drapery, you can darken a guest room when you want, and keep it cool in the summer and warm in the winter."
10. KEEP DIRTY LUGGAGE OFF YOUR LUXE BEDDING.
The trunk of your car. Nasty sidewalks in the city. Airplane bellies and airport baggage carousels. If you think about the surfaces luggage rolls over en route to your pristine guest room, you'll be motivated to keep luggage wheels off of your Vera Wang bedspread. And no nagging necessary: Just carry your sister's suitcase upstairs and plop it down on a luggage rack or chair as you welcome her to your home. "Whenever you fly, your luggage gets funky, so spend a little money on a luggage carrier," says Siudy.
11. CREATE A HEADBOARD THAT ENHANCES THE ROOM.
A handsome headboard adds style to a guest room and helps absorb sound, too. "One of my favorite things in a guest room is an upholstered headboard," says Dillon. "I recently found a full-sized one with nailheads on sale for $450 at Bassett. Or do your own. Home Depot will custom-cut plywood into any shape you want, then you cover the board with foam and quilt batting, and cover that with a nice fabric. I love to sit up in bed and read when I'm a house guest, so I like having a headboard I can lean against."
12. UNDERSCENT THE ROOM.
One woman's scented candle is another woman's migraine maker. "How a room smells is a really important thing for a lot of people," says Dillon. "Give the room a good cleaning, then err on the side of Clean and Fresh rather than Overly Floral. Adding a plant such as an orchid instead of cut flowers, which might have too much of a scent, is a nice touch."
13. ASSUME YOUR GUESTS WILL STAY DEPENDENT ON THEIR MEDIA OF CHOICE.
To TV or not to TV a guest room? "These days, I think every guest room should have a TV and a desk area to set a laptop on," says Siudy. "You just have to accept that we're all so media-dependent. When I travel, I know I have a hard time falling asleep without watching a little TV. Most people travel with an iPad or a laptop and want to stay connected with friends or the office, even on pleasure trips."
14. BE GENEROUS WITH THE SIZE OF A NIGHTSTAND.
A bedside table in a guest room has to accommodate all that your traveler wants to keep near and dear (think a cellphone, jewelry, a purse or a wallet, a water bottle), so avoid going too small. "I'm a fan of overscaling rather than underscaling a bedside table," says Dillon. "It really delivers impact, especially if you go with a 36-inch-round table and skirt it. And think carefully about what you put on the table. I like to set out a really good reading lamp, a glass carafe filled with water, a drinking glass and a lighted alarm clock."
15. MAKE ROOM FOR YOUR GUESTS' THINGS.
For every house guest who likes to live out of an open suitcase on the floor (a tripping hazard to discourage with a luggage carrier or bench, warns Dillon), there are more who'd prefer a couple of feet of hanging space in the closet. "You have to give your guests plenty of space for the possessions they're bringing," says Siudy. "Clear out one or two drawers and give them a lot of empty hangers in the closet."
16. GIVE GUESTS THEIR OWN SET OF HOUSE KEYS.
Ditto your cellphone numbers, your address, written instructions on how to get back to your house and any special info to deal with quirks in your home's infrastructure. "If we don't give our guests detailed instructions for turning on the shower, for example, we can hear them trying to figure out how to make the tub faucet transfer to a shower spout," says Dillon.
17. AIR OUT THE MATTRESS AFTER GUESTS DEPART.
There's no time like a guest's departure to start the preparations for your next visitor. "I strip the bedding after my guests leave, and leave the mattress exposed so it can air out for a couple of days," says Siudy.
18. EMBRACE YOUR INNER CONCIERGE.
Pretend you're an innkeeper when hosting friends. "I treat my guests as if they were staying at a nice bed-and-breakfast," says Siudy. "I'll gather brochures for places like the Japanese Garden or the Gorge that I think they might want to visit. Do I have a guestbook for them to write in before they leave? No; I've thought about buying one, but I have wonderfully mouthy friends who just tell me how they've liked their stay with me."