John's Waterproofing encapsulates crawl spaces for healthier homes.
---
Ah, the crawl space.
That not-really-usable but oh-so-necessary square footage in many homes, especially here in the damp Pacific Northwest. It's a space that's often empty, yet key for accessing the foundation and important utilities. And more than many people may realize, it's a crucial space for the overall health of a home.
That's why it's so important to make sure your crawl space is clean, dry and, as John's Waterproofing calls it, encapsulated.
---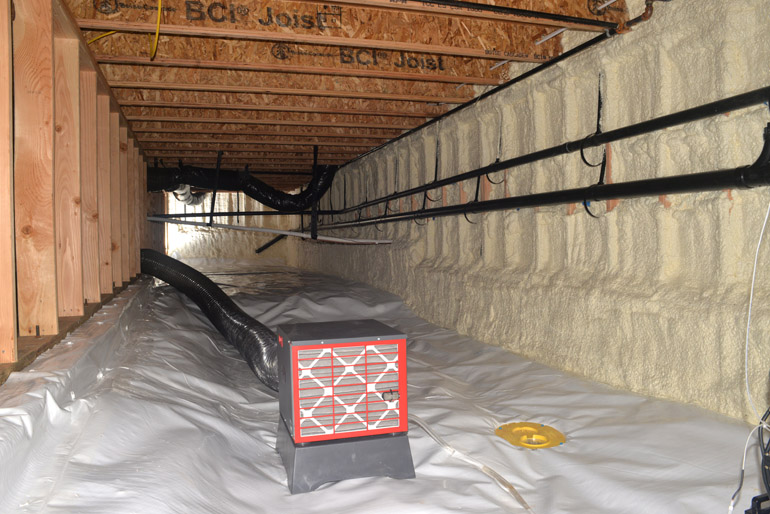 ---
"It really comes down to the health benefits," says Jessica Dingle, director of marketing for John's Waterproofing. "If you have an encapsulated system, it protects your home, keeps the air healthy and gives you one less thing to stress about as the years progress."
Founded in 1974, Silverton-based John's Waterproofing has been specializing in crawl space encapsulation — as well as basement waterproofing, basement refinishing and attic insulation — for decades. Some of the company's foremen have been working for John's longer than the competition has been around, so they know what they're doing.
---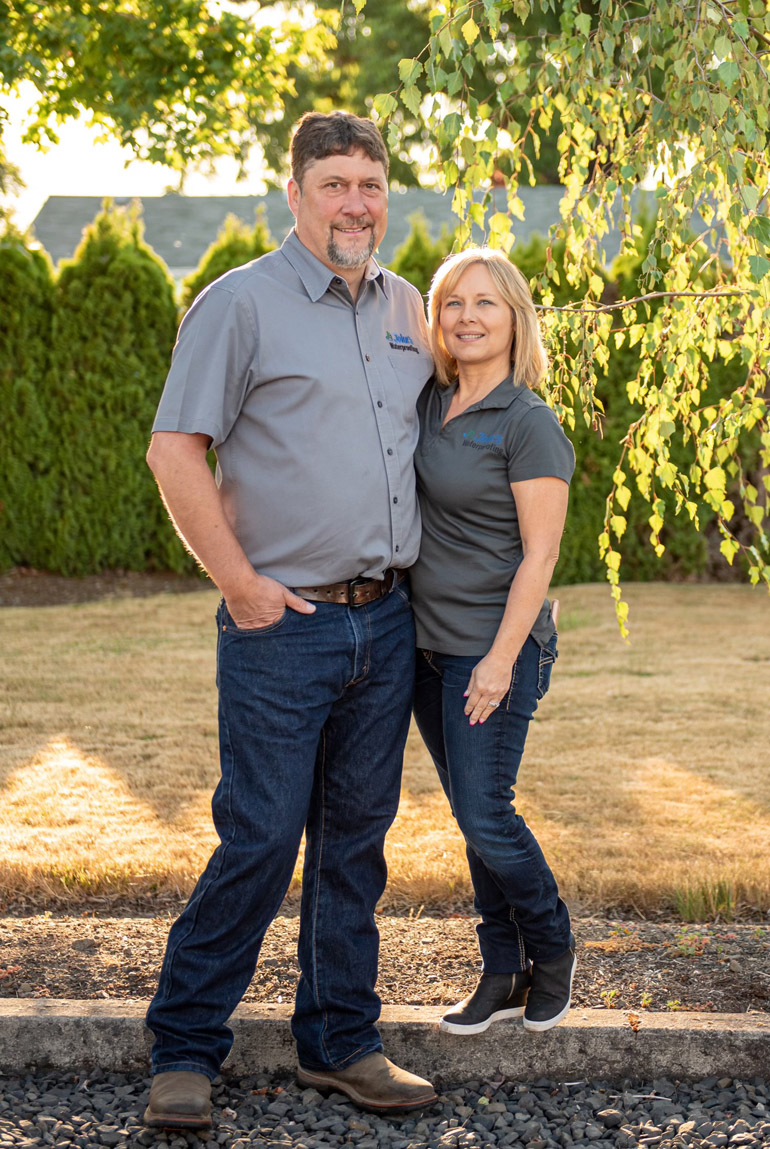 John's Waterproofing owner Robin Ekloff and office manager Shelley Ekloff
---
According to Dingle, crawl spaces are rife with potential problems that can lead to an unhealthy environment throughout a home. Here in the rainy Northwest, crawl spaces are susceptible to water intrusion. That can pave the way for dust mites, which thrive in humid environments and are a leading indoor allergen. Damp crawl spaces can also result in buckling floors; strange odors; mold; pests; decreased life span for roof sheathing, shingles and exterior house paint; aggravated allergies and asthma; higher energy bills and more.
The potential issues are compounded by what is known as the stack effect. In short, that's when warm air inside a home rises and cold air from outside gets drawn in and up, often bringing the contaminants from the crawl space inside the livable space. Encapsulating the crawl space prevents that from happening.
Encapsulation from John's Waterproofing starts with a thorough cleaning of the crawl space, including removing any old fiberglass insulation. Next comes a drainage system with sump pump where necessary to direct any water away from the home. On top of that, John's usually installs TerraBlock insulation, a water-resistant foam insulation that resists mold and mildew. Then there's a durable CleanSpace vapor barrier, which comes with a 25-year warranty against rips and tears, and prevents water vapor and humidity from passing through. It's also a very practical bright white.
"That makes it very easy to check on," Dingle says. "It's made to be bright so that, in the unlikely event there are ever any issues, you'll see them."
---
Before: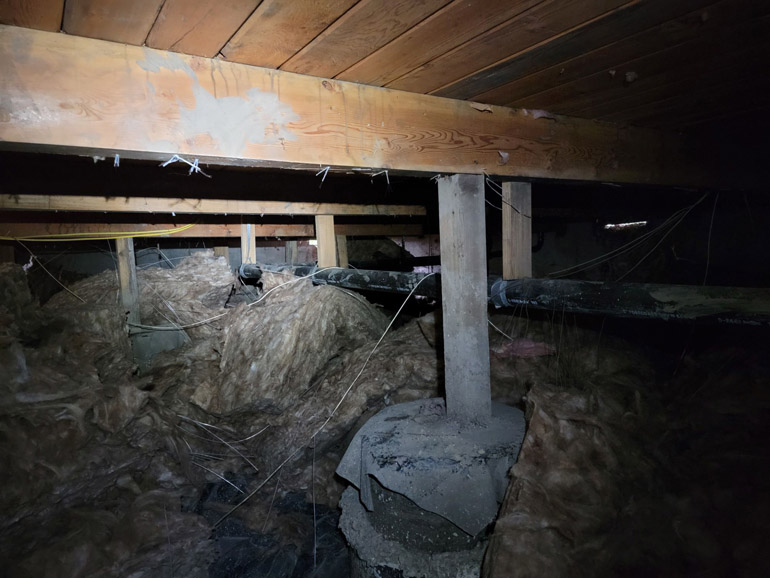 After: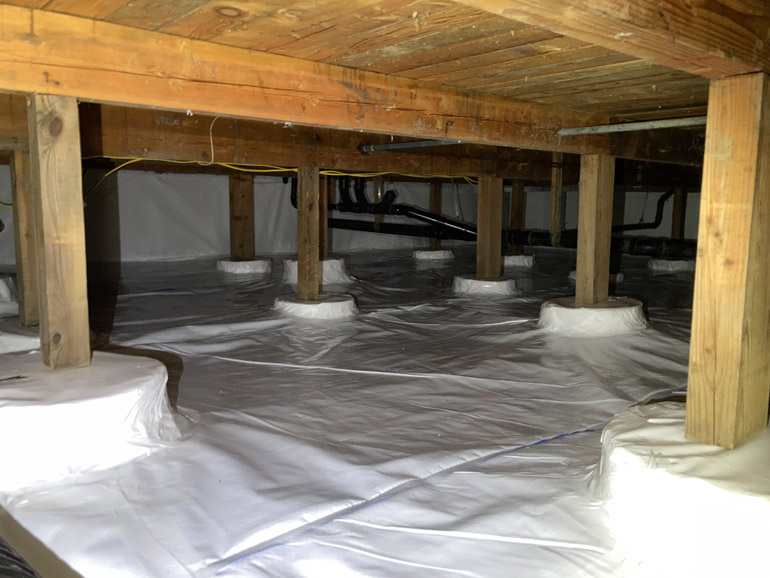 This large crawl space in a Portland house created cold drafts and cold wood floors throughout the year. The John's Waterproofing crew removed the old torn black plastic from the floor and encapsulated the space.
---
Most crawl spaces then get spray-foam insulation or SilverGlo panel insulation, as well as a complete sealing of vents and windows. After all that's done, John's installs a dehumidifier to ensure relative humidity is low and mold can't grow.
Once a crawl space is encapsulated, it's also in perfect shape for radon testing and mitigation if necessary, another service that John's Waterproofing has on its menu.
Dingle says John's encapsulation method is unlike others in large part because it's been tailored over the past nearly 50 years to meet the specific needs of homes in the Northwest.
"We have perfected it through years and years of researching what's best for the Pacific Northwest," she says. "Others might use a solution that's more general for use nationwide. That doesn't work for the environment we live in."
And though encapsulating a crawl space might not be the sexiest improvement that can be made to a home, it's definitely one that should be done and that will have unseen benefits for years to come.
"Encapsulation makes the crawl space a bright and clean area of your home. It can be used for storage, properly protecting your items," Dingle says. "But overall, this beautiful work isn't done to be seen — it's done to make your home healthy."
---