Photos by David Papazian & Kevin Felts | Above: Purple cabinets, the color orange, and Moroccan influence were a priority for these clients.
Recognized by HGTV for her bold and colorful kitchens, designer Rhonda Knoche thrives on the problem solving involved in complex design and color cases. Here she shares some of her most colorful secrets!
---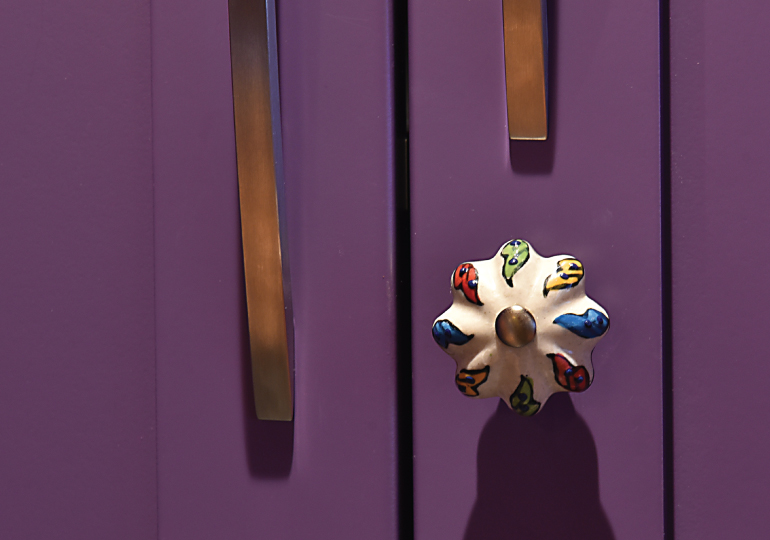 Hand-Painted knobs combined with pulls add a touch of whimsy and unpredictability.
---
Where do you gain color inspiration for your designs?
"Color inspiration is found through my clients. Color is highly personal — memories are often associated with colors."
The owners of the kitchen below loved both purple and orange, unable to choose just one. Aware of the thin line between whimsy and circus when incorporating both of these colors, Knoche was inspired by the work of Gaudi and a postcard from a recent vacation.
---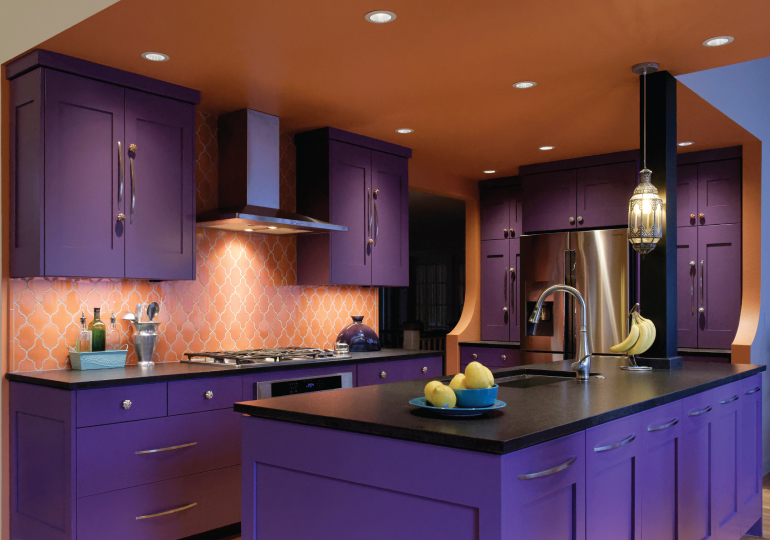 The room's composition is unified by the orange backsplash and ceiling, and the black counters ground the colors.
Contractor: THE Remodeling Group
Cabinetry: Hayes Cabinets
---
What advice do you have for folks on embracing color in their homes and kitchens?
"Our minds seek patterns. That's the No. 1 recommendation when working with color holistically in a house: Choose one color to thread between rooms. Reflect on what excites you and has inspired you in the past. Recall your favorite color as far back as you can remember. Stay away from trending colors and pay attention to contrast, scale and proportion when adding color."
And for the record: Rhonda's memory-laden color is purple.
---
This red jewel isn't just another pretty face, it also serves as a cocktail bar while cleverly hiding the island prep area.

---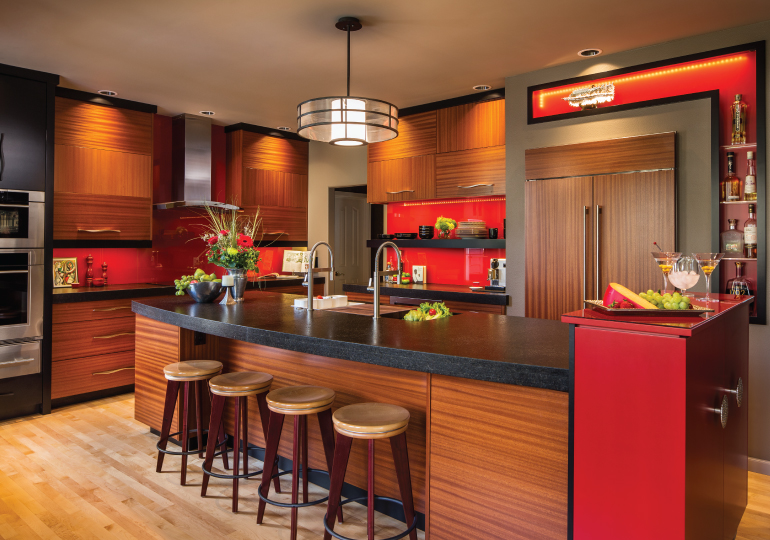 Color blocks are created with red backsplashes and a bold, L-shaped recessed niche—a splendid case of scale and proportion.
Contractor: C&K Construction
Cabinetry: Hayes Cabinets