Above: Furniture upholstered in nubby wool and woven tweeds from Castellano Furniture help bring warmth and texture into the space.
Melissia Schulz of Schulz Design Consulting and her client Tyler Bliss encountered their first problem while scouting out a 1970s contemporary on a wooded, vertical lot in Lake Oswego: They couldn't find the door. Several earlier remodels of the home had left it with a deconstructed floor plan, water-drainage issues and other oddities.
"A little bit of vision and planning could give the home a new life," Schulz said.
---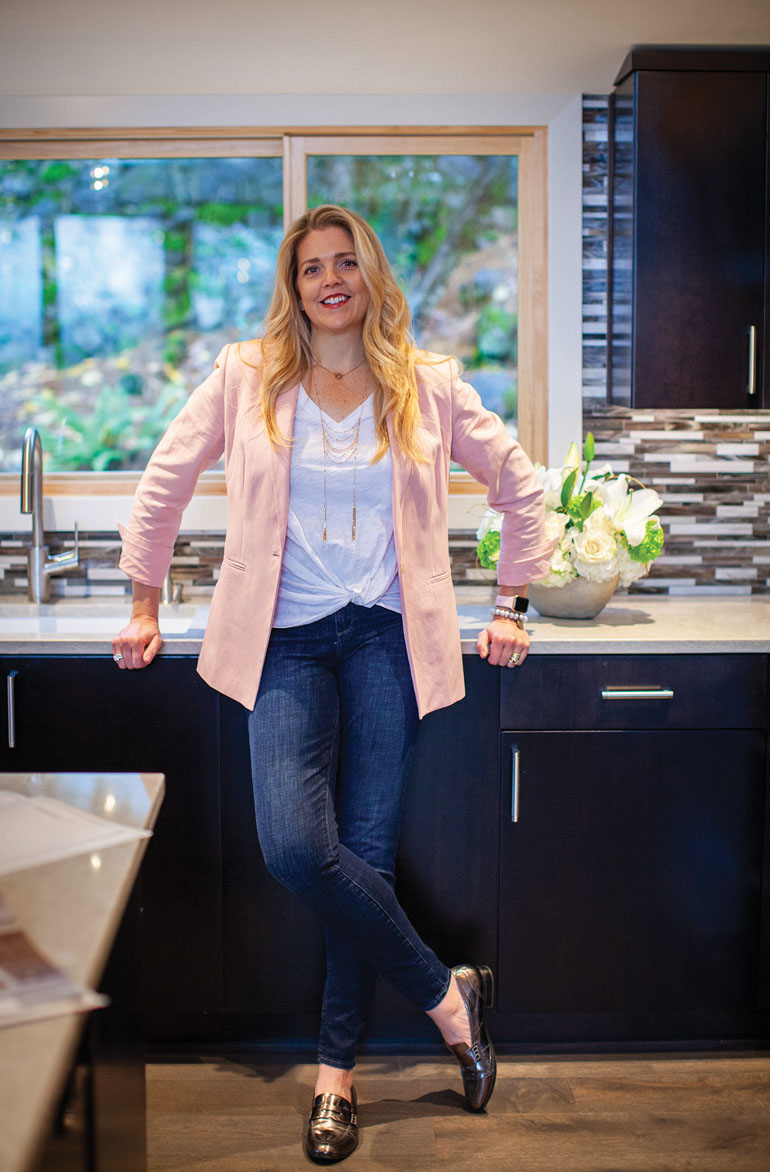 Melissia Schulz of Schulz Design Consulting
---
What the house did have was a south-facing living room with vaulted ceilings and a sweeping bank of windows overlooking lush greenery and sunset views. Remnants of the original 1970s open floor plan were still visible, including a retro inset spiral staircase and pristine tongue-and-groove wood paneling. While it wasn't the classic midcentury property they had been looking for, it was something else: completely different from the traditional family home where Bliss had raised his children.
---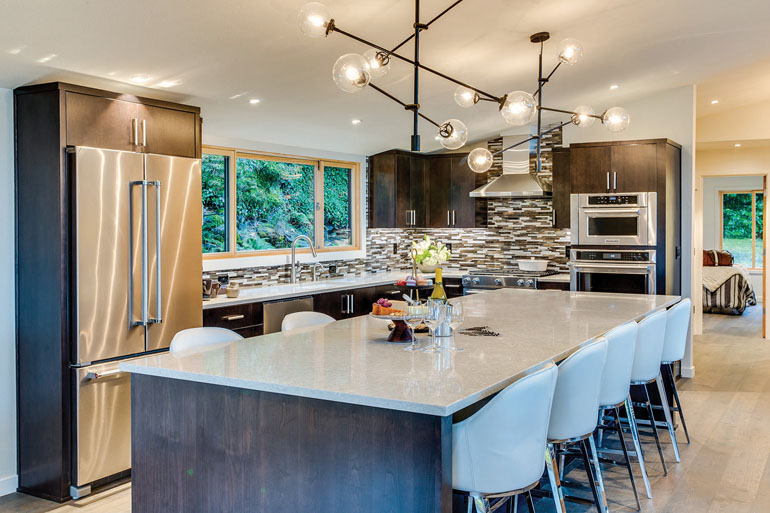 ---
"When I had a chance to do a total overhaul, it was a no-brainer to have Melissia help me make it my own," Bliss said.
What Bliss needed in this next stage of life was open space for casual entertaining, room for grown children to visit, and a more masculine and modern, minimalist style.
Schulz, trained in interior architecture, started by reworking the flow of the home inside and out to achieve the client's longing for a midcentury vibe. The home had a large living room with a great-room feel, but it was cut off from the kitchen and eating areas. Schulz reconfigured the kitchen to make the island the main entertainment and eating focal point, with space for more formal dining to be added at a later date.
---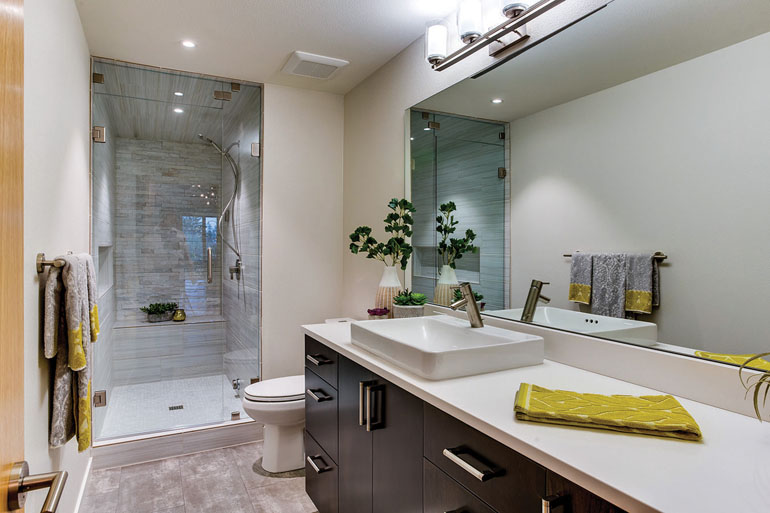 ---
"Keeping these living areas completely flexible is key for long-term livability," Schulz said.
Although her client wasn't necessarily thinking about aging in place, Schulz steered him toward single-level living. The master suite was relocated to fix the funky entryway issue and remained on the ground floor. Schulz and her team uncovered more ceiling height available in the new master bedroom and bath. She added upper windows to enhance the expansive quality and maximize that sunset view. In the bathroom, a large walk-in shower and simple, elegant finishes give the modest footprint a spacious feel. Lofty double sliders open off the great room to the back deck for seasonal outdoor living.
---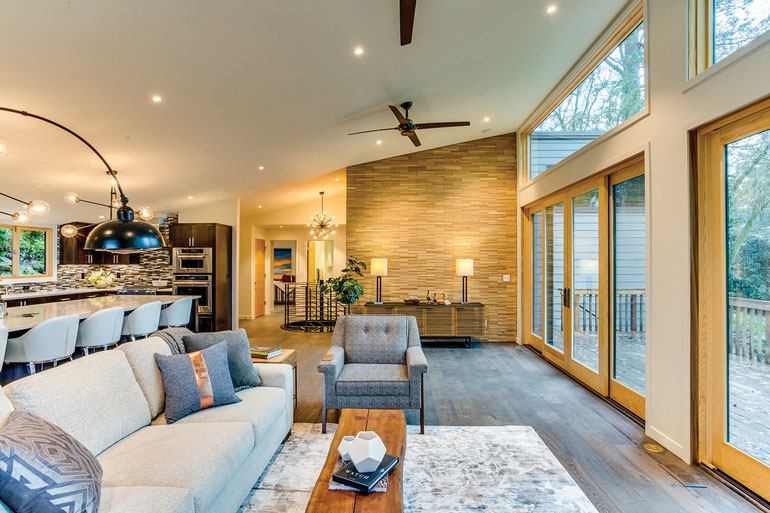 ---
The new interior arrangement provides a laundry and utility area directly off the garage, as well as a generous guest bedroom and bathroom upstairs, including a large steam shower and double sinks.
"It took some shared vision to see the potential of this house, because it was kind of a mess," said Schulz, "but that's also what made this project so exciting. We preserved everything about the home that had the right intention and capitalized on it."
---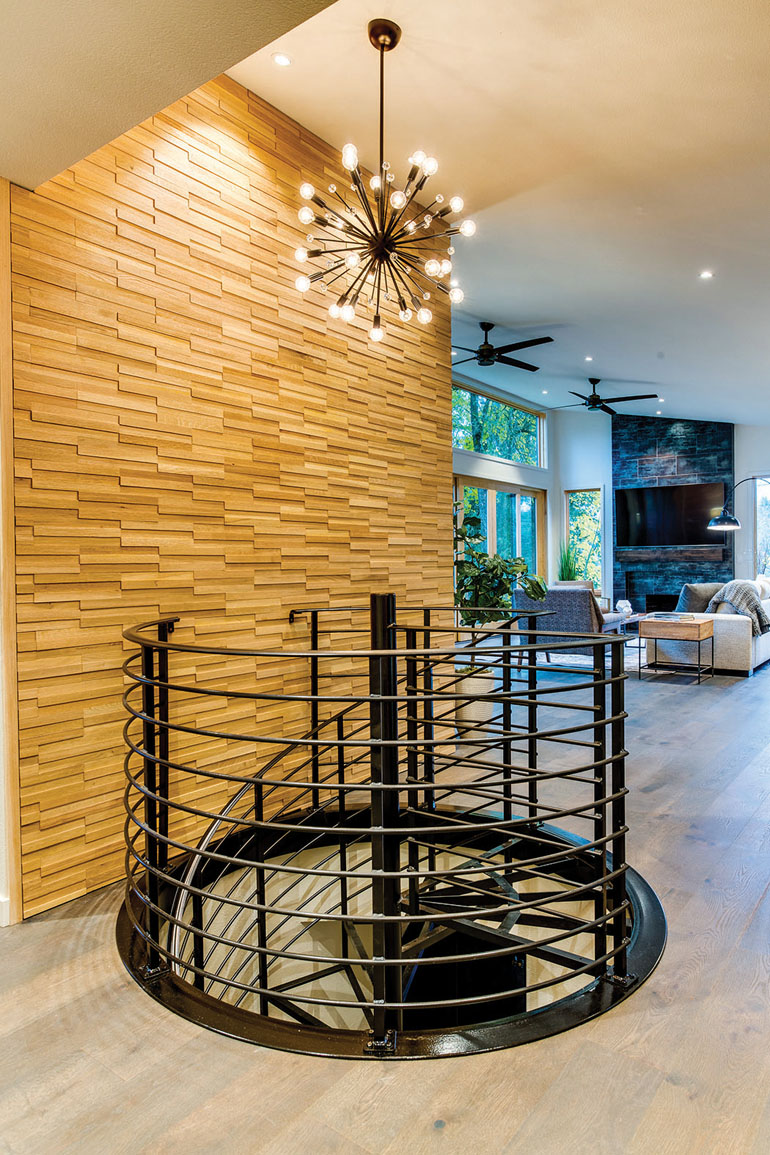 ---
Bliss is thrilled with his new, sophisticated space.
"This is a grown-up house for all of us — it's still a family home, but a family home for me and my grown children," he said. "It's enough room for me to entertain but small enough to feel inviting."
---
For more information, visit: schulzdesignllc.com