A grand old lodge, filled with light and the soaring beams of vaulted ceilings – this was the vision of Greg Morse and Tish Tack when they began building their mountain home near Sweet Home Oregon. To make that vision come alive with furnishings and color, they turned to LaRee Holscher of Lakey Design.
"We wanted something that felt like a grand old lodge, like something you'd find in a national park," explained Morse.
With Holscher at Lakey Design, they got their wish: a beautifully furnished timber-frame home that evokes all the texture, warmth and retreat of the renowned Oregon lodges at Timberline and Crater Lake. The 1,600-square-foot great room is now filled with layered light and colors that honor the arched ceilings, exposed beams and natural stone surfaces of the home.
---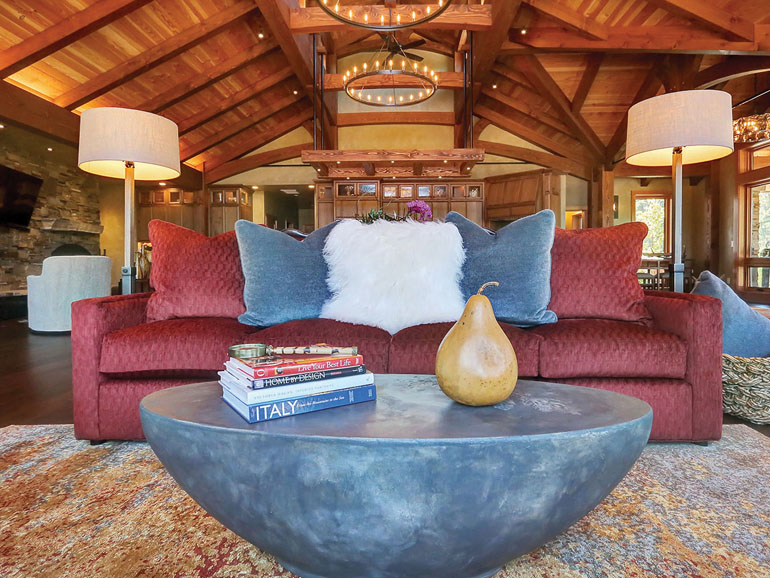 ---
Holscher's process helped Morse and Tack understand as well as furnish their space. The designer's first step was to create a CAD drawing that sectioned the great room into a dining area and two sitting areas: one near the natural-stone fireplace, and another next to the row of windows that opened to the rural views.
Holscher then selected light fixtures that created both a sense of warmth and personality. Here the designer used round, wrought-iron chandeliers that added necessary light to the large
spaces, but which also balanced the high, wide ceilings with a comfortable visual weight.
Rugs often define the spaces they reside in and were another prime consideration for Holscher.
---
---
Explained Holscher, "The rugs were important because the great room is so open, but we also needed to ground the room and retain the sense of a classic lodge. Also, Greg and Tish wanted something organic and in earth tones. My choice was a set of lovely, artisan-crafted Tibetan rugs. Their colors bind the room as a whole and yet define each space as a unique place to experience the home." They truly are a work of art!
Because the homeowners owned several rock quarries, the selection of hard surfaces and textures was crucial. "Stone is a passion for them," said Holscher "So are organic materials. With that in mind, we chose granite counters for the large kitchen. It took a while to find the perfect granite, but it's created a stunning space. Then I added a concrete coffee table in the nearest sitting area to offset the counters and add contrasting texture."

Morse and Tack were so pleased with the ambiance of their new home that they hosted a party, but they had a surprise in store for their guests. They married that night, before their family and friends, and celebrated the joining of their two hearts, not just the completion of their dream.
---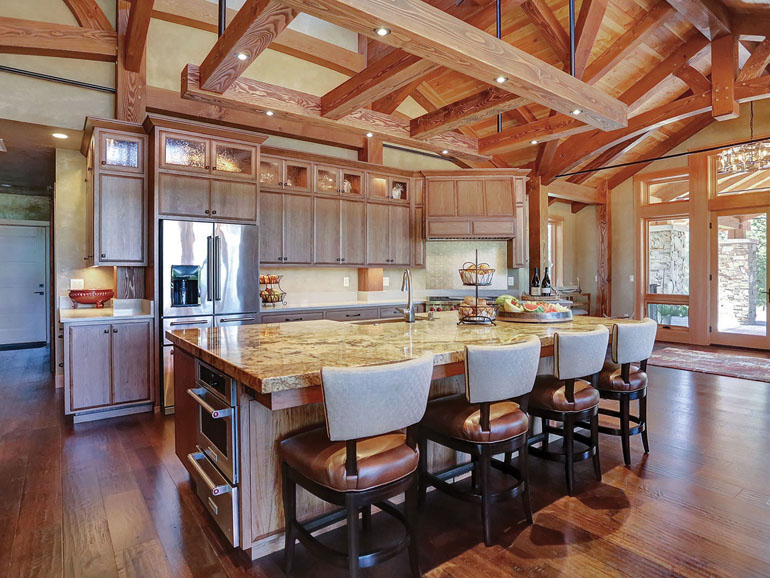 ---
Said Morse, "Holscher's color choices and textures really helped us bring this timber-frame design together. She made our house stand out in terms of design, and more importantly, for us, turned our vision into a home."
---
>>For more information about turning your vision into a home, or to book a color consultation to create the perfect color palette for your interior or exterior, visit lakeydesign.net.