Photography by Cheryl McIntosh Photography
Andrew Feldon has a reputation for creating livable spaces that are an extension of the homeowner's personality, values and individual lifestyle. As a designer, he puts his clients' interests at heart, taking time to listen for the subtleties that help him design a home around a life.
"It's one thing to make a beautiful house or building, but if it doesn't reflect the client's values or how they want to live, it's like wearing someone else's shoes," says Feldon, who leads a full-service design firm with offices in Portland and the San Francisco Bay area. "A personalized feel is so very important."
Feldon recently completed a modern custom home in Southwest Portland. The result is a thoughtful collaboration with the homeowners, his team and the builders, Riverland Homes — one that illustrates a compelling and intuitive approach.
---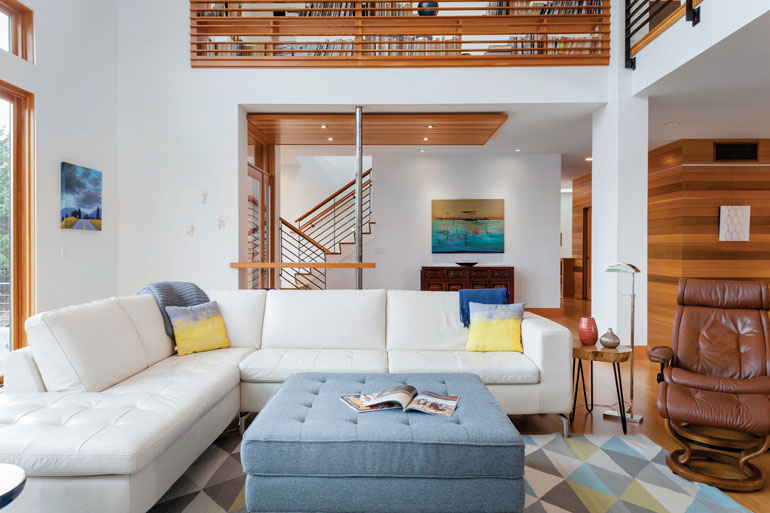 ---
LISTEN
Feldon's clients, Julie and Rob (two engineers with young daughters), wanted a modern, light-filled home with large, open, livable spaces that formed a seamless connection between the indoors and out. With a lot in Portland's West Hills facing the Coastal Range, they placed a premium on making the most of the home's views. The budget was tight for the environmentally friendly; low-maintenance five-bedroom, three-bathroom; 4,000-square-foot home the couple envisioned.
Feldon says of his approach: "I arrive with an open mind and no preconceived ideas about what the house should look or feel like. My job is to listen and interpret my client's dream for their home. I work to discover what makes the homeowner happy, translate it into visuals, then serve as a guide as we work together to assemble the puzzle."
"We communicated things to him and he would ask the right questions back," recalls Julie. "It was that personal level of service. He understood the purpose of the home — that it was for a young family, and everything needed to be durable."
---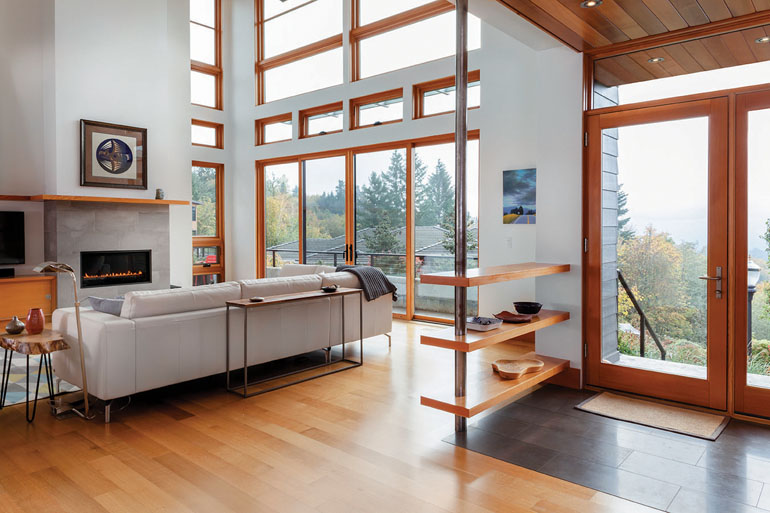 ---
INTERPRET
Once Feldon and his team understand what the client is looking for, the next step is to further interpret and personalize their desires.
Case in point: When the homeowners said they didn't want to feel like they were always walking in through the back door, Feldon responded with a well-lit and well-appointed entry space off of the garage.
"A lot of people get in and out of their house via the garage, so the home has essentially two entrances," says Feldon. "We listened to the client and used our judgment and expertise to make it a really strong idea."
---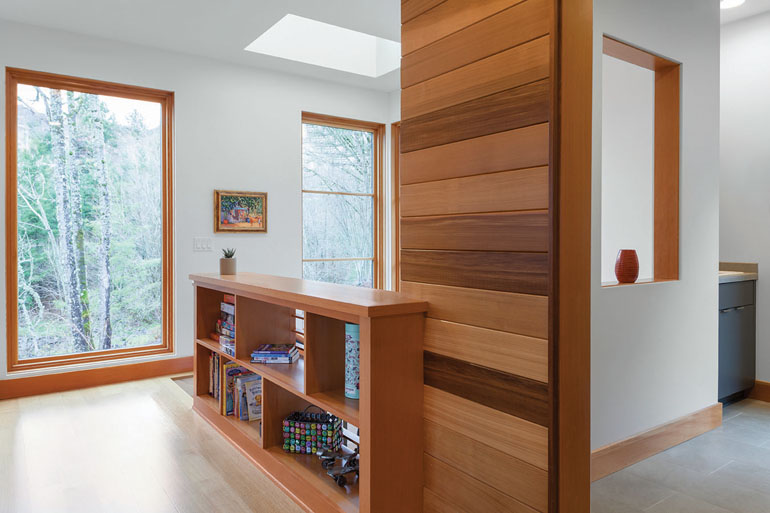 ---
GUIDE
With design objectives solidified, Feldon and the team look for efficiencies and guide the selection of materials to fit the client's aesthetic and budget. Feldon added, "With the builders at the table from day one, they helped us achieve a very effective balance between design and budget." For a window-wall effect in the living room, Feldon chose off-the-shelf windows instead of custom; in the stairway to the second level, floor-to-ceiling windows and skylights highlight the views and flood the home with natural light.
"We used fairly standard building materials, but used them creatively so it's not a stock look, but what the client wants," Feldon says.
To ensure the west-facing exterior was low maintenance, it was clad in composite siding. Cedar elements under the eaves and near the front door are protected from sun and water. Finish carpenter Bob Tucker of Warm Tones Woodworking continued the cedar accents indoors, with floating ceiling panels in the entry hall and above the dining table to define the spaces. Feldon's mindful engagement and attention to detail was key to this successful design and build project.
"I'm sitting in my house right now and it's pouring down rain, but it's still bright in here," Julie says. "Andrew understands our climate and what would be a priority in this modern home."
---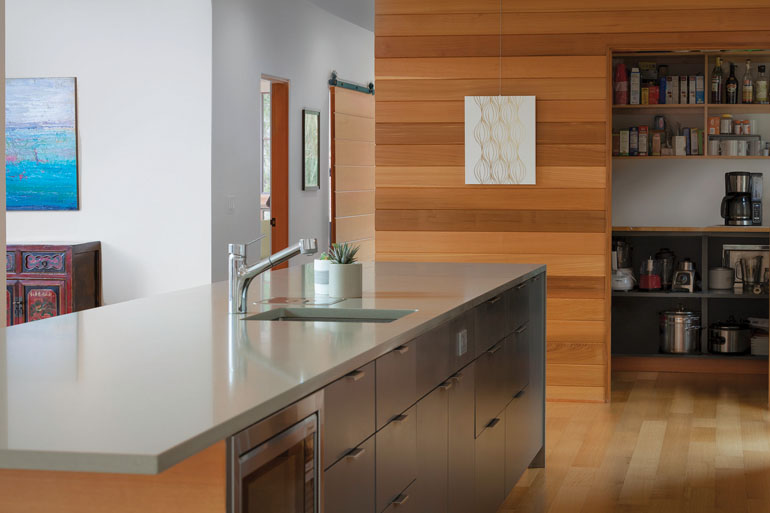 ---
For more info, contact Andrew Feldon at 503-451-5117, [email protected] or visit andrewfeldon.com. Contact Riverland Homes at 503-719-5524 or visit riverland-homes.com.