Health, wellness and community have long been values sought by seniors looking for the right place to retire. As of this past spring, seniors in Portland can add another value to their list of desires: a low-impact lifestyle.
"Our elders are the most capable of taking the lead on issues that require a big-picture perspective — like environmental conservation," said Vassar Byrd, CEO of the Oaks at Rose Villa, a project by green-building industry leader Green Hammer and Portland's first net-zero energy senior community. "Our residents seek us out for a lifestyle that keeps them connected to nature and the outside world. They want to be able to walk, bike, garden and live their conservation values."
In some ways, Rose Villa, located just south of Milwaukie on the banks of the Willamette River, functions similarly to many long-term care communities. Residents live independently in cottages, with services designed to keep them self-capable as long as possible before moving into assisted care located on-site. But what sets Rose Villa apart from other phased retirement communities is its integrated approach to sustainable living, from the building practices that created the facilities to the lifestyle opportunities available to its residents.
---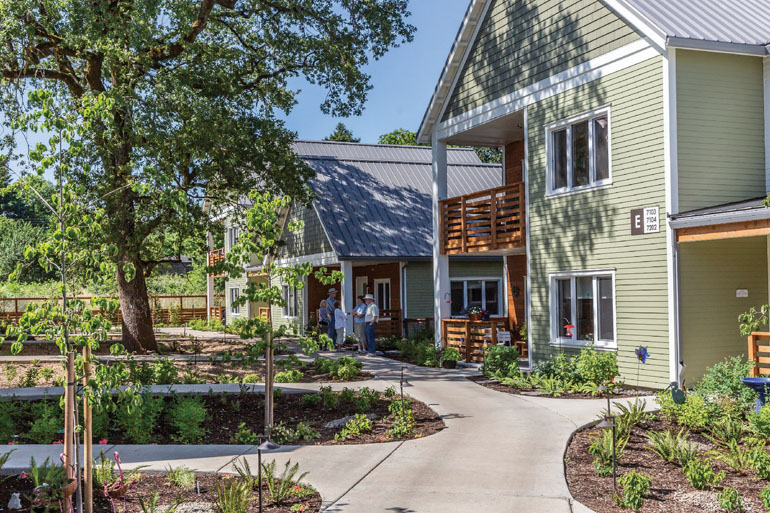 ---
"Most seniors' final housing choice is a downsize," Byrd said. "I wanted to explore what sustainable features were possible in smaller-footprint living."
Jean Lofy and Edward Gellenbeck were among the first residents to join the new community. The couple was drawn to the builder's Craftsman-style design and community feel. They were among the 19 residents who bought in during the project's first, 12-home phase of development, which sold out nine months before completion. Recently diagnosed with an auto-immune disorder, Gellenbeck is experiencing improved respiratory health, which he contributes directly to the superior indoor air quality of a net-zero home. While the couple had always been interested in sustainability and reducing their carbon footprint, they discovered their new home's fresh-air circulation systems and clean, low-toxic building materials to be of additional benefit to their own well-being.
"I suffered from sinus and allergy problems my whole life until we moved to the Oaks," Gellenbeck said. "There is no sacrifice to living in a zero-energy home, just big benefits."
---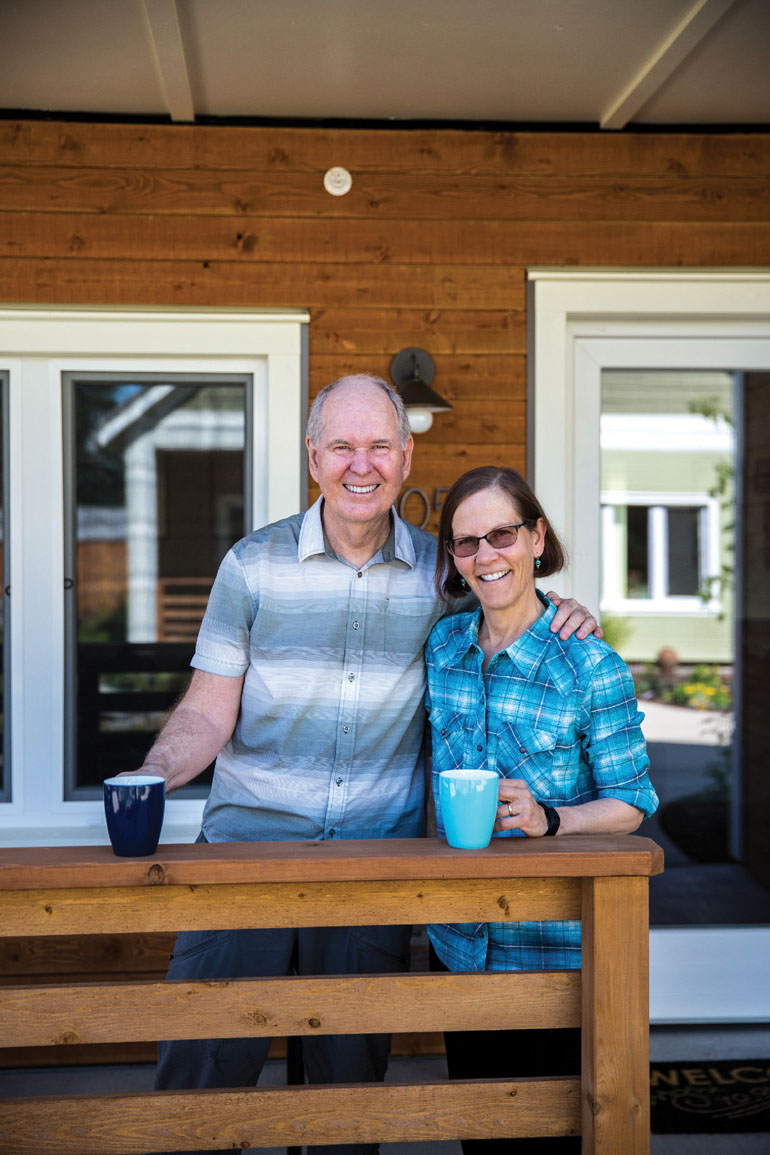 Edward Gellenbeck and Jean Lofy
---
Sustainability Features at Rose Villa
Green initiatives permeate life at Rose Villa. Residents can even join Rose Villa's "Green Team," which is actively involved in identifying and instituting more sustainable practices at all levels of community life. Residents contribute to environmental health through:
On-site composting programs
A community-run resale shop
A community garden, which also supports farm-to-table offerings at two on-site restaurants
A weekly farmers market run by residents
Landscaping focused on native plants and encouraging native biodiversity
A free shuttle to nearby public transportation
Durable and reusable takeout containers and utensils from on-site restaurants
Coming soon: a community electric vehicle ride-share program
---