DesignSmith maintains historic elements while renovating for today's way of living.
---
Twenty years ago, Valerie Taylor-Smith, owner of DesignSmith, and husband Mark Smith purchased a fixer-upper English Arts & Crafts home on a quiet dead-end street in Portland's Southwest Hills. The structure had good bones and historical significance. The 1917 residence, known as the Jacobberger Country Home, was designed by renowned Portland architect Joseph Jacobberger, who lived there with his family until his death in 1930.
Jacobberger's hand can be observed all over Portland and beyond — from homes in every city quadrant to YMCAs, churches, and corporate and municipal buildings. Some notable designs include St. Michael the Archangel on Southwest 4th, the Calumet Hotel on Southwest Park and the North Portland Library.
The Shaker-shingled Country Home stands out with its triple-intersecting gables on the front facade, cantilevered side gables and large stone chimneys. Before the Smiths purchased the property in 2001, the home had endured multiple unfortunate remodels that didn't reinforce the home's period details. The Smiths set out to restore the home through renovations of their own, guided by Craftsman style and original house blueprints Valerie found at the University of Oregon's Knight Library. After several years of research, she had the home placed on the National Register of Historic Places in 2011.
---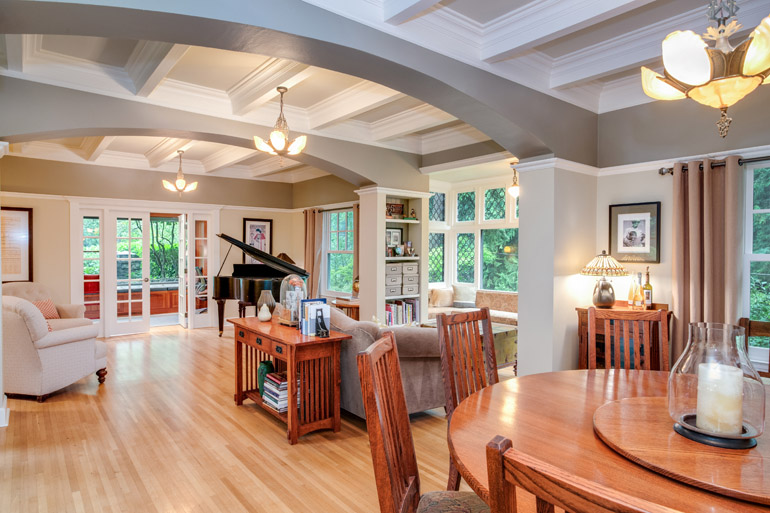 The main-level ceilings and original leaded glass windows were what convinced the Smiths to buy the home. The beautiful arches, box-beam woodwork and alcove shelves gave the home its character.
---
"Because it's on the National Register, I try to honor the period of the home," says Valerie. "But I'm carefully moving it forward into the 21st century with updates that bridge classic to transitional design in order to keep the house relevant to current-day expectations."
In the beginning, the Smiths focused on structural elements — foundation, electrical, plumbing and crumbling lath — and did much of their own work when they could. Valerie worked at Nike for 10 years before opening DesignSmith, which provides 2D and 3D design services including print, packaging, editorial, signage, and environmental and residential design. Mark is a recently retired 30-year Nike Innovation veteran. The couple had renovated other homes, combining their professional experience with a DIY ethos and joy in getting their hands dirty.
"Being creatives, we truly enjoy the process of making things, whether it's a cabinet, a table or a piece of artwork, " says Valerie. "Over the years, we started to delegate certain tasks to each other and now my husband does all of the landscaping and I focus on the interior."
---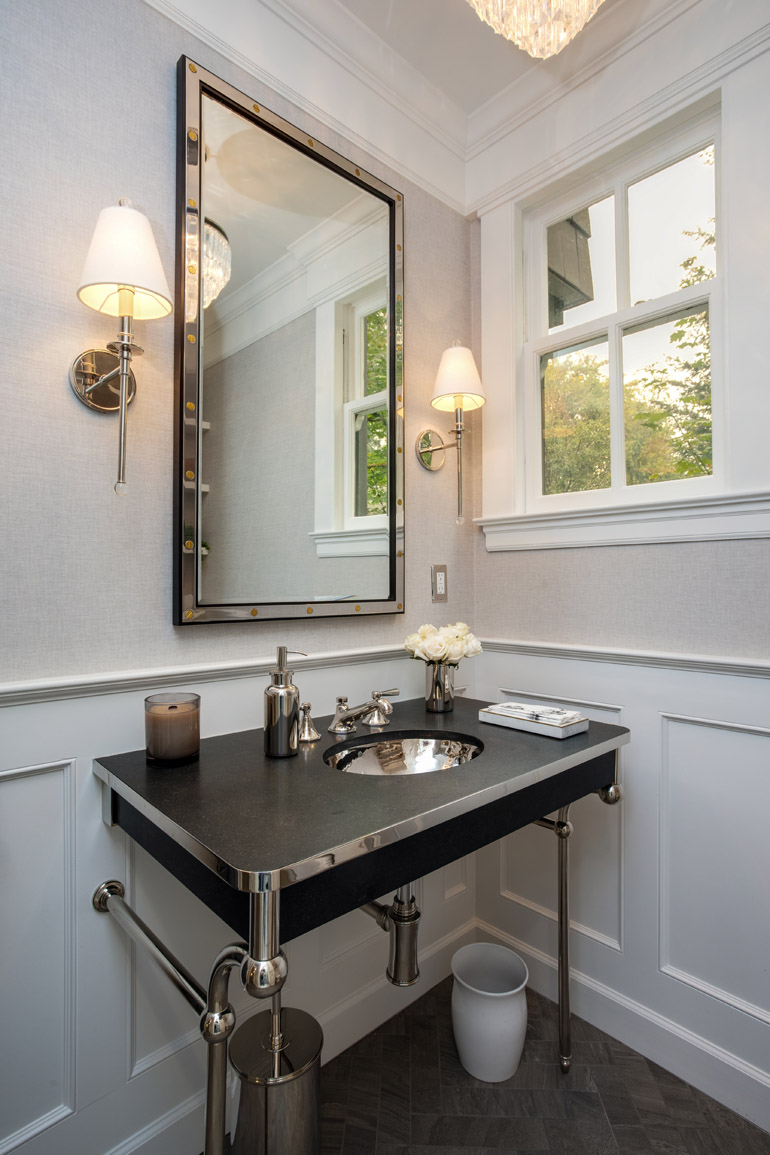 The redesign of the main-floor bathroom included clean white wainscot and surrounding trim and plumbing fixtures that reflect classical design.
---
The couple also developed a reliable team of contractors to call on when needed. At the top of their list are Ostmo Construction and Rockwood Cabinetry, who brought the design of their kitchen and main-floor bathroom to life with excellent craftsmanship and attention to detail. DesignSmith is currently working with them on another large-scale remodel in the Southwest Hills.
Valerie particularly enjoys altering spaces to suit the way people live. When designing a client's kitchen, for instance, she queries for specifics, such as how they cook, where they'd like their pans and spices, and where they prefer their garbage can — all seemingly small details that can help make a kitchen function more efficiently. Sometimes she gently guides people in a different direction.
"I try to give the client several options. They may have a vision of it one way, which I will honor, but my goal is to investigate the design from every angle, which may be different, and then let them decide. This process may take more design time, but usually results in a blend of both function and aesthetics that are integrated into a seamless design."
---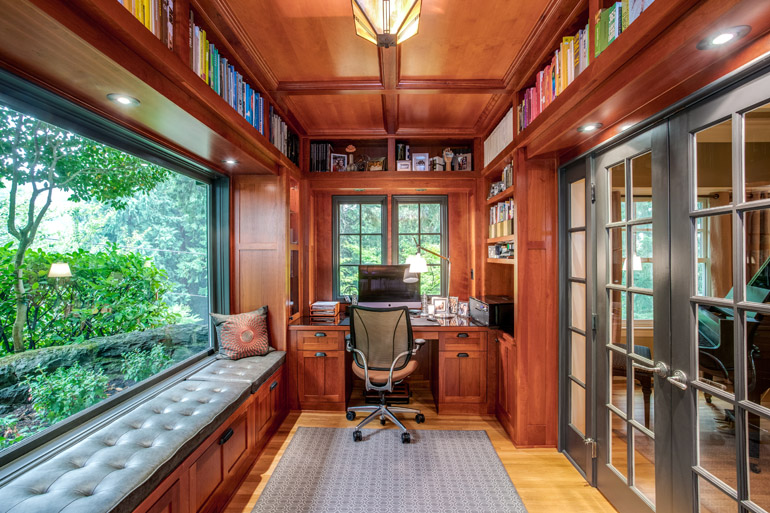 The original sunporch was turned into the DesignSmith office with floor-to-ceiling cherrywood cabinetry and surrounding windows and doors. It was designed with ample space for books and display cases.
---
When envisioning spaces, DesignSmith considers function and strives to create a mood. In the Jacobberger home, the Smiths modernized bathrooms while keeping a Craftsman feel; restored bedrooms with soothing color palettes and molding trim details; and returned a sunroom back into a stunning, light-filled office with mission lamp fixtures and recessed wood ceiling. They also resurrected the home's original billiard room at the behest of their son, as well as Jacobberger's original drafting room and family sleeping porch.
---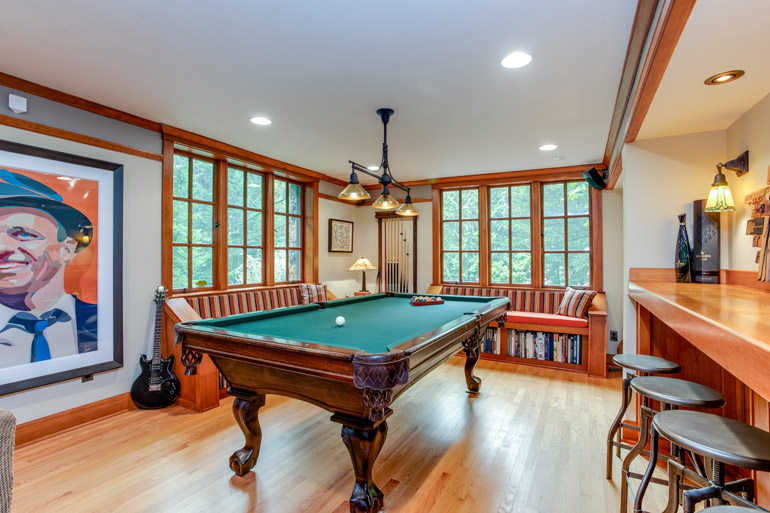 After finding the original blueprints of the home, the Smiths saw that the lower basement was originally designed as a billiard room. This knowledge, and prompts from their son begging for a pool table, initiated the room's rebirth.
---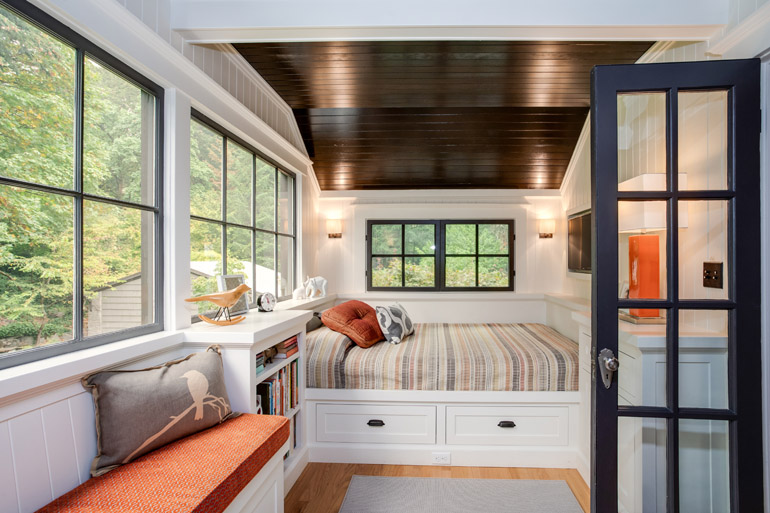 The original sleeping porch was transformed into a kid's room, as the Smiths anticipated grandchildren after their own kids left the nest. Proving the popular motto "If you build it, they will come," they were blessed with their first grandchild in January 2020.
---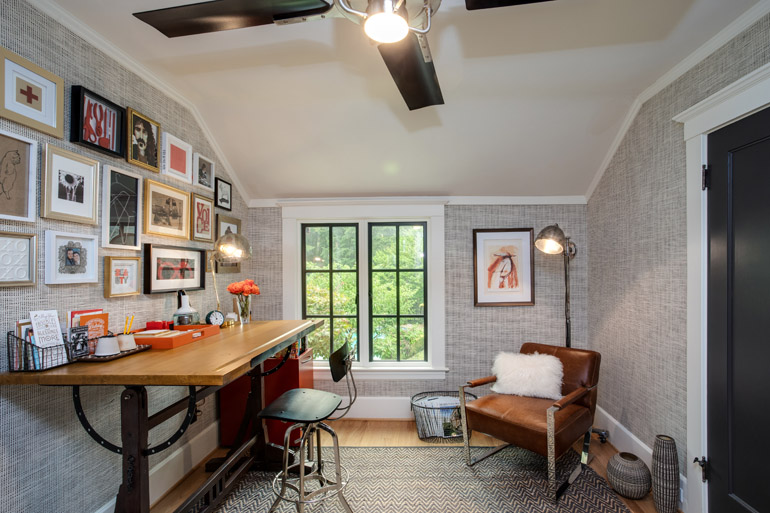 The drafting room next to the sleeping porch was where Jacobberger worked in the evenings. The Smiths now use it regularly for art projects.
---
One of Valerie's favorite recent remodels is her own kitchen. They had lived with the room's knotty pine cabinets, black countertops, cheaper appliances and inefficient use of space for years. Two corners of the kitchen were set on a 45-degree angle, making the room feel cramped despite being a fairly large space; wood and insufficient light made it feel dark. The redesign focused on changing both of those elements. Now the U-shaped room with center island boasts clean white and glass cabinets, Carrara quartz countertops, large globe fixtures over the island, and sleek furniture around the side hearth and dining area.
"It felt like the room grew by 5 feet, just by changing the basic layout," Valerie says.
---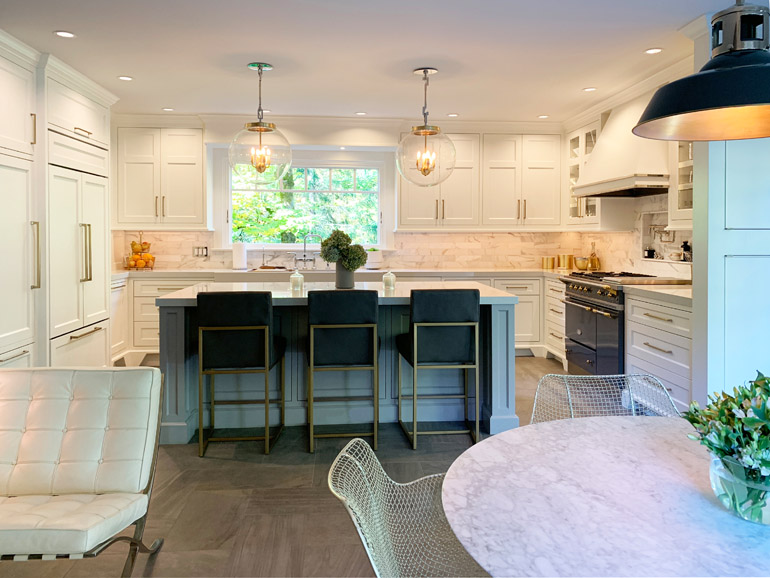 ---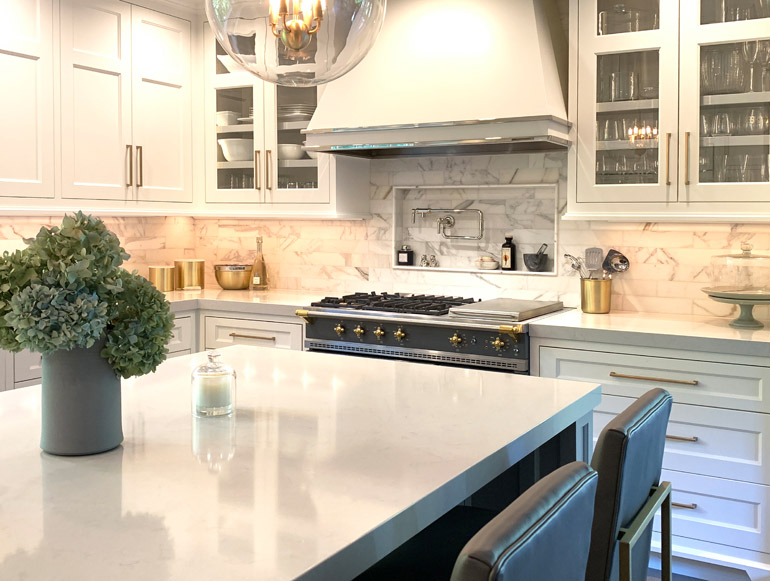 Valerie's kitchen "wasn't beautiful or optimally functional." Her remodel restored period details and modern function, making it one of her favorite rooms.
---
The Smiths aren't done just yet. As anyone with an older home knows, something always begs attention. This labor of love has extended to researching the home's past and has given Valerie the chance not only to restore a piece of Portland's history but to explore and demonstrate her own design sense.
"I tend to think of design as putting together a puzzle where all the small pieces finally come together into an integrated whole," she says. "This approach applies to my graphic work as well as my environmental designs. I want something that's interesting to look at but also cohesive and clean. That's the pinnacle I'm always trying to get to."
---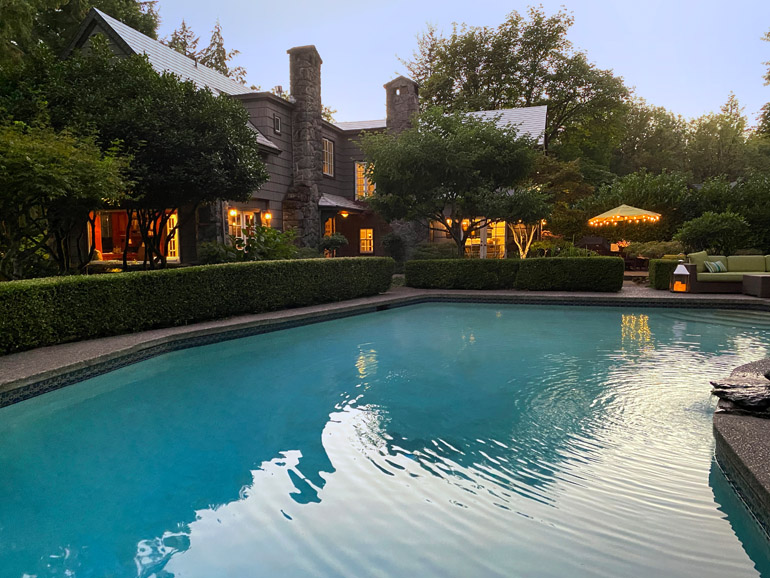 When they bought the Jacobberger Country Home, Valerie says the backyard was "mud and a moat." Mark has transformed it into a lovely private landscape with a pool, hardscape and greenery.