Sydne Doan helps a Southwest Portland couple build a tailored, welcoming space for daily life and entertaining.
---
Lake Oswego-based designer Sydne Doan loves to get creative. After working in television production for years, Doan turned her talents to interior design 11 years ago. Through formal education and work with two Portland-area studios, she jumped right in, absorbing everything she could about furniture selection, building systems, working with contractors, and the ins and outs of trades. To this day she is guided by curiosity, creativity and a quest for excellence, staying on top of industry trends and seeking experts across all building fields.
"I want to find the best of the best and know who delivers the finest product," Doan says. "You're only as good as the team around you."
---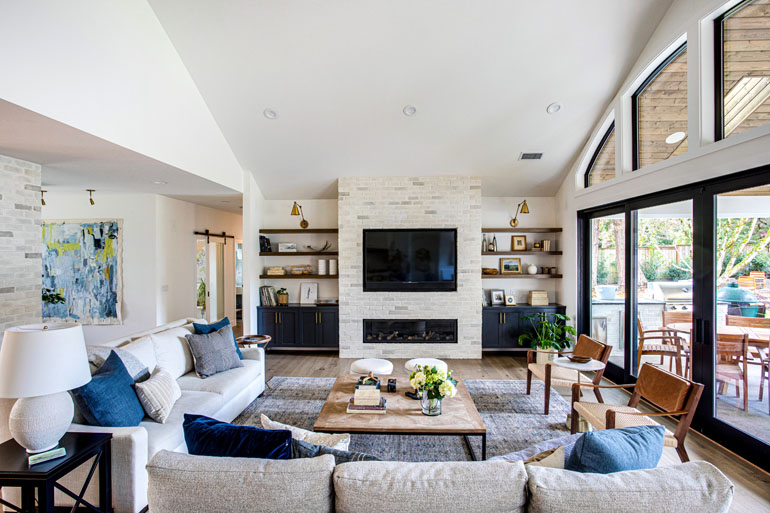 ---
Doan's clients recently sought her help when downsizing from a large, multistory house to a 3514-square-foot single-level home in Southwest Portland. Working with contractor Brian Nelson from Rhombus Design, they took the mid-'50s ranch down to the studs to build an open concept home that made good use of space. Doan's charge was to create light, bright, inviting living areas that felt tailored yet welcoming.
"We wanted people to feel comfortable and able to put their feet up but also walk in and have their socks knocked off," says Doan. A few important client needs drove the project: The couple loves to entertain and wanted to accommodate a large crowd; they wanted room for the whole family to spread out; they needed durable furniture and fabrics; and they wanted to showcase their local art collection. Currently, the family has two boys — a fifth grader and a high school freshman — and Doan asked her clients to look a few years into the future when imagining space needs.
"As the boys grow, the way they use the space might change" Doan says. "It's important to design for today but also have a bit of a long term in mind."
---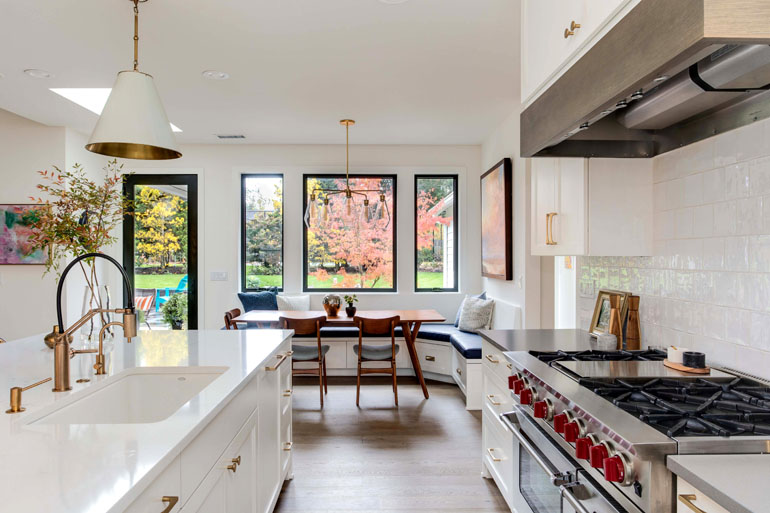 ---
Any successful design project should focus on how clients actually live and leave them feeling at home in their space. This ranch remodel ticks every box. It's open and bright, with large windows, recessed lighting, and white and brass task and accent lights. With every detail carefully thought out, each selection speaks to Doan's preference for a marriage of traditional, modern and collected. Neutral but striking living room furniture is built for real life, where people can put their feet on the coffee table or pull up an ottoman for conversation, a board game or to watch the television built into the light stone hearth. A kitchen island with bar stools plus a built-in banquette provide even more seating and allow for multiple gatherings at once.
As planned, the owners' art collection provides show-stopping interest throughout the home. The lighting design took into account where significant pieces would hang in the entryway, living room and kitchen nook. Stepping into the home, you can see most of the living area straight through to the backyard.
"It's important to me that my clients' personae get expressed through design," Doan says. "When I walk into this house, it feels like their personality; it's happy and inviting. The space makes sense for them."
---