For the talented Portland couple behind TTM Development, each new project becomes a chance to improve upon the past.
Photography by Kyle Bryant
---
Match made in heaven? How about match made by design? For Tucker and Joanie Merrihew, the couple behind the award-winning homebuilding and design company TTM Development, every new home is a passion project. Their newest project, a complete redesign of their previously built NW Natural Street of Dreams home, shows them taking their talents to the next level.
"It's been a decade-long journey of working together as a married couple and also building a great company at the same time," says Tucker. "We started by renovating entry-level houses in areas around the city core, and now we build some of the most amazing homes in the entire Portland metro area."
Owned and operated by Tucker Merrihew and his wife, Joanie Merrihew, TTM Development got its start right after the great recession set in over 10 years ago. "At that time, most people were running as far away from real estate as they could, but we decided to do the opposite and really try to build something special," says Tucker. After joining forces, with Joanie as the general contractor and project manager and Tucker as the head of acquisitions and finance, they've evolved from renovating small entry-level homes to building gorgeous spec homes of Street of Dreams stature and quality.
From 2005 to 2008, Tucker ran his own mortgage company while Joanie managed the custom-home division of a large-production builder in town. Then 2008 marked the start of the Great Recession, which seriously impacted both of their careers. Previously, Tucker had bought, lived in, renovated and sold a number of homes, so with that experience, the couple started TTM Development, buying and renovating foreclosures. Over the years, the couple renovated a large number of classic older homes in many notable Portland neighborhoods, like Eastmoreland, Laurelhurst and Grant Park, before ultimately evolving into new construction.
---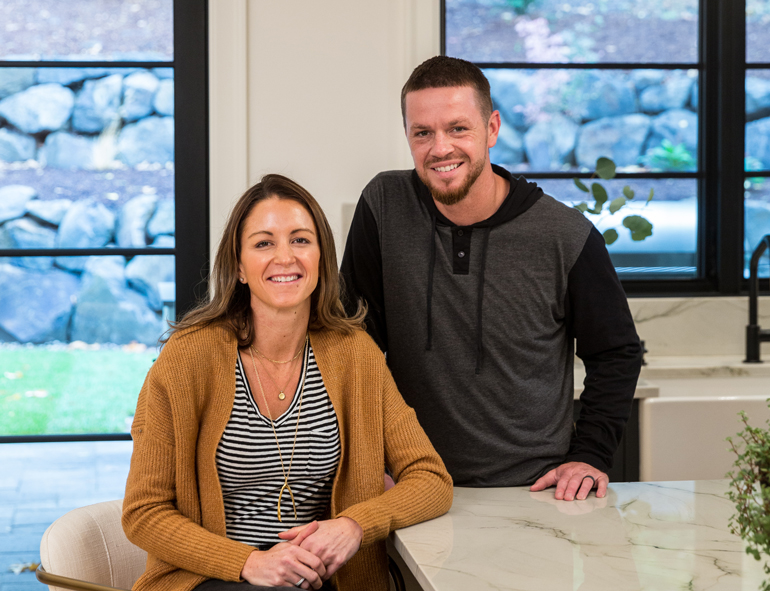 Joanie and Tucker Merrihew
---
"Along the way, I've absorbed as much as I could from every experience, and we are still learning today," says Joanie.
For Joanie, home design and construction is a passion with its roots in childhood. After growing up and realizing that her desire was more than just a childhood dream, she graduated design school and began working for a construction company.
"As a kid I used to draw floor plans," she says with a smile. "My mom would give me grid paper; I would draw not just houses but subdivisions with different-style homes. I wish I still had those drawings!"
The Merrihews recently completed their Dunthorpe project; they had incorporated the home's design once before during the 2013 Portland Street of Dreams. That home, which won a number of awards and also gained an extremely large following online, was a Dutch shingle-style house featuring 5,300 square feet of open living space with a master suite on the main floor and a great room that opens to a beautiful covered outdoor living area. At the time, Joanie was 30 and Tucker was 33, which made them the youngest builders ever to build in the Street of Dreams, and their home ended up selling at a higher price than any other on the street—just under $2 million.
"We love creating and building," Joanie says. "It's such a challenge, but every project is so rewarding."
Six years later, Joanie felt the house could be made even better. The original home still stands in a different part of town, but the new home ties in more closely with the architectural style of homes in the Dunthorpe area, a historic neighborhood just south of Portland's city center.
"We kept a similar floor plan, but instead of doing a primarily black exterior with the natural contrast, we painted it a classic dark gray-blue with white trim. It's a little more polished, a little more traditional looking, with a mix of modern materials and finishes," says Joanie. "We wanted a more sophisticated look than the somewhat relaxed style we created last time."
---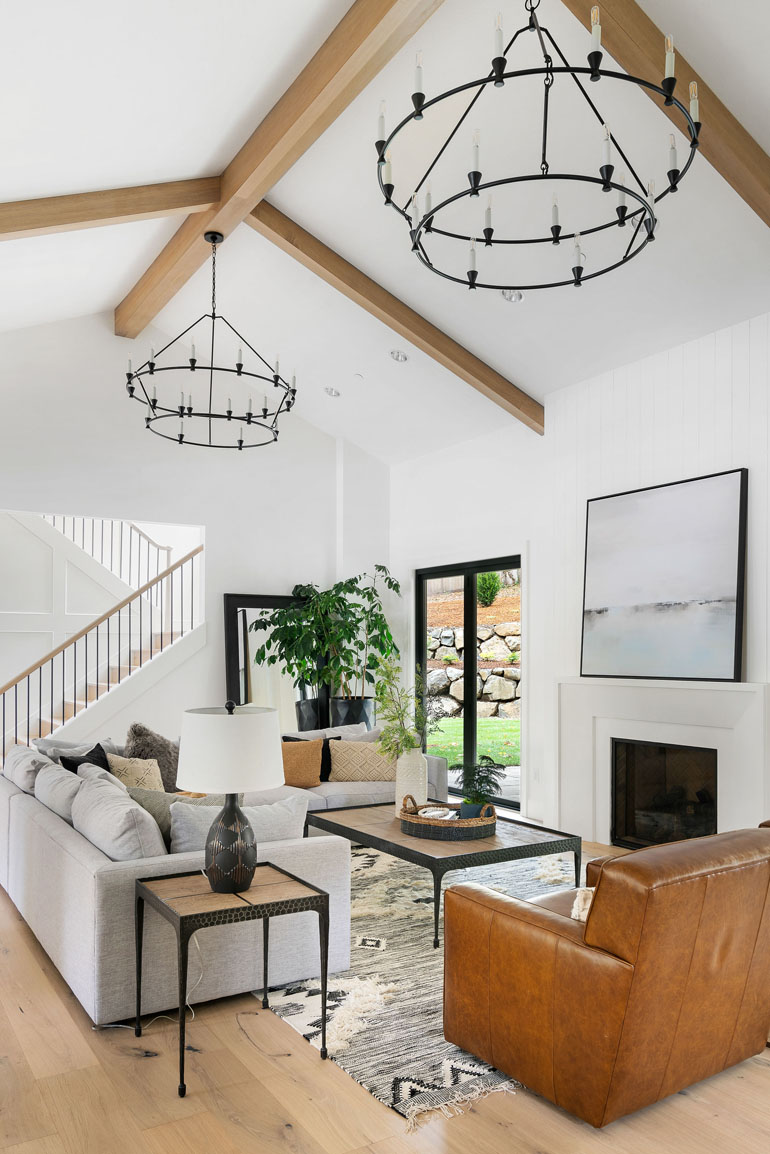 ---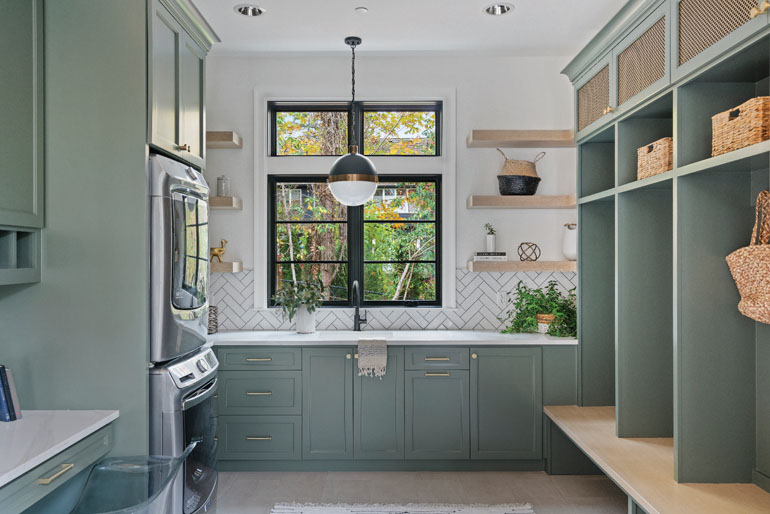 ---
This time an elegant limestone fireplace with vertical shiplap takes center stage. Rift-sawn white-oak cabinetry and brushed-oak flooring throughout is a neutral canvas for any objets d'art the new homeowners might have, as well as providing restful space for the eyes. Abundant natural light courses through the home, helped along by the custom-made glass transoms above every doorway. Brass mesh inserts within the mudroom cabinet doors are brought to life by the rich and saturated color tones, and fixtures throughout the home are a gorgeous satin brass.
"This home is the pinnacle of our building career to this point, in overall quality and level of design," says Tucker.
As the GC, project manager and designer, Joanie is involved in every step of the process. While the original home's use of space didn't change, the finishes she chose this time make this a quintessential Portland home. "The previous home had barn wood and some other elements that were more rustic," she says. "But this time it feels both modern and traditional, which is an invaluable combination when it comes to interiors. It's a mix of design that will still look great in 10 years."
A custom case molding by Metrie (provided by Portland's Medallion Industries) looks slightly more formal and tailored than what was used before. Handmade Phillip Jeffries grass cloth wallpaper in the master bedroom has rich texture and visual detail with its tan and cream chevron pattern. "It's a stunning focal point," says Joanie. "With the vaulted ceiling and lime-wash brick fireplace, it makes for a peaceful retreat."
Many of the finishes are supplied by local companies such as Portland's Pratt & Larson, which supplied handmade tiles for the upstairs bonus room, shower wall tile and the master bath floor. A circular mosaic tile in the powder room bath was made by Artistic Tile in South Carolina but is available through Pratt & Larson also.
---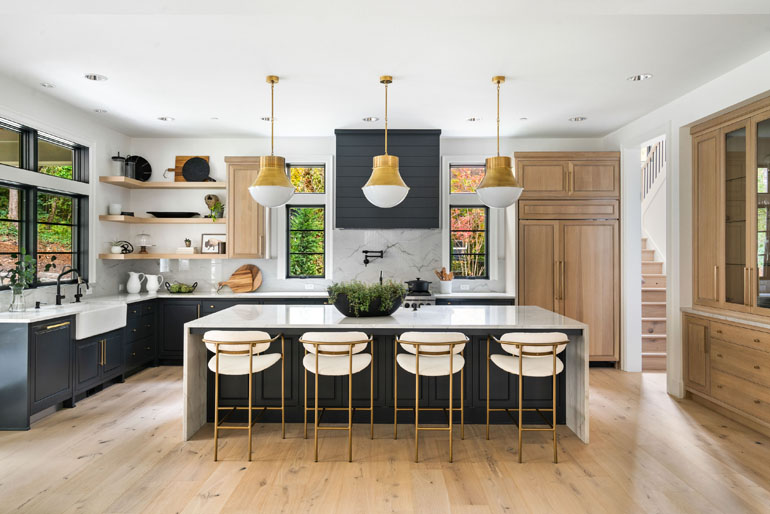 ---
In the kitchen are the exquisite mountain white quartzite slab countertops with a waterfall edge and a full slab backsplash that rolls all the way up the walls, sourced from EleMar Oregon, a local provider of natural stone. Floating shelves of rift-sawn white oak, custom cabinetry with glass doors, and a mix of metallic accents and natural wood make the kitchen a place where the homeowners will want to spend a lot of time.
Kelly Wearstler pendants from Circa Lighting formed the vision for the kitchen before the Merrihews even began building.
"I saw these pendants and ordered them right away and knew 100% that they were going in the kitchen," says Joanie. "There's nothing else that looks like these pendants because they're just like a piece of art." The pendants feature a perforated metal base that transforms into a gently sloped dome that is sculptural and modern yet classic.
"They're so gorgeous with curved lines—it softens the design and adds an organic element," says Joanie. "And with the kitchen being primarily a soft black on the lower cabinets, the pendants and the light they reflect contrast with that black in a really nice way."
---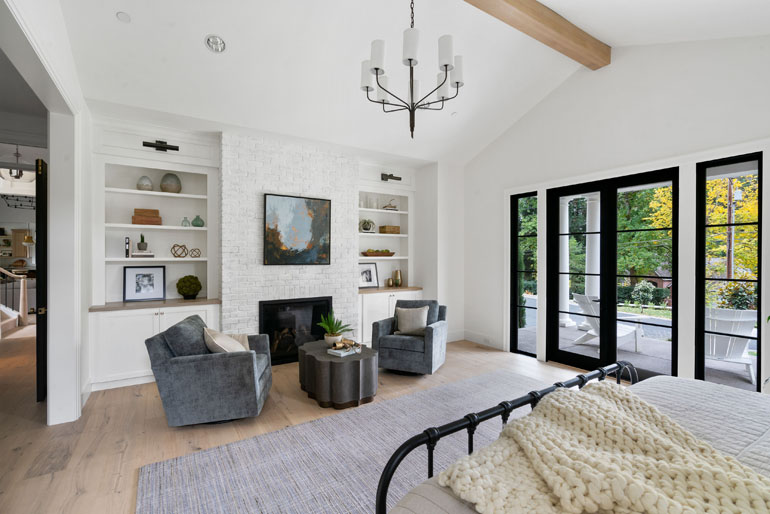 ---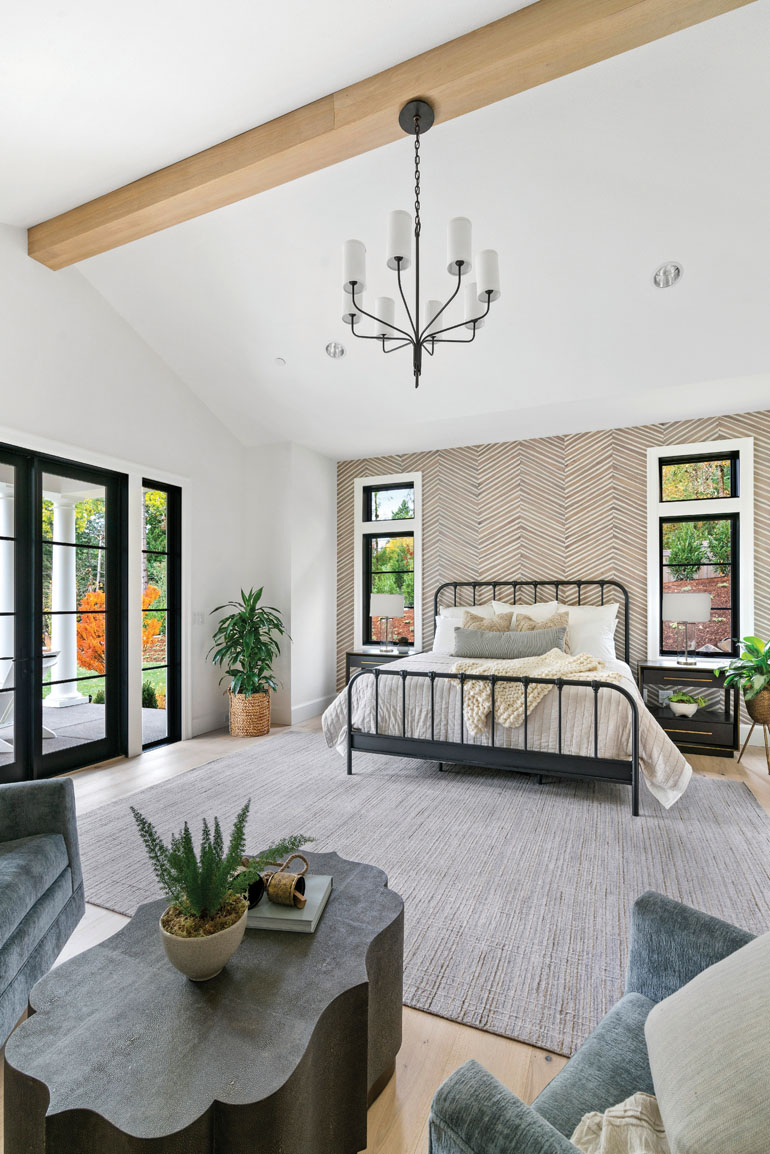 ---
Whether the eventual homeowners are entertaining or relaxing, they will be able to gaze at two fireplaces—in the master bedroom and in the great room—which are designed to be the focal points of the whole house. A custom lime wash on the 7-by-10-foot brick fireplace (by local artisan Bravura Finishes) in the master bedroom, as well as the limestone on the 68-inch custom fireplace in the great room, continues the neutral theme.
The Merrihews consider themselves a boutique build/design company, which allows them to create one-of-a-kind homes no matter where they build. It's where their skills, creative vision and demand for quality detail can be put to best use.
"We really like the challenges and the reward that comes with building our homes," says Tucker. "You can design the house exactly as you want it. And with the skill and vision that we have, we are able to bring to life some pretty incredible homes, like this one."
---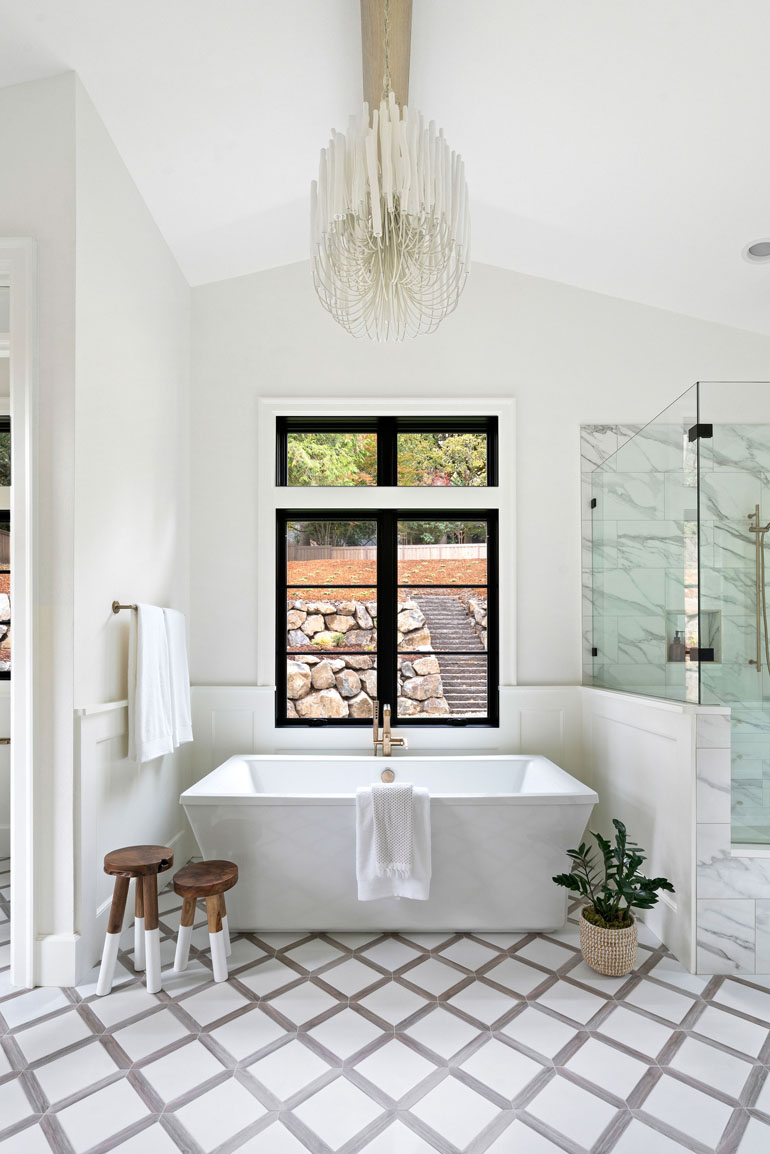 ---
For more info, visit: TTMDevelopmentCompany.com. Follow us on Instagram: @TTMhomedesign