Rupp Family Builders Inc. keeps it in the family on its remodels.
---
It's right in their name that Rupp Family Builders Inc. is family owned. But it doesn't say that they are women owned. Owner Sheena Rupp, a second-generation business leader in the company, creates a cohesive experience for all of the company's remodeling and addition clients by keeping most of the project work in-house.
"Our motto is 'Welcome to our family,' because we work hard to create a family environment with our employees and clients so people feel well cared for," Rupp says of the company, which has its own architectural draftsman, interior designer, field carpentry crew, excavator, electrician and plumbers.
Rupp's father-in-law started as a handyman in 1986 and the business idea has grown into what it is today by growing that idea. Taking on residential projects of all sizes—in particular, kitchen remodels or large-addition remodels—the company's projects find just the right updates and design solutions to transform dated and unworkable spaces into something more modern, such as with its recent work on a nondescript 1950s ranch-style farmhouse.
---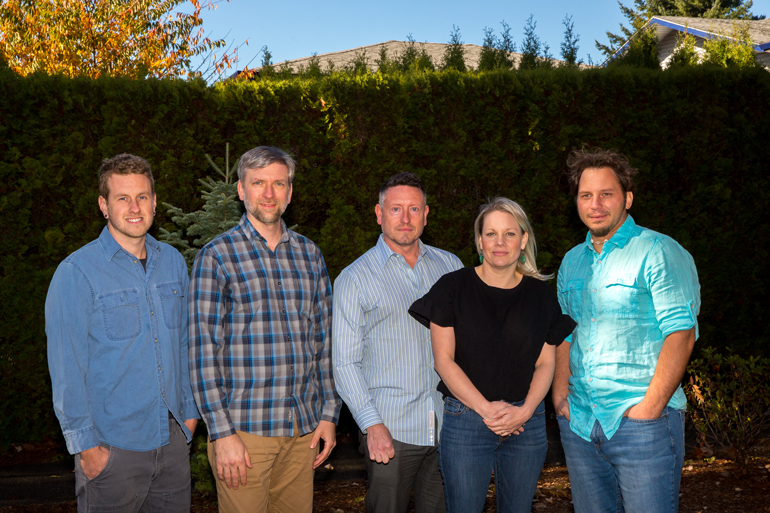 The Rupp Family Builders Inc. team
---
The owners of this home purchased rural property in West Linn and had a vision for something more modern. They worked closely with Rupp's in-house draftsman, Matthew Greiner with LX Design, who analyzed the existing structure and found creative ways to align it with modern farmhouse style while staying within their budget.
"We were able to incorporate a lot of the modern elements they wanted while still leaving it feeling like a farmhouse," says Rupp.
That meant taking the existing structure down to the studs, vaulting the existing original staircase—which created an open catwalk upstairs—and adding on a large area on the other side of the stairs. The previously walled-in and carpeted stairway is now a focal point, with a metal railing that continues along the catwalk, while shiplap adds some visual interest to an otherwise plain focal wall. The addition expanded the home from the original 1,092 square feet to a final living space square footage of 2,272, plus a welcome 634 square feet of covered deck space outdoors.
Built-ins were added to the original kids' rooms, and the original bathroom was also a total remodel, including a jaunty navy-blue vanity with double sinks and classic hex tile on the floor. A 12-by-2-foot floor-to-ceiling built-in unit provides plenty of storage in the master bedroom closet, in the original home's space, which was insufficient before. Flooring throughout the new space and the rebuilt stairway is of wide-plank reclaimed white oak, which is both beautiful and sturdy.
While a clawfoot tub in the added-on master bath stays true to the home's original era, adding to the modern feel are geometric porcelain tiles and a floating wooden vanity with a live edge made by one of Rupp's employees.
"It's a real nice mix of modern and classic, farmy feel," Rupp says.
---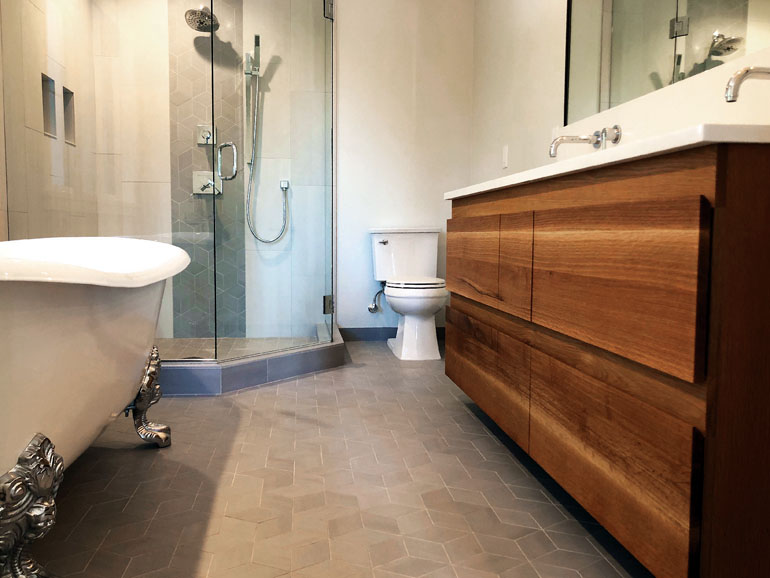 ---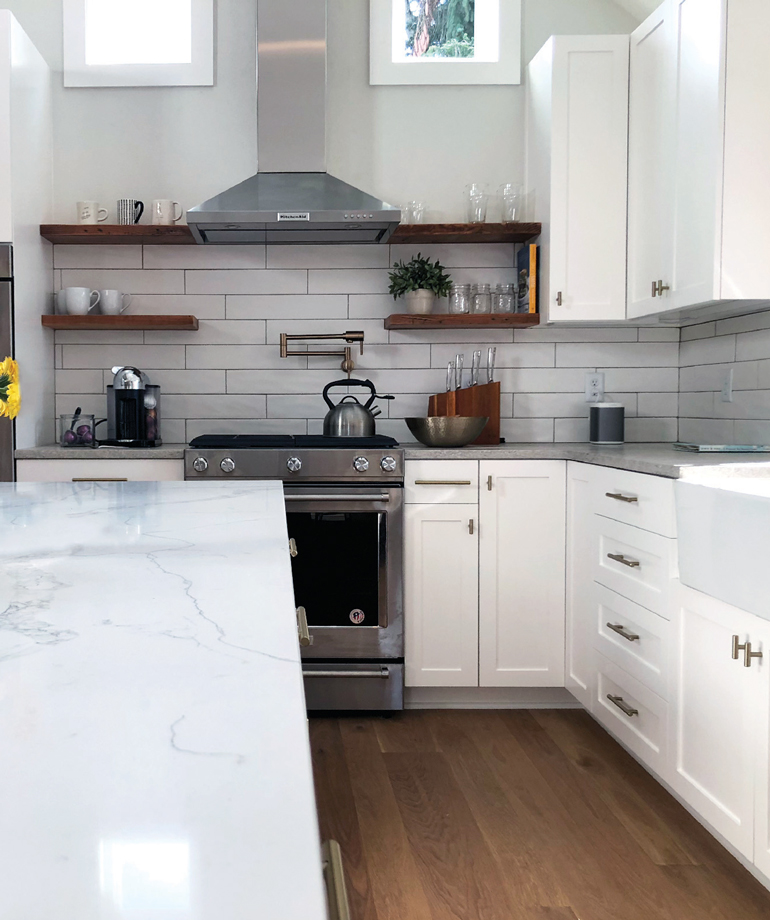 ---
Thanks to the vaulted space, which lets in an abundance of natural light, the mostly white kitchen with light-colored floor and floating shelves feels both cozy and bright. Stainless appliances and quartz countertops also add to the modern vibe.
Because Rupp's employees are all skilled in their own trades with their own successful businesses, Rupp Family Builders can offer more than your typical general contractors.
"We can help someone design their dream home and build it," she says. "Because we work closely together, where people would normally have to go hire an outside architect or a draftsperson or interior designer, we can do all of that for them with much more transparency than hiring someone and not knowing how much it's all going to cost or how well it will all work together."
And because Rupp is licensed in real estate, she can even help with the purchase.
"What we are able to do for our clients envelops the entire process and really helps put people at ease," she says.
The result is what happens with the best remodels: a comfortable space with great flow—one that spans architectural eras.
---
For more info, visit: RuppFamilyBuilders.com