Mixing heirlooms with updates is the personal storytelling magic behind lè Nest Design.
---
"Happy" is designer Shelley Prael's guiding principle. She even included it in her company name, lè Nest Design (the "lè" means "happy" in Chinese).
"I believe your home, your nest, should be your happy place — an environment that inspires and rejuvenates you," says Prael.
With a successful three-decade career in retail store design and visual merchandising for brands like Williams-Sonoma and Pendleton, Prael has been moving into the home space with her new boutique firm lè Nest Design. With her eye for telling a cohesive visual story, lè Nest Design is a game changer, one that is helping clients define and display their personal brand at home through interior design projects including complete home renovation, custom construction and home styling.
---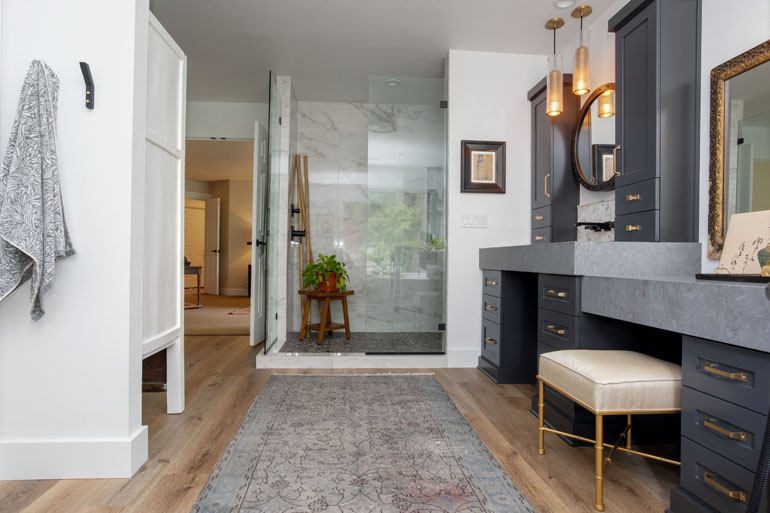 ---
New Wings for Your Things
Mixing old and new is Prael's design superpower. She starts any project by understanding what the client already owns and how they feel about particular pieces. Most homeowners hold onto things that are beloved for their history and sentimental value, she says, but those objects don't often suit the homeowner's emerging aesthetic.
For lè Nest Design's Oak Street project, the homeowners were ready to grow beyond their home's outdated 1980s features. Choppy rooms, old appliances, heavy cabinetry, and a clunky built-in Jacuzzi tub had not stood the test of time and the client's changing aesthetics.
Prael kept beloved items like the family's heirloom dining room table and matching buffet while bringing in an artful mix of old and new to the dining room, including an eclectic assortment of chairs. By moving the buffet to another place in the house, she gave the pieces new life.
"If there is something a client loves, there are ways to make those things work and look fresh again," says Prael.
---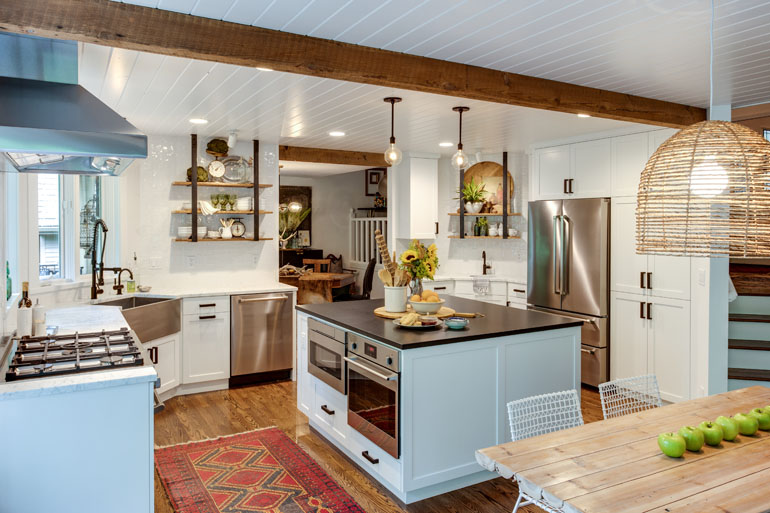 ---
Beautiful On Any Budget
Prael is known in the retail world for creating inspiring, compelling and brand-worthy presentations on limited budgets. This creative thinking allows her to pivot while staying true to desired project outcomes — even when the unexpected happens.
At Oak Street, opening up the kitchen to the dining room gave the family access to a once underutilized space. It infused the rooms with additional natural light. However, during demolition, they found more plumbing and electrical supply lines than were expected, all of which needed to be rerouted.
"Remaining patient and flexible through some creative rethinking and fiscal finessing put us right back on track without sacrificing style and impact," Prael says.
---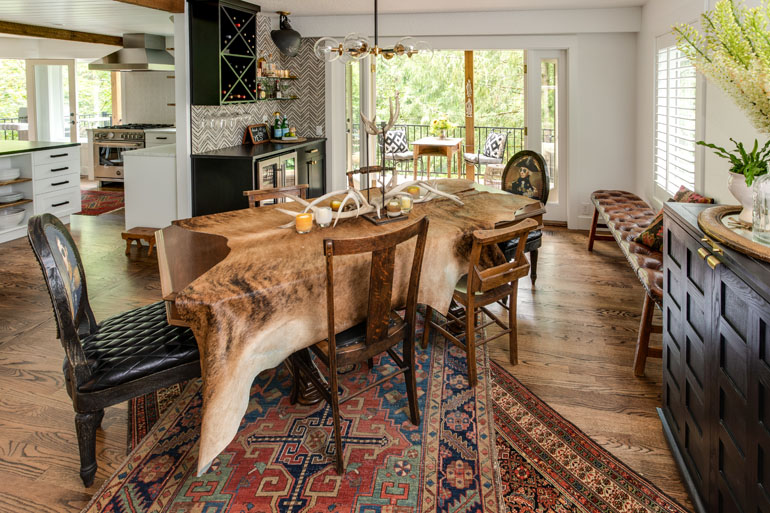 ---
Timeless Means Tireless
Prael is a master at playing with design trends to create a spirited and unique mix of old and new furniture and fixtures. Still, she avoids jumping onto the trend of the moment, rooting her designs in timeless materials that will look great for years to come.
"I like to introduce current trends through featured accessories and other easy-to-refresh elements, to keep updates simple and accessible," Prael says.
The kitchen at Oak Street features a classic white tile, upgraded from a standard subway style to a more sophisticated variation from Portland local Z Collection. Reclaimed and repurposed wooden beams came from Aurora Mills Architectural Salvage. They add depth and history to the kitchen and dining rooms, Prael says. Italian marble countertops round out the timeless appeal.
---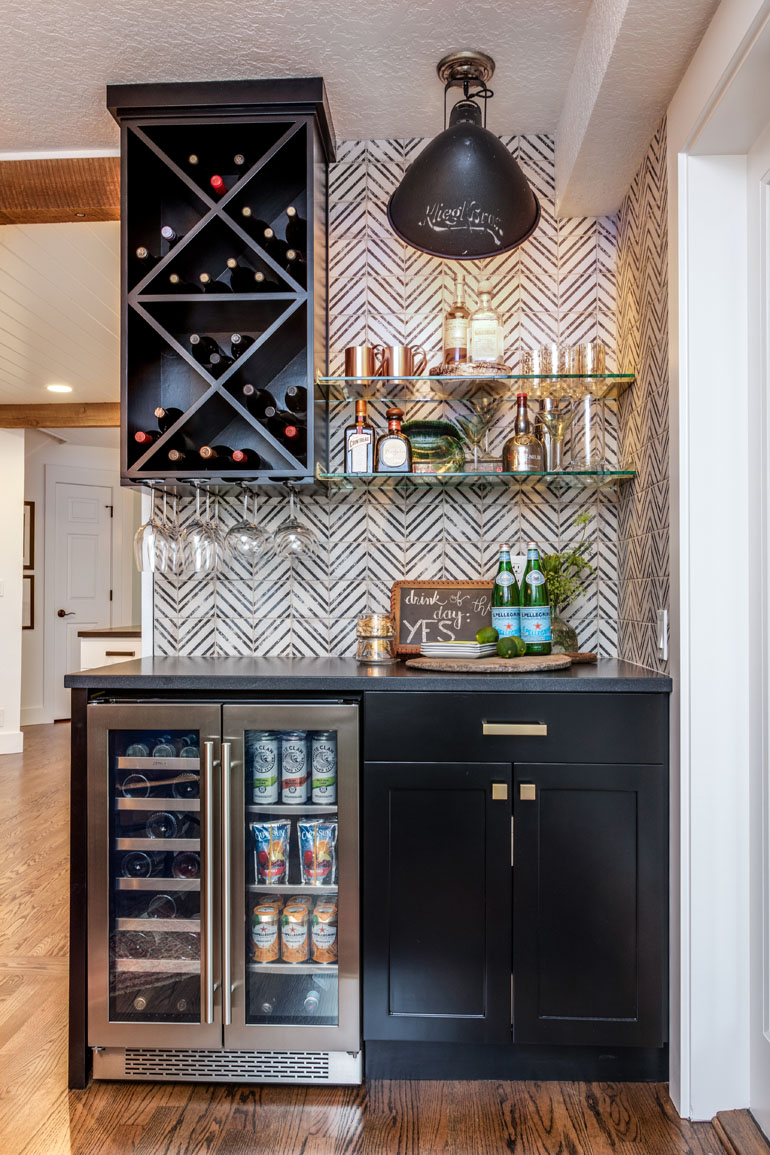 ---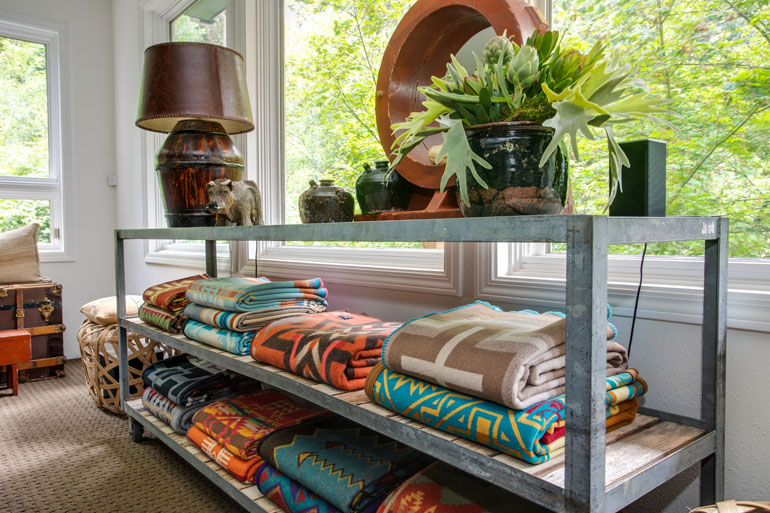 ---
Rooms For Living
For Prael, the final litmus test for a well-designed home is comfort. Practical features like a built-in bar in the dining room and ample comfortable seating invite residents and guests to make themselves at home.
Showcased special collections — in this case, a Pendleton blanket motherlode — speak volumes about the inhabitants' values and lifestyle while remaining approachable. Prael's sweet spot is in the mix of modern and vintage pieces, tempered with cozy organic colors and textures.
"Surrounding yourself artfully with the things you love creates a space you'll thrive in," says Prael. "Combine that with an efficient floor plan and timeless finishes, and your personal brand will stand the test of time."
---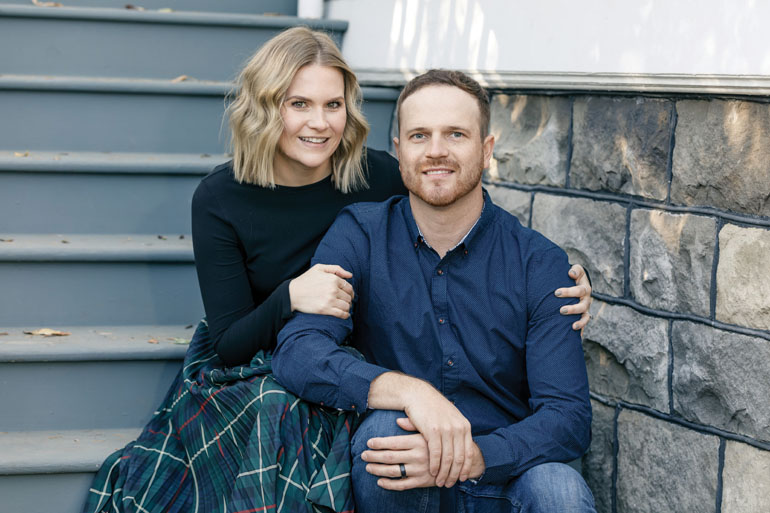 Shelley Prael