Planners are virtually recreating as many of the experiences as they can for this year's NW Natural Street of Dreams @Home.
Pictured above: La Maison by West Hills Homes NW — 2019 Street of Dreams
---
The world looked a lot different 45 years ago, when the Home Builders Association of Metropolitan Portland debuted the "Million Dollar Street of Dreams" in Rock Creek. But the homes back then weren't all that different from what people look for today. One promised "efficiency in heating, cooling, maintenance." Another promised a mini recreation area in the backyard. One 3,200-square-foot beauty called the Essex delivered vaulted ceilings and a master, main, bath and den that each opened to an enclosed arbor and garden. Another, the Westfall, gave its lucky owners "the convenience of one-level living."
Even then, Portlanders wanted less hassle and a yard they could enjoy in many ways. Some of the 1976 highlights are less appealing now, such as the two homes with mirror walls, or the one boasting a feature we would now consider banal: a brick-paved entry.
What hasn't changed, though, is that Portlanders have for decades looked toward the NW Natural Street of Dreams homes for inspiration, even if the price of the completed homes on the tour are beyond what's accessible to the average buyer.
---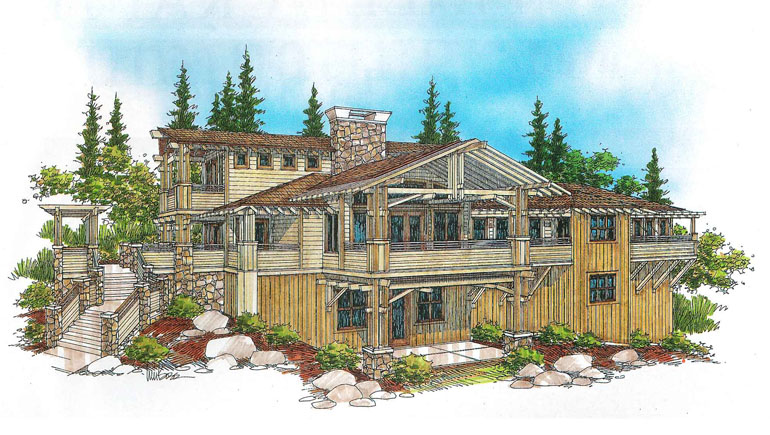 Heritage Home by Neil Kelly — Best in Show 1996
---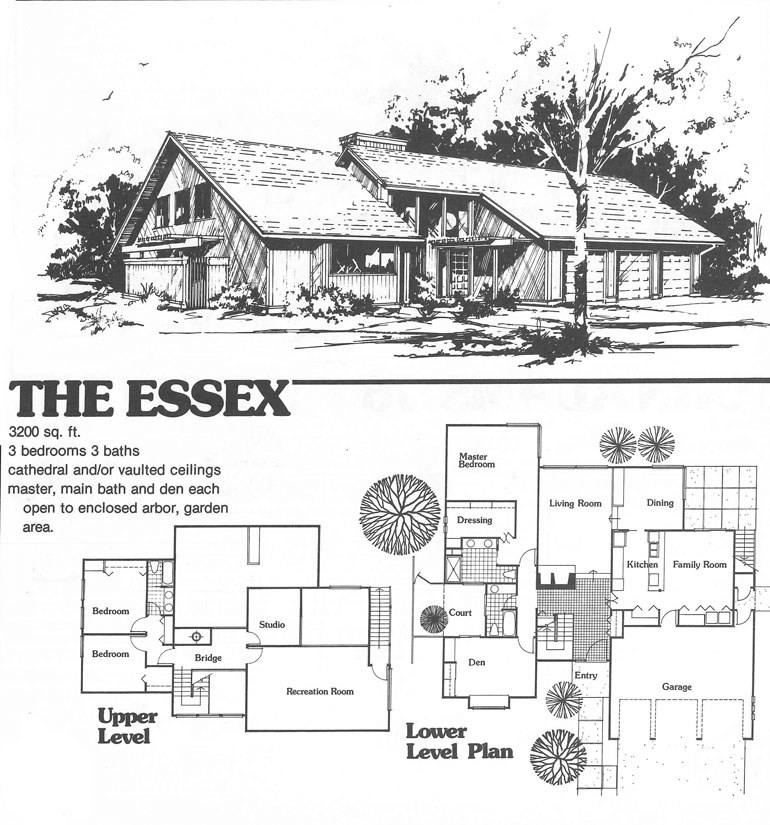 The Essex by Trademark Homes — 1976
---
"The event has for a long time been about showing people what is possible in their homes," says Darrell Nelson, community affairs manager at NW Natural, which has been involved with Street of Dreams since 1976 and the title sponsor since 1989. "Regardless of whether you're in the market for a new home, you're looking at ideas for remodeling or just doing some simple updates, the Street of Dreams is a fantastic place to get those ideas and see products in a real environment."
This year seeing ideas in a real environment became a challenge, as COVID-19 slowed homebuilding, which is only possible on a compressed timeline when multiple trades work at the same time. With social distancing in place, building these homes wasn't feasible — and even if they were able to be completed, there wouldn't be a way to safely allow the public to investigate the soft-close cabinets or the smoothly sliding patio doors in real life. Instead, planners are virtually recreating as many of the experiences as they can for this year's NW Natural Street of Dreams @Home.
"We will be highlighting favorite home features, hosting virtual events and webinars, and taking a look back at more than 40 years of shows to help people keep their dreams going of building their homes in the future," says Rudy Kadlub, founder and chairman of the Portland Home Builders Foundation and member of the Portland Home Builders Association. "We are working with builders, interior designers, product suppliers and more so you can enjoy the NW Natural Street of Dreams in the comfort of your own home."
---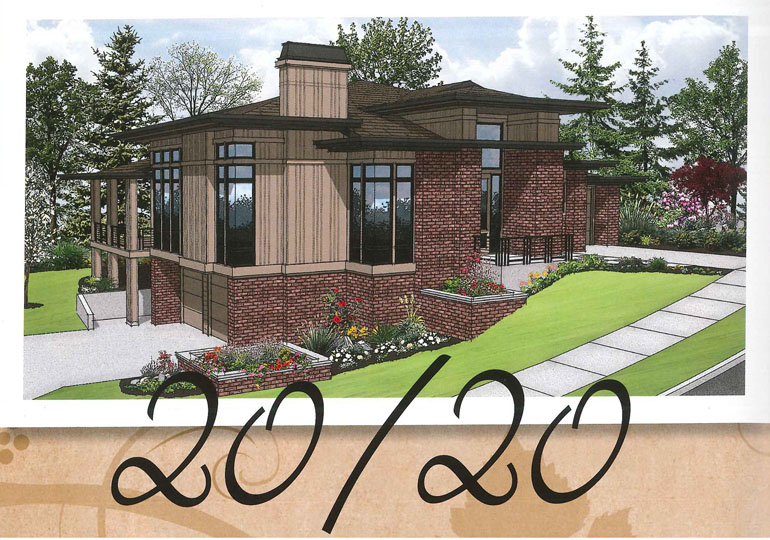 20-20 by Bernard Custom Construction — Best in Show 2012
---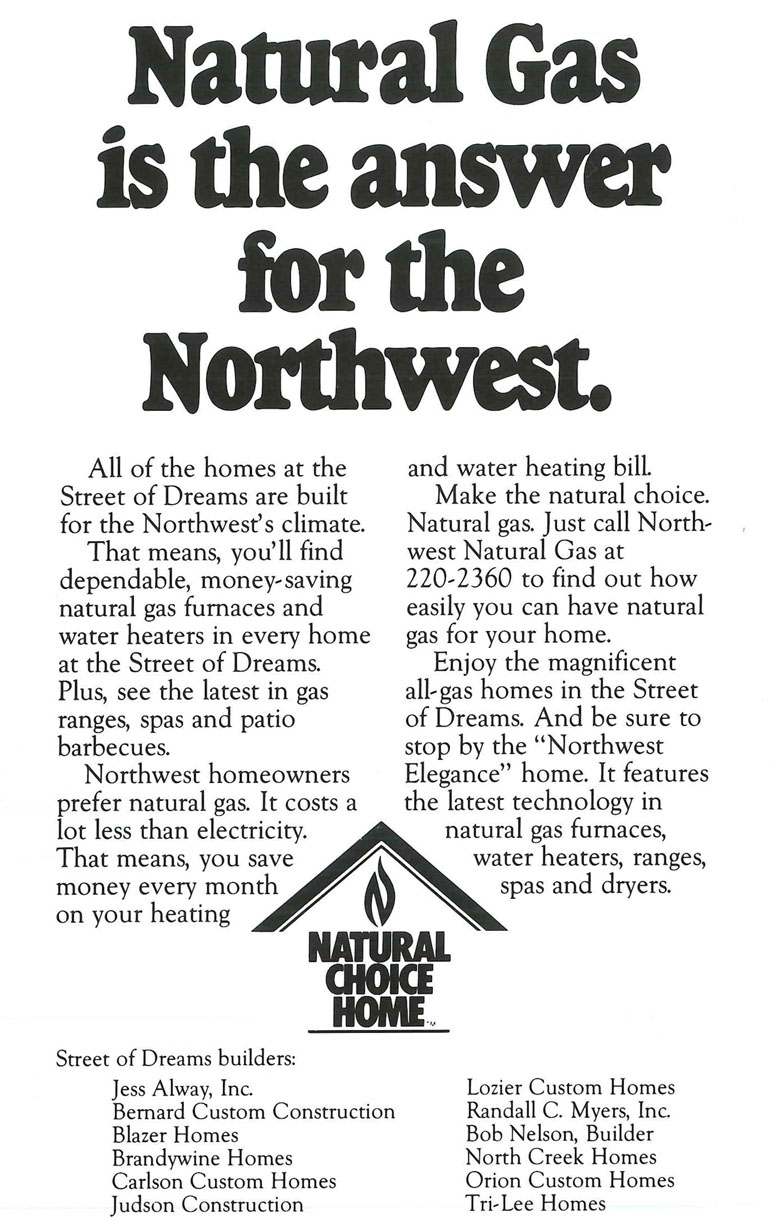 NW Natural Gas ad — 1986
---
Before the show's August dates, planners will reveal details of this year's Street of Dreams @Home, as well as a special housing campaign during the month of October. The announcement of the 2021 NW Natural Street of Dreams location will also come this summer.
Nelson says NW Natural is appreciative of being able to promote an energy-efficient lifestyle through their involvement with Street of Dreams. "No matter whether you are interested in a heating system, gourmet kitchen, or tankless water heater, natural gas helps keep energy bills down," he says. "And in today's world, with people at home more, a lot of homeowners are thinking about what makes their space a dream home. The Street of Dreams has inspired attendees with the latest products, technologies and design trends, and shows them how to bring these ideas home. Even though this year's event is different, people will still be able to plan for the home of their dreams."
---
NW Natural Street of Dreams:
Announcements about final details of the 2020 virtual events and the site of the 2021 show will be made this summer. Visit StreetOfDreamsPDX.com for more information.