The interior design firm remakes spaces so clients love where they live.
---
Ten years have passed since Garrison Hullinger launched his business, Garrison Hullinger Interior Design (GHID). And while the award-winning design firm has always spared no idea in transforming its clients' spaces, these days the process of redesigning spaces feels more necessary than ever.
"People just feel a little stuck in their houses," Hullinger says. He finds that Portland's homeowners are happy with their homes' bones and their neighborhoods but, as the pandemic creeps on, less so their interior design.
"One of the things we're really good at is reinventing spaces," Hullinger says. "We remake them, always with a goal toward livable, affordable, practical designs with purpose."
Case in point is a 5,000-square-foot penthouse apartment in Northwest Portland's historic Envoy Apartment Building, a 1929 Mediterranean Revival whose top floors offer sweeping views of Portland's skyline to the Willamette River and beyond.
---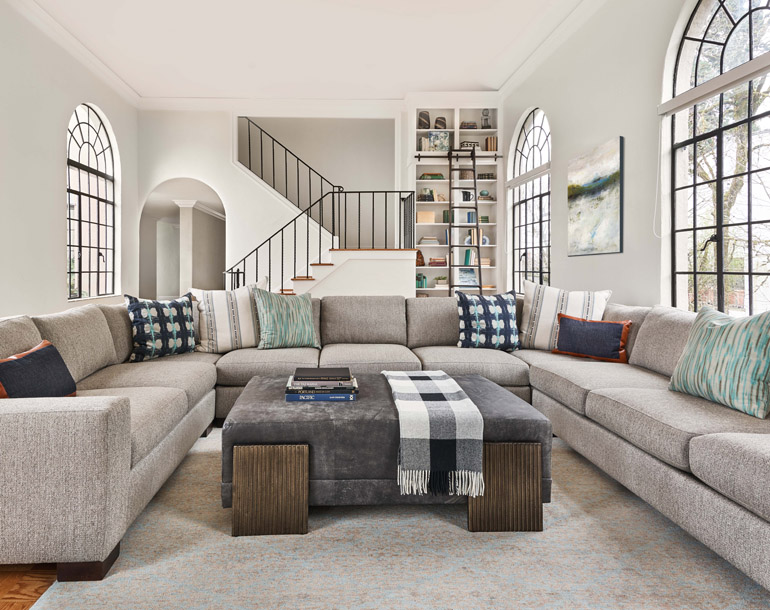 ---
The penthouse's previous owners took the Mediterranean Revival theme seriously, creating Tuscan-inspired interiors that GHID's clients found overly dark, ornate, and inflexible for its family of four and two big dogs. The spacious apartment home had been festooned with columns, corbels, a few too many arches and even some sconces draped with fabric. GHID's clients desired clean lines, light colors — a better choice for allowing the owner-artist's bold cold-wax paintings to pop — and airy furniture.
The remade, 260-square-foot kitchen showcases GHID's creativity, work ethic and problem-solving savvy.
For starters, the family wanted an expansive, workhorse island at which to prep food together. GHID designed the custom-stained white oak and seamless and honed marble-topped island with beneath-bar storage cabinets, shelves for cookbooks and decor, seating for two or more, and four drawers: two for refrigeration units and two for freezers.
"They wanted us to tuck things away and piece together the entire project," Hullinger says.
---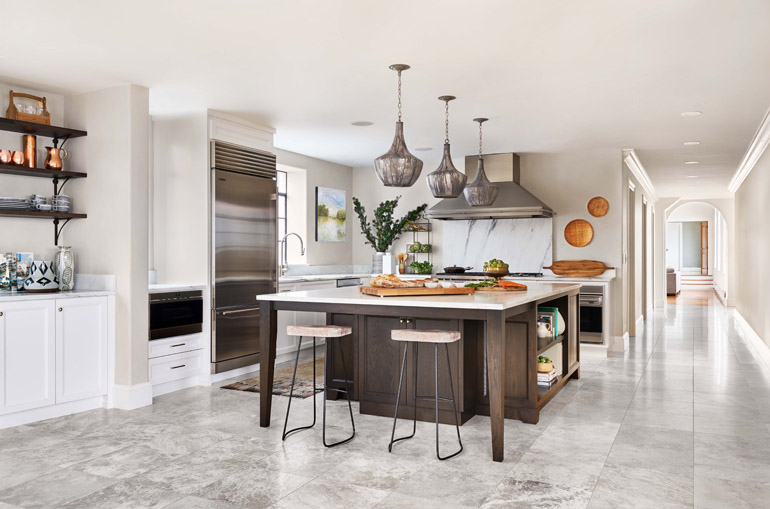 ---
That required hiring a crane to haul the 9-by-5-foot, 8-inch island — and some of the kitchen appliances, including a six-burner Wolf range — up, up and into the apartment. GHID added storage space behind the range and installed a white and gray Danby marble backsplash to avoid any grout lines.
Hullinger credits his firm's success to both his strict "predetermined organizational process" that his team follows for every remodel and design and to constant, open communication with clients.
"For a creative," he says, "I have crazy discipline."
Innate talent plays a role, too. In 2009, shortly before launching GHID, Hullinger won all five People's Choice awards for his first design of a 6,800-square-foot show home in the Vancouver, Washington-based Parade of Homes event. His sweep was a Building Industry Association first.
---