Some architects look at a difficult property and see trouble. That's rarely the case for Portland's Giulietti/Schouten AIA Architects, PC, who, with the help of local builder Darren Lawrence and Portland Interior Designer JJ De Sousa, recently helped a couple realize their dream of creating a weekend home with a view of the Columbia Gorge near their favorite kitesurfing and skiing location.
---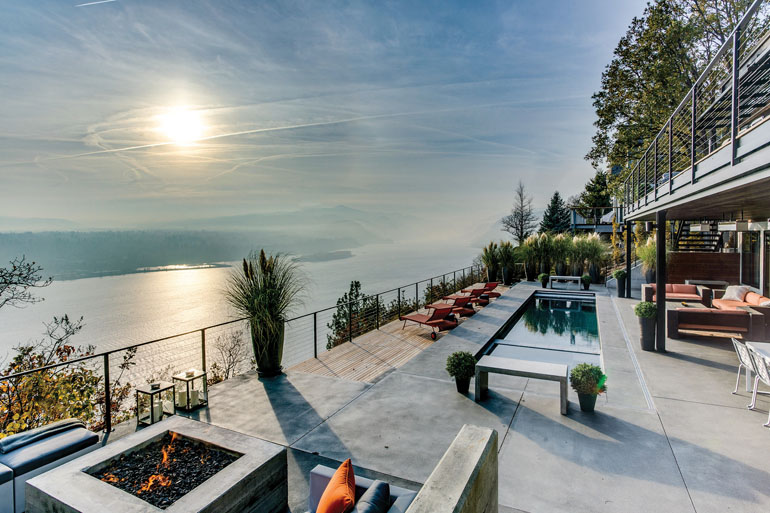 ---
"The easements were definitely a challenge, but the biggest one was getting all the key rooms oriented toward the views," said Timothy Schouten, a principal at Giulietti/Schouten who specializes in single-family residential design. "But we have always enjoyed helping people realize their dreams."
---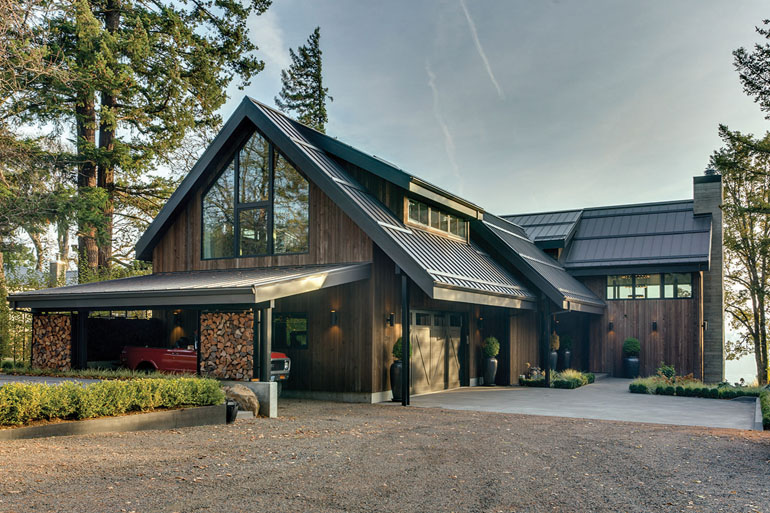 ---
Now called White Salmon, the 4,000-square-foot, three-level home is all about bringing the family and friends together and relaxing while taking in the Gorge's scenic views. But living at the edge of nature calls for some unique solutions: Unpredictable weather meant large protective roof overhangs for shelter from both storms and heat. The large sliding-window wall on the upper level — which houses the vaulted living room, dining and kitchen areas — invites outdoor access during the warmer months, and the south-facing glass allows maximum sunshine in winter. A large entertaining terrace with a fire table, a lap pool with hot tub on the backside of the home, and a sport court in the front encourages outside activity. Under-floor heat inside provides further warmth on cold, overcast days.
---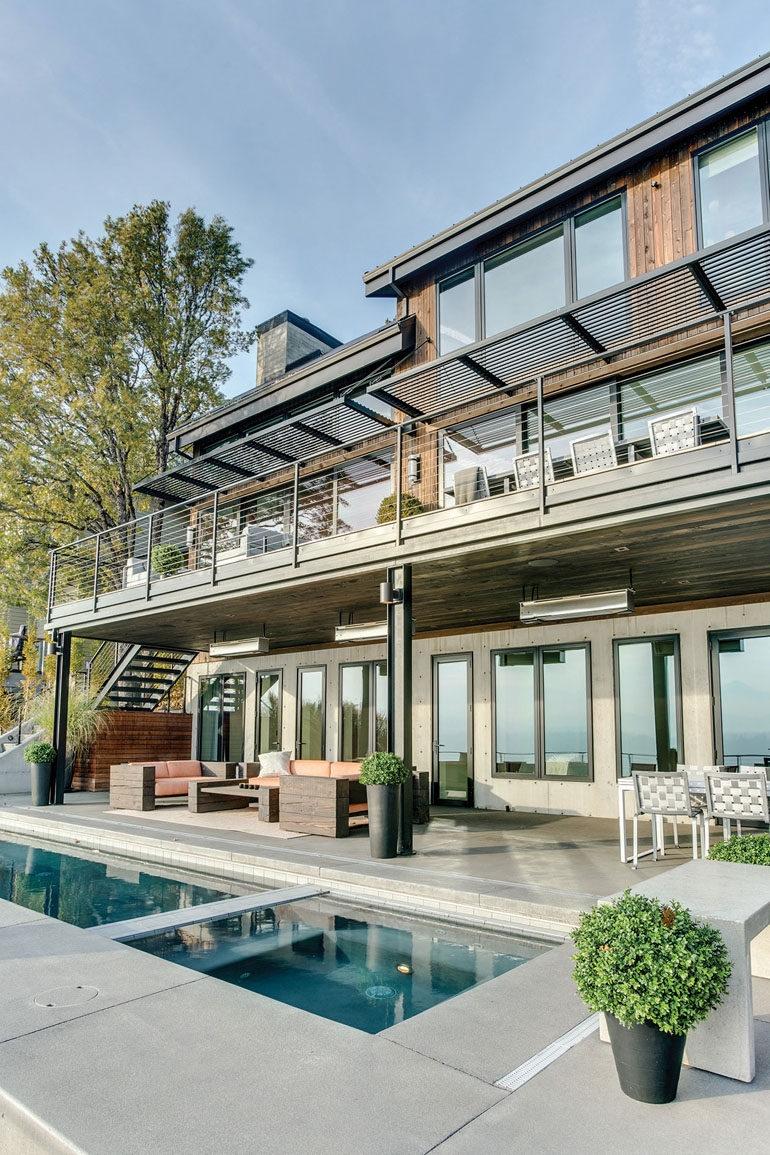 ---
"The whole idea is that they can enjoy this 12 months out of the year," Schouten said. "Not just summer swims — but after skiing, they can enjoy the fire even though it's cold out. There are numerous areas where you can find refuge and enjoy the full Gorge and views of Mt. Hood."
The lowest level holds three guest bedrooms and a family room with direct access to terraces and river-facing views. The upper level holds the master suite and a large bunkhouse for kids and friends. With floor-to-ceiling bunk beds flanking both sides of the room, inspired by the Silcox Hut on Mt. Hood, it can hold up to 16 overnight guests.
---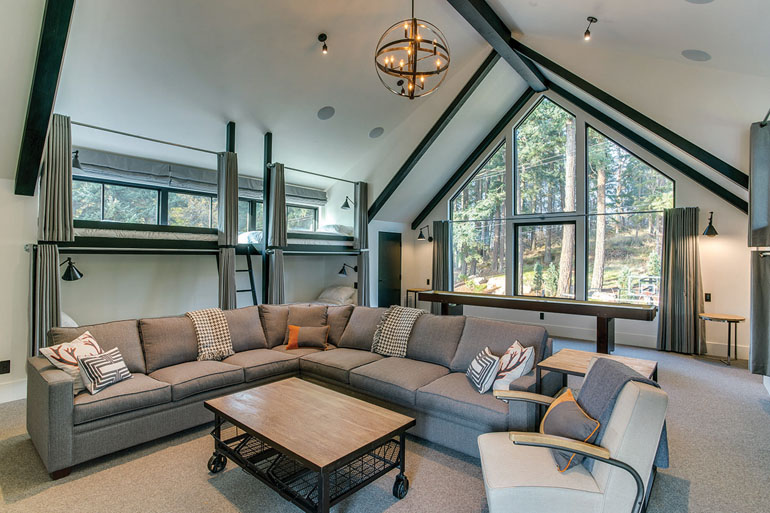 ---
"From what I hear, everyone ends up congregating in the bunkhouse because it's the big, fun space where everyone wants to be, with a wide-open view of the sport court and a large big-screen TV for games and movies," Schouten said.
The home's owners have a European outlook and favored a traditional gable roof form mixed with a modern interior. Combined with a classic black-and-white color scheme and Northwest materials like weathered fir siding and reclaimed interior wood, Giulietti/Schouten created a sophisticated and modern retreat. The homeowners milled fir trees felled on-site for exterior siding and decorative beams, which were treated with a natural preweathering stain to turn the new fir a weathered silver color.
---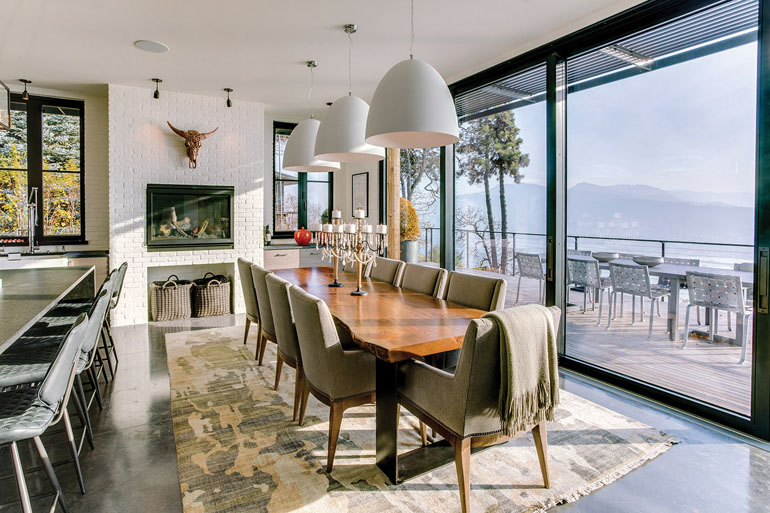 ---
"They preferred the house to feel like it had been there for a bit of time," Schouten said, "definitely not something bright. The reclaimed wood in the ceiling and stairway, along with the more modern steel accents and columns, is a nice warm blend."
After being founded by Dave Giulietti in 1987 and joined by partner Schouten in 1993, Giulietti/Schouten has deepened its experience in the residential space.
---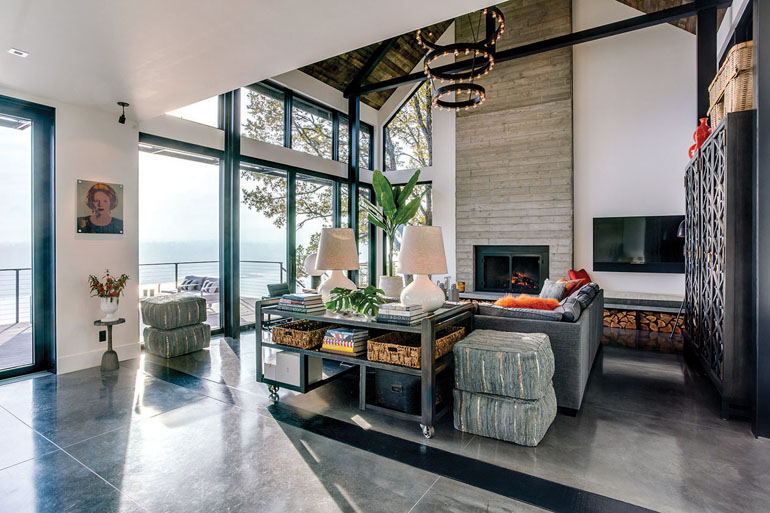 ---
"Clients have personal lives and strict budgets and not every architect is adept at balancing that," Schouten said. "At the end of the project, we want the clients to not only rave about the design but rave about the process."
---
For more information, visit: gsarchitects.net