Transparency, communication and collaboration guide Willco's design-build process.
---
When Ricia Gittins approached Willco, Inc. to remodel her 1923 cottage in Portland's historic Irvington neighborhood, she had a vision and some very specific needs.
The primary suite was on the second floor, accessed by steep, narrow stairs, and the laundry room was in the basement, down another flight of stairs. She knew when she purchased the home three years earlier that she'd need to remodel so she could age in place.
When expanding the main floor — and the footprint of the home — proved cumbersome and costly, what they landed on instead was an innovative way to safely access all three levels.
With the help of Willco's co-owner James Garrett, Gittins found a design solution that will keep her in her home for many years to come.
"We looked at different ideas to put all the living areas on the main floor," recalls Garrett. "We asked what it would look like, how it would be configured and what would it cost. Then Ricia had the wild idea to see if we could fit an elevator. The idea was obviously fun, but the question was how do we make that work?"
---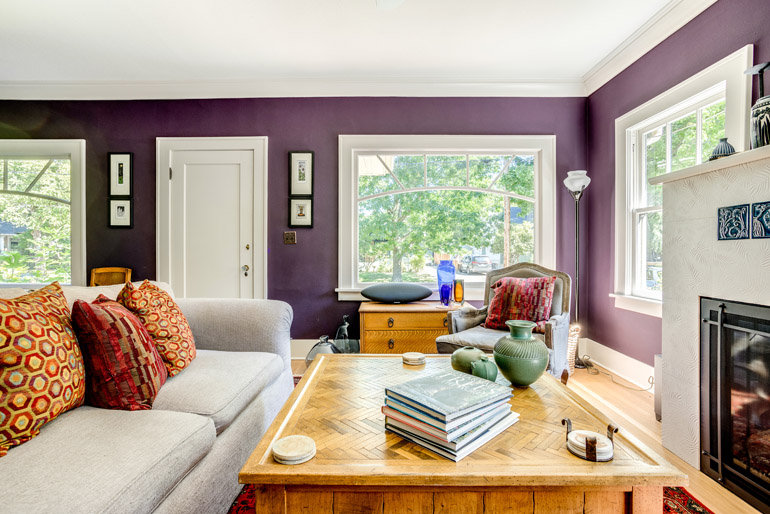 ---
Going Up?
Despite never having placed an elevator in a residential project, Garrett knew it was possible and set to work figuring out how. In the design phase, he amassed the options and created detailed price comparisons that allowed Gittins to easily compare costs.
"The elevator option was about the same — or even more economical — as completely redesigning the main floor," says Garrett. "In the end, we were able to remodel the home to accommodate an elevator while maintaining the exterior aesthetics."
While Willco attended to the structural and technical details of the project, Gittins had a clear picture of what she wanted in terms of interior design and finishes.
---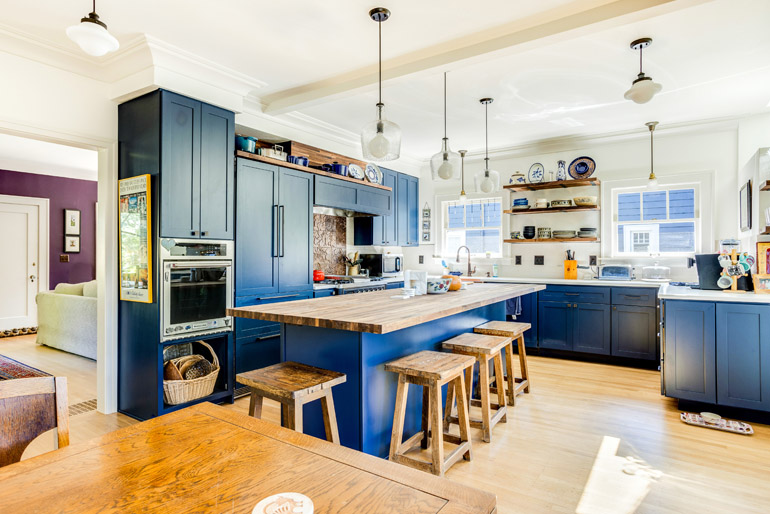 ---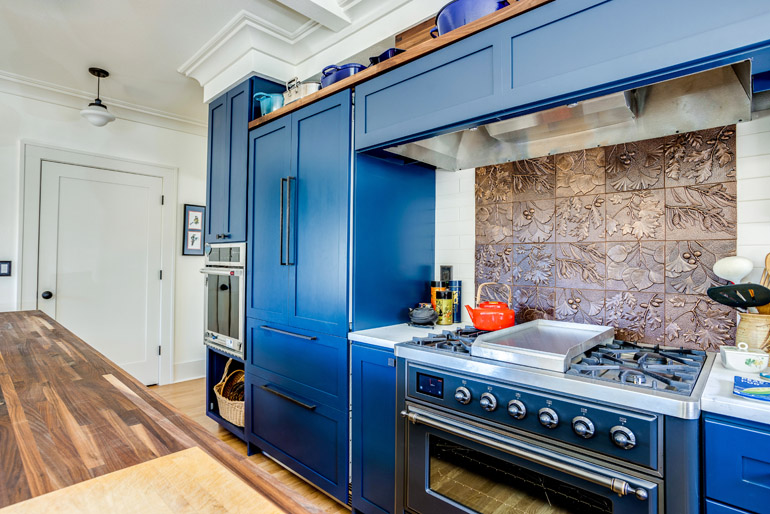 ---
Carving space from a main-floor office and the kitchen made way for the new elevator shaft. Then the main floor layout was reconfigured with a larger kitchen, a new office space and a new bedroom. The result is an open and bright kitchen with modern cabinets in a rich, deep-blue hue and a large center island.
A centerpiece range vent hood was a collaborative, creative reuse effort between Gittins and Willco, using butcher-block and cabinetry remnants from the project.
Upstairs, the primary suite is now accessible via the elevator, which is discreetly hidden beyond what looks like an ordinary interior door. The adjacent bathroom shower was enlarged and the threshold dropped to make it more accessible. The elevator also extends to the unfinished basement and laundry room.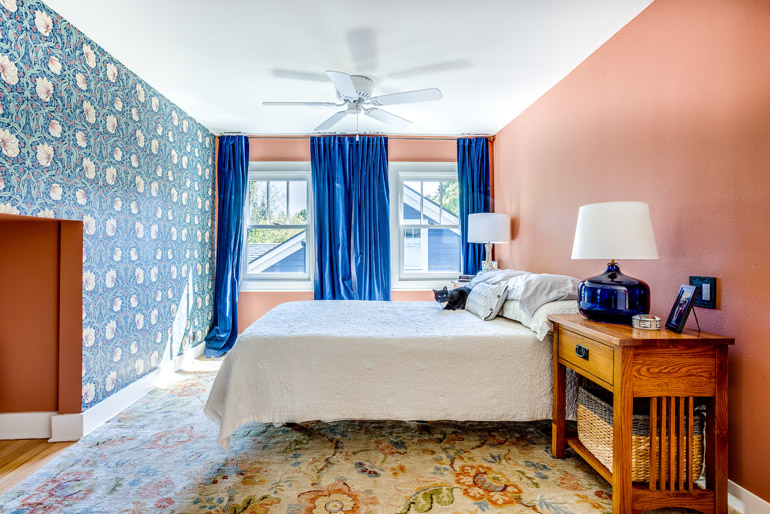 ---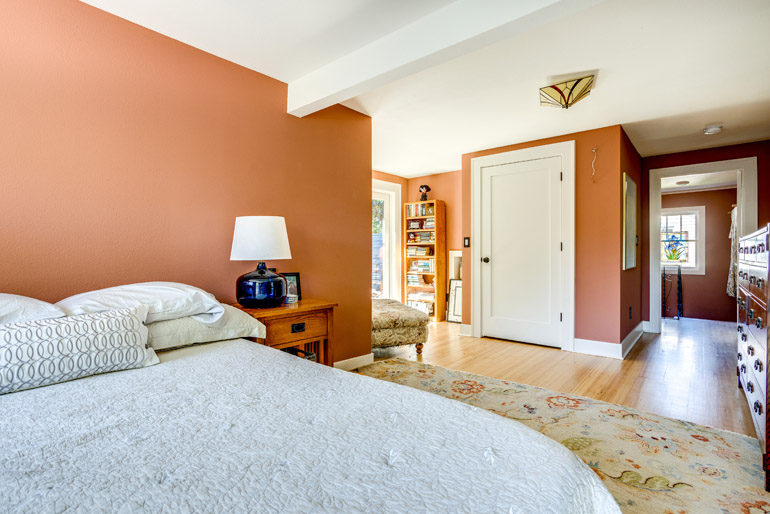 ---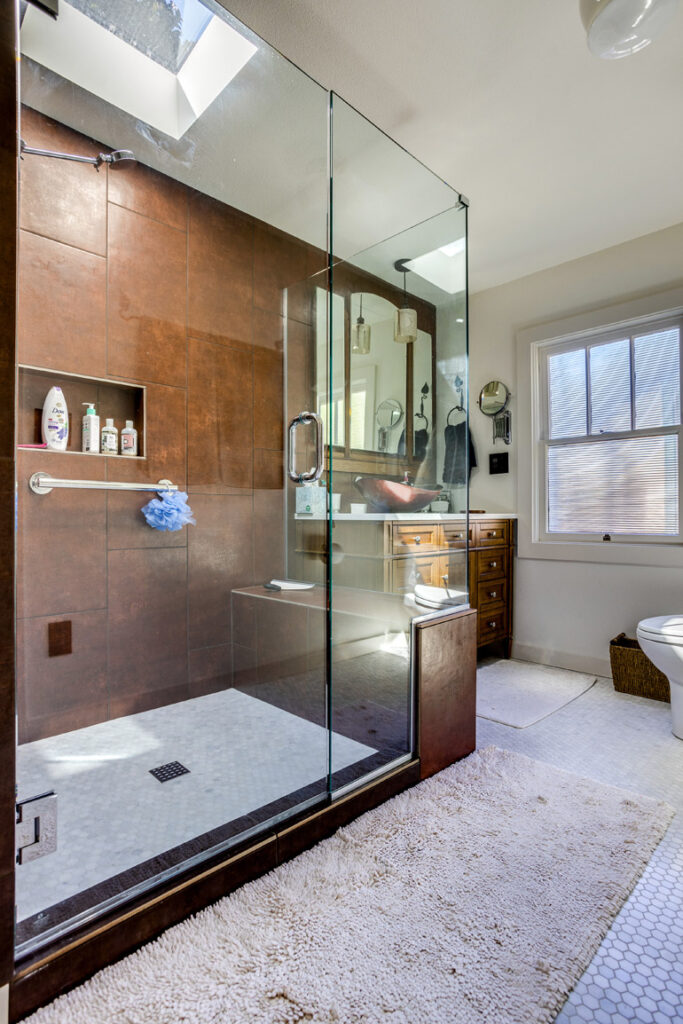 ---
Transparency and Collaboration Lead to Creative Solutions
Since taking ownership of Willco in early 2020, Garrett and co-owner Ruth Warren have increased their design-build commissions to more than half of the company's overall projects. Warren, who has worked for Willco since 2004 and is one of the company's longest-serving employees, manages finances and HR. Garrett brings many years of experience as a carpenter and construction estimator.
"Ruth and I have plans to grow our design-build program even further," says Garrett. To that end, they have added a full-time designer to their staff of 24, which includes 17 field staff experienced in all aspects of construction and remodeling, as well as six office staff.
Garrett and Warren take pride in being totally transparent on bids and costs, and they work hard to build trust with clients.
"Right from the get-go, I break costs into a line-by-line estimate with hours and materials. The client sees my thinking on everything — from the price down to our overhead and even the profit we intend to make. It's especially important on a project like this one, where there are many new aspects we're exploring together," Garrett says.
For her part, Gittins couldn't be happier.
"I had a feeling about James on initial walkthrough," she says. "He understood how I wanted to do the remodel. I felt we were in sync. It was such a great process and a joy to work with the whole Willco team. And the result is a dream come true for me."