Designer Tawni Peterson's light-filled ADU showcases her vibrant, soulful style.
---
Tawni Peterson isn't afraid to take risks.
"I've been through a lot of transition in my own life," says Peterson, principal of Alchemy Design Co., a Portland-based firm dedicated to bringing more magic to its clients' lives. "I use those experiences to help my clients find their own authentic voice."
The designer recently relocated with her husband and three children from California's Central Valley to Portland. Doing it in the middle of a pandemic has presented challenges and unique opportunities. When the couple settled on a house in the Grant Park neighborhood of Northeast Portland, a one-bedroom, 500-square-foot ADU on the property provided a clean slate for Peterson to create both a short-term rental and a design calling card.
"It was an important project for me," says Peterson. "I wanted to have a place where I could showcase my work and my penchant for doing things a little differently."
---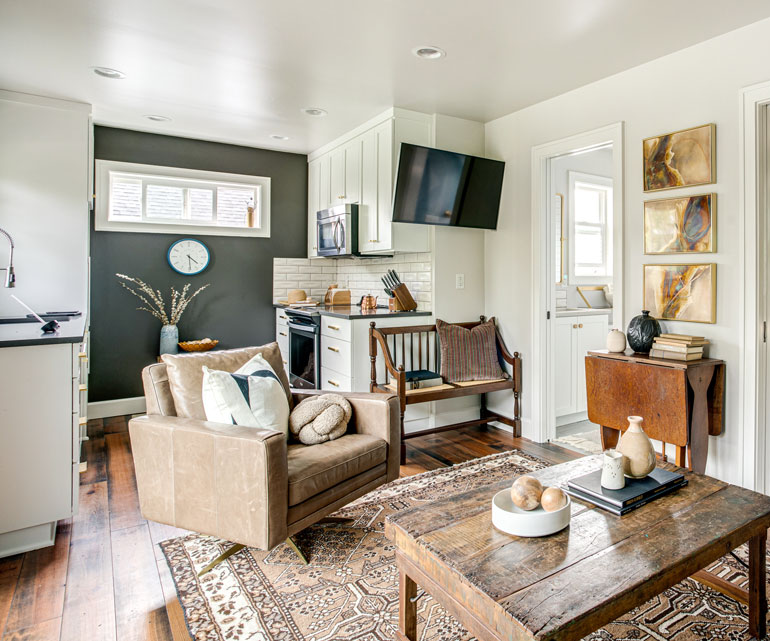 ---
Taking risks comes naturally to Peterson, who left a career in sales and marketing in her mid-thirties to pursue interior design. She had long felt the pull of a creative career, having pursued a master's degree in early renaissance and modern European history. Once she took the leap, Peterson started coursework through the Interior Design Institute and landed an internship with an Atlanta-based design firm. In something of a trial by fire, she gained hands-on experience and navigated the ins and outs of sourcing for clients.
"I love learning new things and I'm a very curious person. I was just a sponge," says Peterson.
This natural curiosity has served Peterson well in her design process, where she takes an immersive approach to understanding how her clients use their spaces, and pays close attention to the subtle details and nuances of their everyday lives.
"I'm really good at getting to know people in a short period of time and really connecting — finding their essence," Peterson says.
Spending time with her clients and observing their daily rhythms has been a challenge in recent months, so the ADU project gave Peterson a chance to let her imagination run wild.
---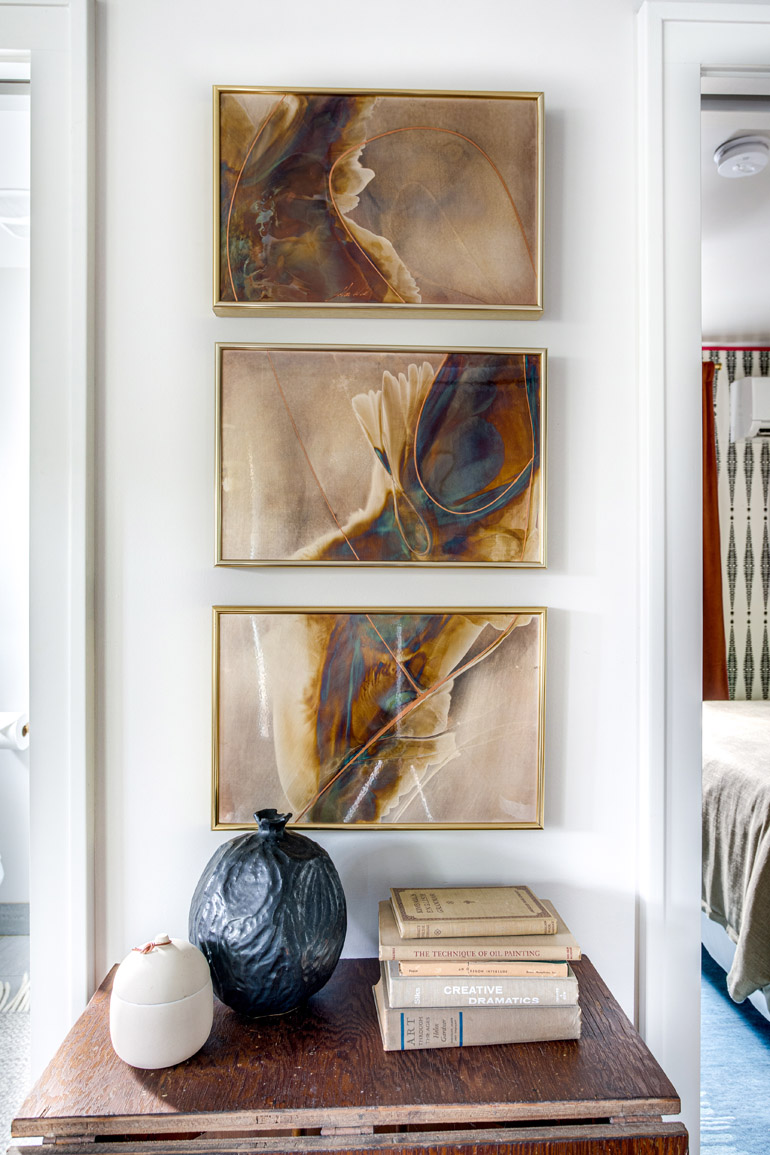 ---
Nature, Art and History as a Muse
"I'll often just start by collaging images and looking for color palettes, lines and textures that then start to inform my creative direction," says Peterson, as she describes her organic approach to design.
That process played out with the ADU project, where the creative spark was a vintage 1980s triptych, painted in Hawaii and showcased in the main room. The abstract work features sandy tones and gold leaf, a palette she repeats in the space and in a tightly curated selection of furnishings, art and accessories.
A 1970s Ekornes Montana couch — upholstered in its original, timeworn buttery leather — anchors the room, while an antique Italian wedding table is reimagined as a perfectly proportioned coffee table. A small vintage drop-leaf table and other versatile furnishings allow the space to function both as living room and dining area.
With floor space at a premium, Peterson uses wallpaper to inject visual pizzazz, cladding the double-height entry staircase in a metallic Schumacher design. In the bedroom, the ceiling wears Schumacher's "Rain Dots" — a homage to both the night sky and the local climate — while an accent wall features Schumacher's "Fern Tree"; another nod to the shapes and textures of the region.
---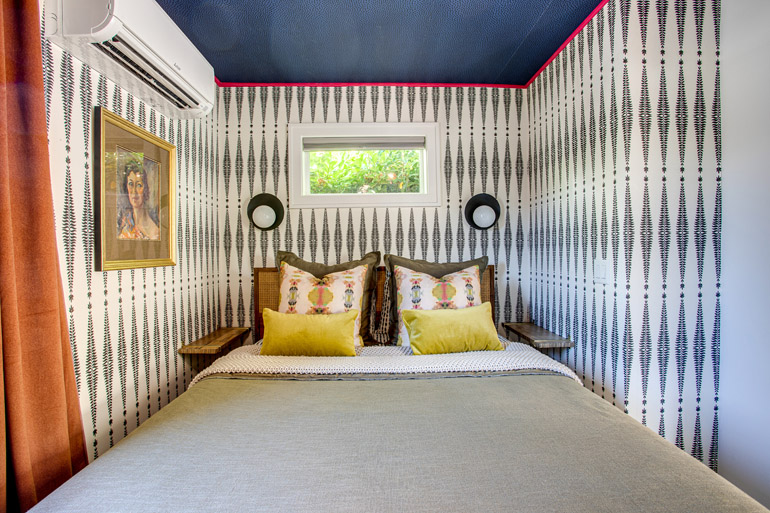 ---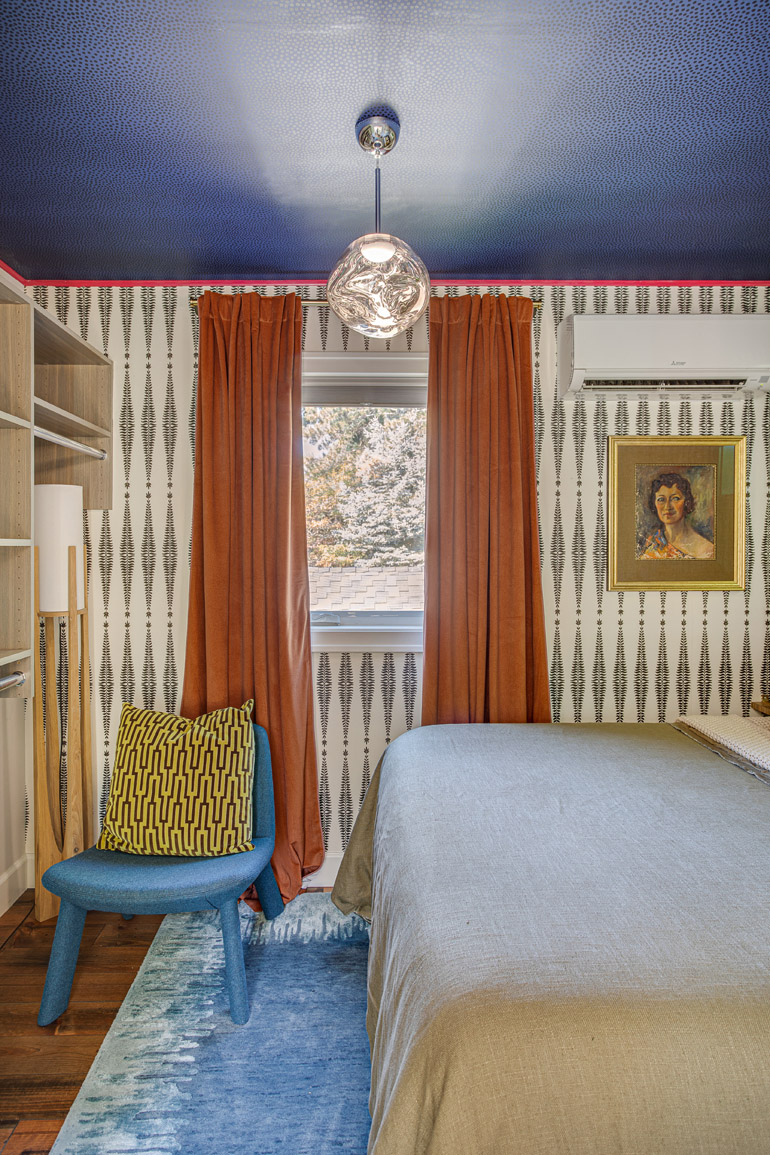 ---
Accessories act as punctuation marks, delighting the eye with interesting colors and textures — from an electric pear-colored throw pillow in the bedroom to vintage lamps and ceramics, or a playful knot made from repurposed textiles.
Given her talent for combining different styles and time periods, Peterson is especially smitten with Portland's vintage scene, where she scours shops for unusual objects and furnishings.
"Urbanite is like my heaven on earth," she says. "I can go and do about 10 loops through all the vendors — there is so much to be found."
In the process, she's also discovered some like-minded souls.
"The dealers are great. They love what they're doing, and if you want to talk about their super-cool sofa for 30 minutes — which I'm happy to do — they're stoked about it," Peterson says with a laugh. "I met a lot of local vendors through this process, which was wonderful because initially, it was really the only chance I had to connect with the design community."
Something tells us that once they see the magical getaway she's created, they will come calling.
---