BY DAVID SCHMITKE
Randy and Ellen wanted a master bath that looked out over the Asian-themed oasis in their backyard. The Beaverton couple  also wanted their Zen- style  retreat to have simple, elegant and peaceful features. Whoever they hired to transform their bathroom needed to have an eye for detail. "We are perfectionists with high expectations," Randy says.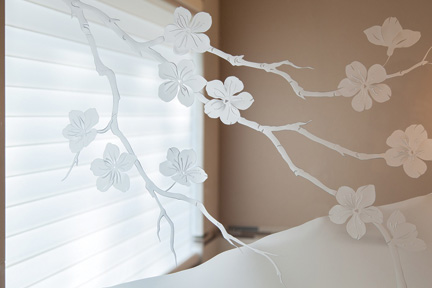 The couple chose Neil Kelly design consultant Kristine LeVernois, who after listening to her clients, decided a minimal approach would be best.  "Contrasts and repetition in textures, and color in the materials with strategically-placed patterns gently lead your eye throughout the space," Kristine says. "The new bathroom is a soothing and relaxing Zen-style bathroom retreat where they can soak their cares away."
The feature that grabs the attention of everyone who enters  is the  shower door. "We installed a beautiful large, glass "barn door" panel with a sand-etched scene of Mt. Fuji and cherry blossoms," Kristine says. "It is a breathtaking art piece and gives the room such a great open feel. It changed an ordinary spec-house bathroom into a spa-like space."  
This shower door is no lightweight and that created a design challenge.  Kristine and project manager, Ted Johnson, located solid stainless steel hardware to carry the weight of the large glass panels that slide back and forth on the upper rail like a barn door. "Kristine and Ted used every conceivable technology," Randy says. "And we appreciated their timely responses and updates
very much."
This Zen bathroom retreat is more than just a pretty face (lift). It offers function as well as form.  The U-shaped drawers below the sinks and deeper recessed cabinetry above offer plenty of storage. Wall-mounted faucets extending from the mirror create more counter space.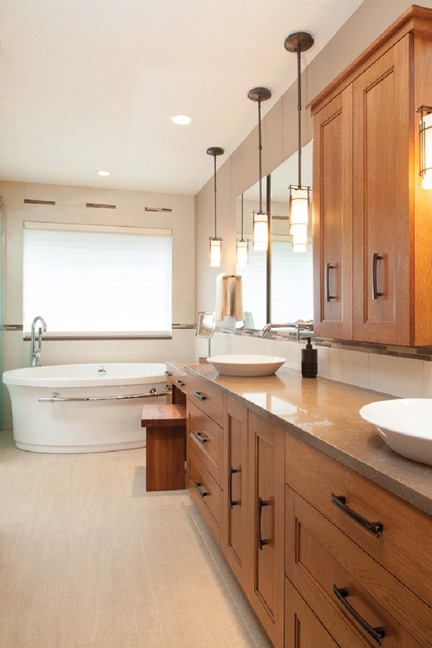 The Beaverton-area couple who watches home improvement television shows  made an important  observation about  their own project. "It is difficult to determine what a fair value is when you watch reality TV such as DIY," Randy says. "They show a kitchen remodel for $10K that has new appliances, cabinets and granite counters.  It just doesn't add up. Ultimately, you trust the people you work with, factor in the customization costs and materials, and then the project
'feels' right."
---
Neil Kelly: Home Improvement Contractors since 1947. For more information visit here.