Every morning as the sun peeks its way through carefully hung curtains, Shani Tuter wakes to find herself immersed in the elegance of her elaborate bed fit for a queen. Designer-store purchase? Hardly. Her bed is one-of-a-kind, made with love from her upcycling husband Paul Tuter from discarded castle doors found in a dark corner of a shed in Warrenton.
Tuter is just one part of the growing movement of upcyclers in Oregon. Eco-conscious home dwellers across the state have truly embraced the idea of taking something deemed garbage and recycling it into a product of higher quality or value than the original. From chic coffee tables made with recovered driftwood to designer-quality lamps constructed with paper pulp material (egg cartons), more and more Oregonians are figuring out it doesn't take sacrificing style to do something impactful for the environment.
"Upcycling inserts itself into the myth of the consumer culture and seeks to have us rethink the idea that objects have a linear progression from extraction of raw material to production to use to final burial in landfill," explains Daniel Thomas, CEO and co-founder of Hammer and Hand, a Portland-based remodeling contractor and home builder specializing in exacting craftsmanship and sustainable building techniques. "The way to escape from this is to design and define our relationship with the environment as circular. Upcycling is a reminder that we can 'cycle' energy; we can recapture and utilize the energy in objects and put them back on the top of the wheel." 
---
According to the U.S. Environmental Protection Agency, the average American produces 4.5 pounds of garbage in just one day. Even more staggering is a statistic that writer and garbage expert Annie Leonard reported in her book The Story of Stuff, where she discovered 99 percent of everything we buy ends up trashed within six months. With all this waste and constant flow of rubbish, our landfills could use any break they could get; and that's exactly what upcyclers across the state are seeking to do.
"The resources and materials are already there," says Paul Tuter, co-owner of Vintage Hardware and owner of My Grandfather's Nails in Astoria, where he literally hammers one of his deceased grandfather's carpentry nails into each one-of-a-kind piece he creates. "I believe that the resources are put here on this planet to use, but to use respectfully. Upcycling offers a lot less impact on the earth and gives you another option on how to use things. Everything has at least one or more use, if not more."
Aside from the obvious benefits to the environment, Tuter and Thomas both agree there is simply something powerful about incorporating an item into the home that carries with it a piece of history. 
"Regardless of the 'green narrative,' these are pieces of precise craftsmanship and fabulous design, and the story is an additive element," says Thomas, who has been actively upcycling for more than 16 years. "I believe strongly that the places we inhabit and the objects that surround us hold the energy of the stories and history that has passed through them. There's a positive effect that comes from the power of the story behind each piece; the connection that grows with us and the object, our willingness to put worth and value on its creation and hold it."
---
Through a recent collaboration with Portland design team Bright DesignLab, Thomas' company has created stunning pieces of furniture out of completely discarded items in their Wrap and Stack line. The Stack line is composed of old locker baskets and bleachers from local Oregon schools, complete with ABC gum and Sally-loves-Ben graffiti, while the Wrap line consists of the remnants of various 100-year-old barns disassembled across the state. Each piece of the Wrap line is completely unique, with history in each nail hole or weathered marking.  
Thomas' company adamantly uses sustainable practices, and upcycles more than just furniture, turning items like the siding from a garage into wainscoting in an attic bathroom. But his favorite piece he's ever helped create? "I really love the shelving we made from pieces of railroad beds and truss hardware and reclaimed bleacher seats from Lewis & Clark College," Thomas says. "It's called BarCode, and it's made of all found objects. I carried the rusty support platens across the rainy field, staining shirt and pants in the process. The design that Bright DesignLab came up with for this pile of bits and pieces has fantastic rhythm." 
Both Tuter and Thomas, along with the ever-growing sea of Oregon upcyclers, have high hopes for this movement in the state. The impact simply purchasing upcycled items may have on our landfills and garbage dumps could be monumental. "'Garbage' is a myth," Thomas says. "It's the buried history of our untenable relationship to the resources of the planet. When we create objects that are meant to fall apart and become useless 'garbage' we forget what a small place we inhabit. Our state and our culture need a massive shift in consciousness."
Thomas' goal for the upcycling movement and the mission behind his work remains the same. "To seek out the discarded and overlooked," he says, "and with thoughtful design create objects of beauty imbued with history."
---
Paul Tuter's guide to upcycling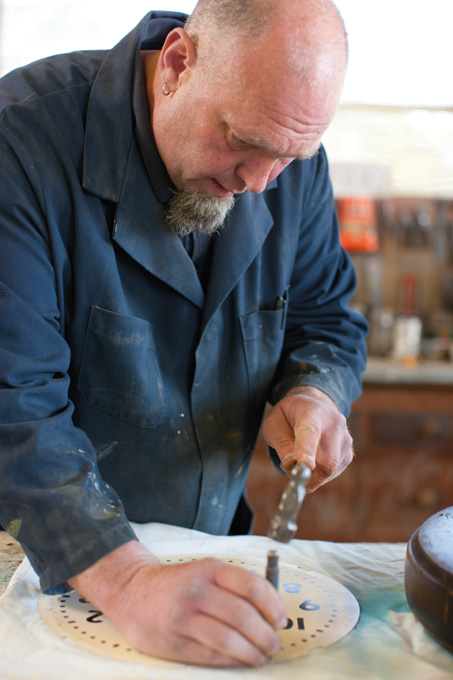 Be aware of your impact. "The first step is always awareness. There's at least one more use for everything, and if everybody did their part, the impact on the environment would be lightened up so much. Sometimes it's a pain to do the extra steps to do the right thing, but it makes such a difference."
Pay attention to what's around you. "I always have an eye out for materials. I have absolutely no problem stopping along the way to pick something up on the side of the road. I can't remember one vacation with my children that they haven't ridden home with something sitting on their laps or something strapped to the hood of the car."
Let the materials guide you. "A lot of times when I'm creating, I don't know exactly what I'm doing, but I've been known to just stand in the middle of my warehouse and look around and pretty soon it clicks, and it starts becoming something. I can't build much from plans, but I think I can build something pretty cool if you give me a bunch of junk. It sounds weird, but [the materials] just speak to me sometimes."