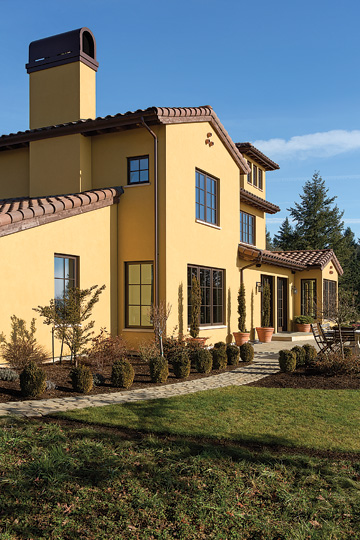 PHOTOS BY DAVID PAPAZIAN
Atop a grapevine-covered hillside just outside the town of Dundee sits a Mediterranean-inspired villa encased in buttery stucco. From every angle, the home represents a mélange of European traditions, from the deep limestone window sills and a potager garden bordered by espaliered fruit trees to a basement wine cellar and freestanding workshop that makes the property feel like an estate. Even in the kitchen, a beam of reclaimed wood over the range hints at an antique hearth.
What is not immediately apparent is the home's LEED Platinum status. That effect—of being preeminently green without losing anything to design—was achieved by Cellar Ridge Construction, a green building company based in McMinnville. The company has been building progressive, energy-efficient commercial and residential buildings in the Willamette Valley since 2006.
"You don't have to have solar panels on the roof to make it green," explains Carson Benner of Cellar Ridge, who worked as the project manager on the villa.
The idea of creating a green home that didn't adopt the typical green building aesthetic began when the home's owners, Claus Fjord Christensen and Annette Wilson Christensen, connected with Cellar Ridge during the hunt for the perfect property.
Claus, a Dane who spent his career as a hydrographer met Annette, an Oregon native, and former attorney for Microsoft, in Seattle. After marrying, they worked on a few home remodels together, good practice for a bigger build. "We'd always been drawing houses on restaurant napkins and knew what kind of home we wanted," Annette says. When they decided they wanted to live in Oregon wine country, the couple visited prospective sites with their real estate agent and the Cellar Ridge team.
Being involved in that early phase of property buying gave the contractors the opportunity to weigh in on everything from wells to roads, the early planning that ultimately led to LEED certification. "Until we get to know a property, it's hard to know what house belongs there,"  Benner says. The process also established a sense of collaboration between the Christensens and Cellar Ridge, the foundation for a successful build.
The couple immediately loved the hillside property, which was crowded with trees that would one day be removed and planted with neat rows of pinot noir vines. The spot offered a sense of connection to the red hills of Dundee and space for a home that would be "human in size," Claus says.
---
Cellar Ridge knew the construction project would adhere to the company's standard protocol for sustainable practices, such as recycling as much construction waste as possible, but the company had greater aspirations. Because the team had established trust and clear lines of communication with Claus and Annette through the real estate buying process, suggesting going even greener felt natural.
"We approach every project by asking, 'what is the style and how do we execute that style to the fullest?'" says John Mead, founder of Cellar Ridge. In this case, that meant respecting the Mediterranean design.
The home's architect, Matthew O. Daby of m.o.daby design, focused on creating an abundance of south-facing views, a passive solar design. Those views became a cornerstone—even the master bath has south-facing views through the glass-walled shower.
The Southern European-inspired kitchen has views of the front courtyard and south-facing windows in the adjacent dining room. "This is really where we live," Annette says.
In a home that melds cutting-edge eco-friendly construction with Old World style, the interiors appropriately combine past and present. "It's eclectic with a capital E," she says. "There's a constant tension between antique and modern."
In the kitchen, a display of Danish copper serves as a reminder of familiar roots, as well as the couple's international travels. The home became a vessel for their acquisitions from around the world – from the Bhutanese masks, to African baskets, to Mexican
folk art.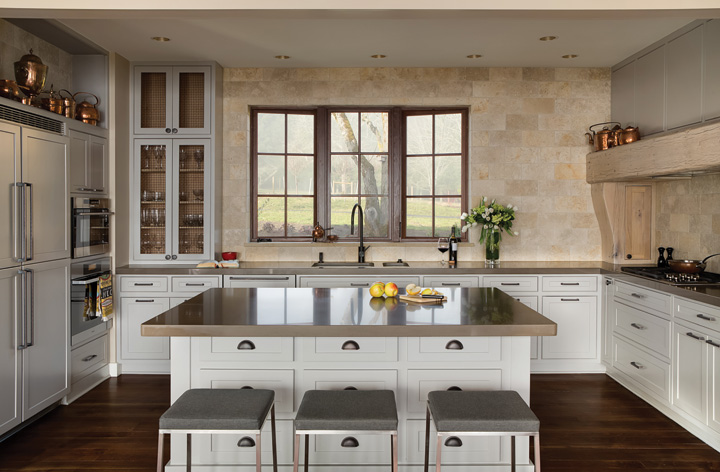 In the Southern European-inspired kitchen, a collection of Danish copper serves as a reminder of Claus' family roots.
---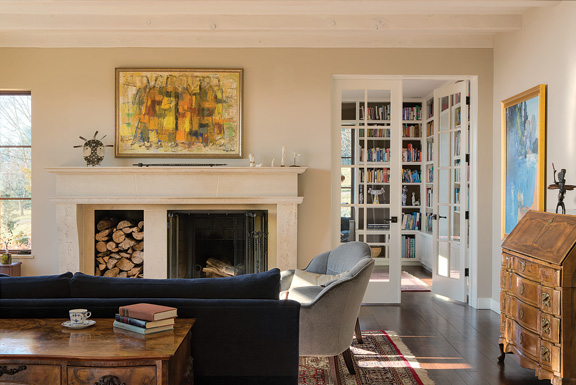 Their collections took top priority. In one case, the Cellar Ridge team installed ¼-inch drywall (instead of the standard ½-inch thickness) to ensure a massive hutch from Sweden could fit in a quiet nook off the dining room. That change—which happened mid-construction—could have only happened because of the constant and considerate communication between the Christensens and Cellar Ridge.
Claus had long dreamed of having a tower with 360-degree views, so Daby designed one. Today a three-story spiral staircase leads to a lofty enclosed perch equipped with binoculars.
The entryway between the home and garage—a space Daby says is often ignored in the design process—feels like a breezeway thanks to opposing windows with views to the entry courtyard and the potager garden. There is even a dog shower in the garage, a feature that helps keep the famous red soil of Dundee outside
the home.
Every custom request was accompanied by a careful examination of the home's sustainability. While the Christensens readily admit they were focused mostly on the home's design, going green did not cause them to make any sacrifices on that front—the cumulative effect of hundreds of decisions made easy by the Cellar
Ridge team.
"Every individual has a sense of what's important to them," Benner says. "We provide the info and expertise to help them make decisions about everything from countertop materials to
bamboo flooring."
Part of Cellar Ridge's mission is to help homeowners understand that what's good for the environment is good for their long-term investment in the home. For example, Cellar Ridge recommended the Christensens build extra thick walls, about double what code requires, an opportunity to hyper-insulate with spray foam and blown-in fiberglass. The team also recommended solar panels, but because they wanted to honor the Christensens' aesthetic goals, they chose to keep the roofline of the home purely Mediterranean by installing ground-mounted solar panels to the north of the house. 
---
Claus and Annette felt strongly about sourcing as many local products as possible, so Cellar Ridge found juniper from Eastern Oregon for the home's eaves. The durable and pest-resistant wood adds a rustic look to the exterior. The home's stucco was made from sand from Columbia River dredging.
While stucco can be a challenging material in the Pacific Northwest — moisture tends to degrade it — Cellar Ridge created a 3/8-inch rain screen behind a one-inch layer of stucco. That airspace helps dry the siding, which means the material will last.
"Part of being green is the durability of a home," Mead says. "Let's make these buildings last 100 years."
Other green features include thoughtful rainwater management, including a 5,000-gallon rainwater catchment system, onsite bioswales and toilets that were plumbed to use rainwater.
Water use informed landscaping decisions more than any other factor, says Scott Picker, owner of Aspen Creek Landscaping, who did all the landscaping for the property. He also happens to lives diagonally from Wilson Fjord. "Claus and Annette focused their resources on making sure that we were very conservative when it came to water consumption," Picker says. "Being a neighbor, I had a big stake in steering them in the right direction."
Since lawn consumes so much water, Picker recommended planting "prairies," with the exception of one 600-square-foot patch of lawn at the back patio. The "prairies" blend of clover, poppy, alyssum, clarkia, flax and lamb's foot fescue does not need irrigation once established, and it produces a meadow of flowers in the spring. Permeable pavers sit overtop dry reservoirs that collect water, which prevents soil erosion, a common problem in the Dundee Hills.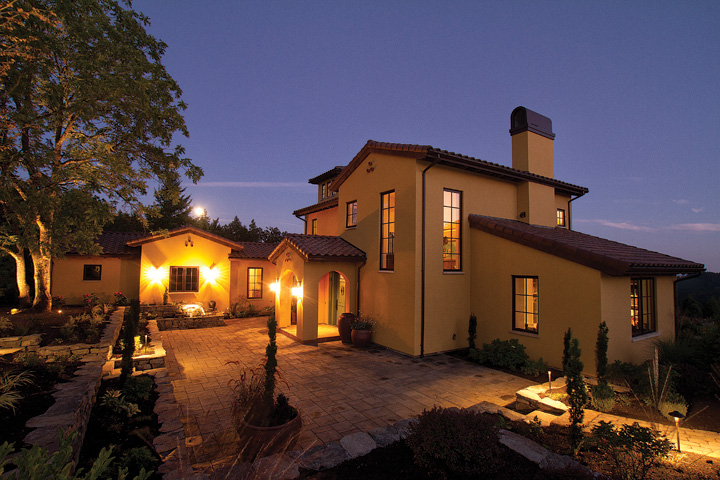 Annette had long dreamed of having a potager, a kitchen garden packed with veggies and herbs, so Scott found the perfect material to implement the design Annette created from memories of European gardens visited over the years.  The stone patios, stone walls and fountains Scott installed all add to the authentic feeling we hoped to achieve even though we're far from the Mediterranean, Annette says.  
Today, the Cellar Ridge team still joins the couple for meals and glasses of wine, something they did during construction, too. "Building a home is an emotional process that requires hundreds of decisions," Benner says. "We'd often have meals together to help maintain that foundation of trust."
Claus says that trust made all the difference. "It's not often you become friends with your contractor."
---
Editor's Note: Oregon Home apologizes for not mentioning Absolute Procurement in this article. Interior Designer Carrie Gates mixed modern and traditional styles throughout the home to give it an old-world style.