PHOTOGRAPHY BY JEFF FREEMAN
The owners of a 1950s Colonial-style ranch in Southwest Portland knew their kitchen needed to jump forward a few decades—or seven. Not only were the linoleum flooring and red vinyl countertops original, the room felt cramped, dark and hopelessly cut off from the rest of the house.
"The kitchen survived pretty well," says Kirk Linder of Mac-Bo Homes & Remodels.  "But it was in real need of updating."
A team from Mac-Bo worked with the homeowners to create a plan that added light and modern details to the space and create a connection between the kitchen and the adjacent living/dining room.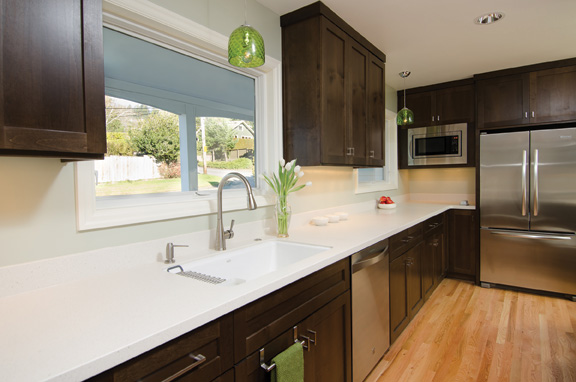 To fully bathe the kitchen in natural light, Mac-Bo installed large awning-style windows and replaced the nearby front door with a full-light door. New recessed can lights and three pendants provide a range of nighttime and low-light options.
For a modern look, designers chose Shaker-style cabinets stained a dark hue called "Gunstock" to contrast with a lighter-toned acrylic countertop. The team extended the upper cabinets to the ceiling for extra storage and removed the peninsula to improve the room's flow. 
To open the view from the kitchen to the living room, crews removed a broom closet and turned floor-to-ceiling walls into half walls. By replacing the old linoleum with real oak hardwood, the kitchen matched the adjacent rooms' flooring. "The flooring really helped tie things together," Linder says. 
The crew also updated the living room by removing bookshelves and adding a sleek fireplace mantel crafted from reclaimed fir. A penny-round tile backsplash in the kitchen became the inspiration for a new fireplace hearth. The Mac-Bo team outfitted a nearby bathroom with the same countertop material as in the kitchen and added round floor tiles inspired by the kitchen backsplash. Finally, new appliances—including a deep cast iron Kohler sink—brought the kitchen fully into modern times.
---
Mac-Bo is located in Portland, OR. For more information, contact [email protected] or visit here.