Writing & Photos by Alicia DeCosta & Hope Howard
The nationwide Home Builders Blitz event is a partnership between Habitat affiliates and the local building community to make sure families have a chance to own a simple, decent, affordable house. "We build a home from foundation to finish in only seven days," says Mark Forker, executive director of the Willamette West affiliate. "Mountainwood Homes was our go-to builder."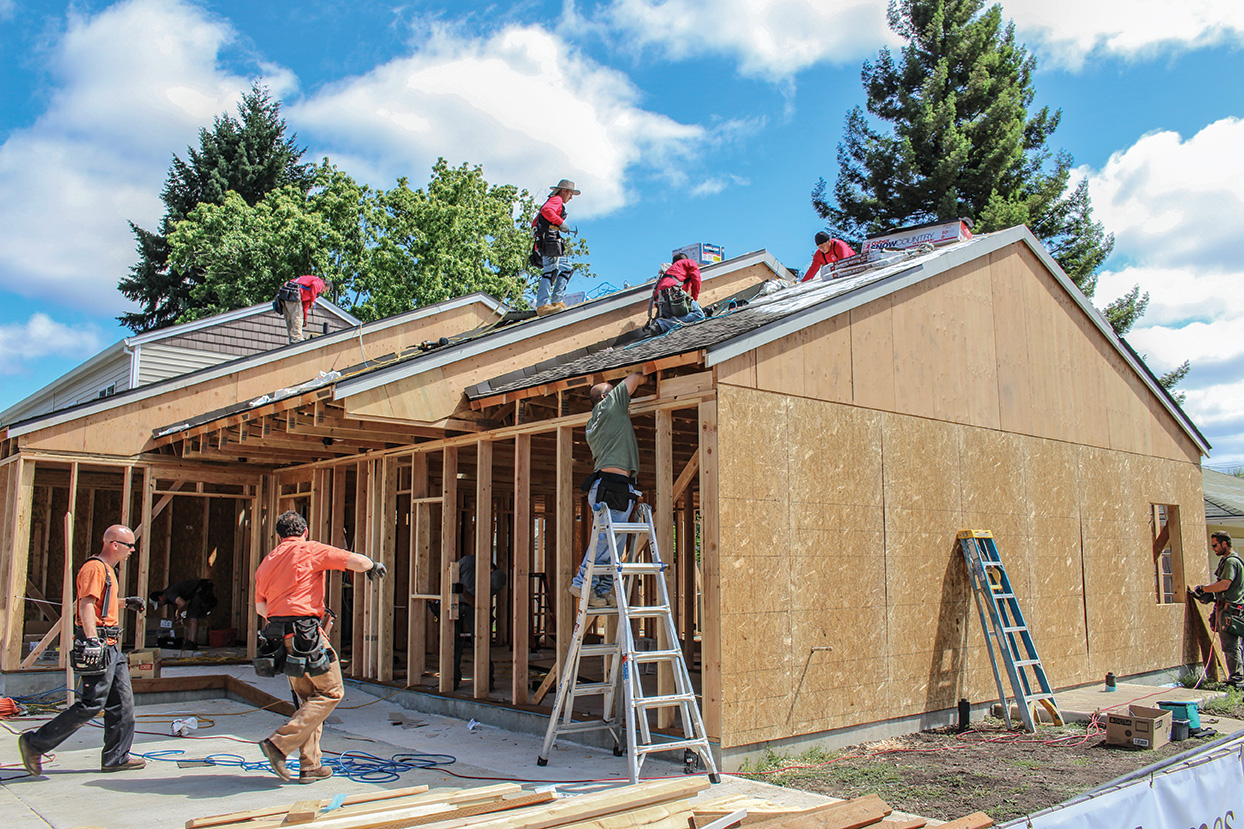 Robert Wood, president of Mountainwood Homes, sits on the board of Willamette West Habitat for Humanity as a way to stay involved in the community. He was excited to take on the Home Builders Blitz project. The award-winning Beaverton design-build firm is accustomed to solving homeowners' challenges, and this project was no different.
"Robert had recently finished a Blitz project for us in Beaverton," says Mike Wille, Willamette West construction manager. "It was such an emotional accomplishment, and we wanted to do it again."
The Habitat affiliate had the perfect piece of land in Hillsboro to build a one-story, handicap-accessible home. They just needed a homeowner.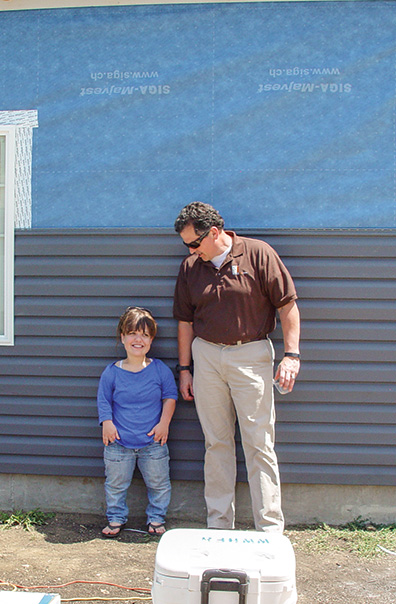 For some, an epiphany can come out of the blue. For others, it is a long time brewing. For Julie, a person of slight stature, it was a little of both. Her epiphany came while lying on her back, looking up at her parents' refrigerator. It was not the first time she had fallen off her stool in the kitchen, but maybe this time it would be her last. She found herself staring at the flyer her father had put on the refrigerator announcing Willamette West's search for homeowner applicants with mobility issues who needed an accessible home. "Maybe," Julie thought, "it's time to put my ego aside and ask for help."
What Julie got was a hand up, not a handout, from Willamette West Habitat for Humanity and Mountainwood Homes. Once selected for the program, Julie met with Mike Wille and Bill Huntting, Willamette West's home designer. The three of them worked together to design a home to fit Julie's unique needs.
The home presented a design and construction challenge: how to provide solutions for the homeowner's height and reach limitations.
The lower cabinet heights and accessible bathroom required the plumbing and electrical systems to be modified. Crews installed kitchen countertops at two heights, one standard and one customized for Julie. The clever stove design means she will not need to reach over burners to stir a pot, and a peninsula gives her the ability to remove an item from the oven and slide it onto the countertop—an important safety consideration when she is in her wheelchair.
The Home Builders Blitz concept presents its own challenges in coordinating the number of people required to complete a home in one week's time. "With labor, material deliveries, on-site storage, access, parking, inspections and utility connections, there are a lot of moving parts," Wood says. "Everyone thrives on the excitement and challenge of meeting the deadline."
The weeklong build also gives trade partners the opportunity to work side by side as a team.
"It's important for companies, regardless of size and revenue, to be active in their local area to improve the community as a whole," Wood says. "Mountainwood Homes is a small company, but through leverage of our team's relationships, we can have a big impact."
"Willamette West views the Blitz as a chance to see new products and building techniques in action," Wille adds. "And trades who can't make a long-term commitment to Habitat can still participate in the Builders Blitz."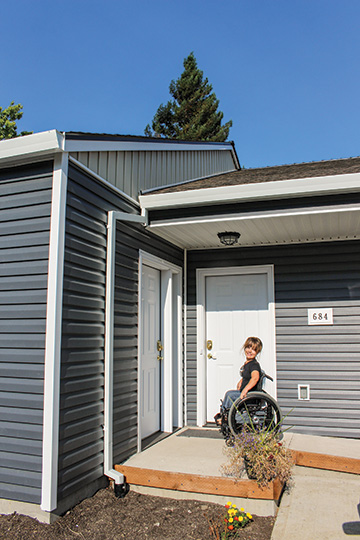 Julie popped over during her lunch hour daily to see the progress on her home. "Honestly, when you told me that my house would be finished in one week, I didn't believe you," she said.
On day four, she walked in to find her bedroom closet being installed. "You are just in time to tell us how high you want the clothes bar in the closet," the installer told her. Julie showed him where to place the bar. For the first time in her life, she said, she will be able to hang a hanger in a closet.
On dedication day, hundreds of people showed up to congratulate Julie and tour the finished house. Like a Street of Dreams home, the highlight was the kitchen and the creative ways the team made use of all available space.
"The opportunity I was given not only provided me with my own home, it transferred me from a girl who lived off of cereal and TV dinners in order to avoid burns to someone who can make her own meals without realizing that I am 2 feet shorter than the average individual," Julie says.
For the team that built the home, the weeklong project's legacy will live on. "My favorite part of the process happens toward the end of the job, when I drive up to the home and think about how much has happened in such a short time with so many people," Wood says. "This is now a place that a family will get to call home for a long time."
---
Willamette West Habitat for Humanity builds homes and hope in the communities of Washington County. The 2014 Home Builders Blitz project would not have been possible without the generosity of its sponsors: Allied Building Products, Anderson Construction & Drywall, Basco Appliances, Brothers Builders, C & S Construction, Cascade Concrete Accessories, Clackamas Electric, Craftwork Plumbing, DaBella Exteriors, Don Rhyne Painting, Dow, Ferguson Enterprises, GAF, Globe Lighting, Great NW Gutters, Hunter Douglas, Knez, Lowe's, Macadam Floor and Design, Mountainwood Homes, Oregon-Aire, Parr Lumber, Quadras, Royal Building Products, Siga, Suburban Door, Truss Components of Oregon, Valspar, Whirlpool Home Appliances and Yale Lock & Hardware.
For more information, contact [email protected] or visit www.mountainwoodhomes.com. To learn more about Willamette West Habitat for Humanity, visit www.habitatwest.org.