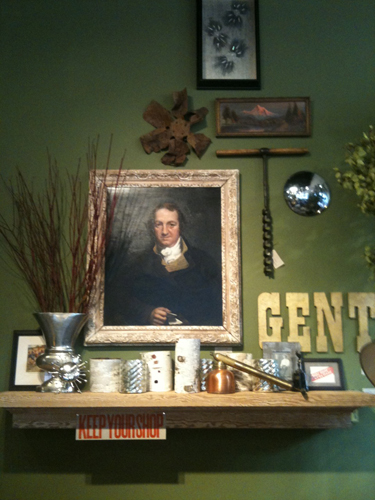 Boys Fort beckons.
Wandering through the pop-up shop is almost as much fun as sneaking into the "No Girls Allowed" forts of childhood.
Boys Fort is chock full of the kinds of things that beg closer inspection. Like desk lamps made from vintage cage front mechanic's lights. Or birch bark containers that look as if they were just peeled from the tree. Or reclaimed wood shelves, wool messenger bags, enameled camp dishes and even the rusted-out bed of an old pick-up truck that serves as display table.
Richard Rolfe and Jake France, interior and set designers, curate a fascinating collection of art and oddities for their men's lifestyle shop. In less skilled hands, it might have ended up a massive mess of butch kitsch. Instead, it gives Freud's envy theory some creds.
Guy junk is cool!
Boys Fort
600 NW 10th Avenue
Portland, OR

(Open now until December 31, 2011)