Go home with Matthew Dickman, writer of poems and keeper of the world's meanest cat.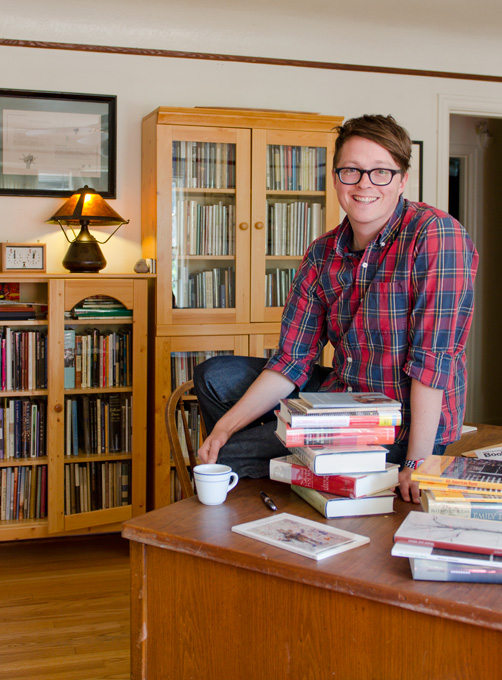 Photo by Jon Jensen
WHERE HE LIVES: One unit in a 1940s four-plex in Northeast Portland with "Ralph, the meanest cat in the world. I'm not kidding. The entire world," where he writes poems for literary publications including The New Yorker and Tin House.
WORDS' WORTH: The main room has glass-fronted shelves of books, a desk littered with more books and, on the walls, broadsides, limited edition printed poems by some of his favorite poets. The room "is like a big song." 
WIT MAN: A red vintage button-back loveseat is a castoff from a failed romance. Better a loveseat than a love child. "It doesn't cry."
THE DESK: Friend and fellow poet Mike McGriff "had a lot of extras of giant things like Cadillac cars and desks," so loaned Dickman one in 2001. "I think it looks like something that would be a on a ship." 
ODDITIES: He wonders about the inner lives of polar bears, the beauty of hotel soaps, and the party incident behind a cryptic apology in a circa 1910 letter a friend found and framed for him, that now hangs in a writing nook. "It says, 'I promise I'll never try to speak French to you again.' Doesn't it make you wonder? What went on at that party?"
LIGHT MOMENTS: Copper lamp and chess game timer are from poet Carl Adamshick. "Do I play? Well, I lose." The two get together weekly for "pints and poems."
SHELF LIVES: Vintage cabinet was a garage sale score; newer ones were bargains picked-up while working at Kitchen Kaboodle. These days he pays the bills with poetry, book sales, writing workshops and tutoring aspiring poets. His book, All-American Poem, won 2008 American Poetry Review/Honickman First Book Award.
---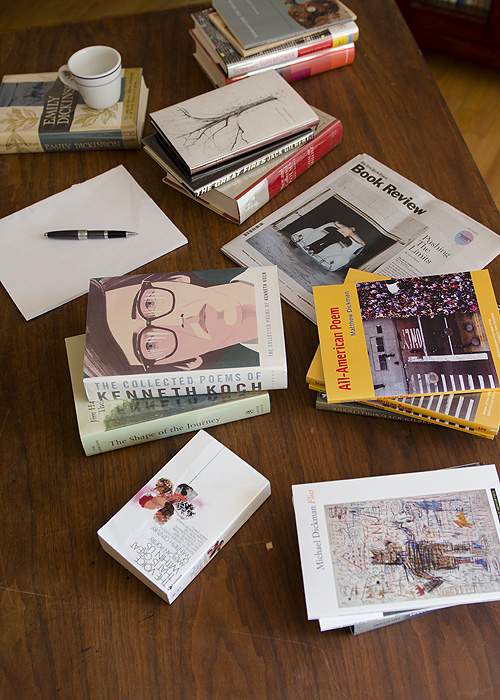 Photo by Jon Jensen
POET AYES: He writes of hands held like "two terrible letters of introduction," a slow dance that is "all kindness like children before they turn three" and displays on a shelf, like a rare treasure, a plain gray rock picked up years ago from the beach at Seaside.
FAMILY TIES: On his desk sits a recent New York Times review of a book by his identical twin brother, poet Michael Dickman. The article mentions Matthew and refers to a poem about their older brother, Darin. "All three brothers in the same article." 
FAMILY TIES TWO: Dickman grew up in the Lents neighborhood of Portland with his 98-year-old grandmother, mother, sister and her identical twin daughters, Eloise and Pearl, who now live in Vancouver, Wash. "Four generations of women under one roof." 
WRITE ON: "I can't write on anything special — no handmade paper books tied with a leather strap  — it's too precious. On regular paper, I have no responsibility." 
BUY THE BOOK: All-American Poem was first printed in hardback in a limited run of 500 "because poetry never sells." It won several prizes including a $10,000 Kate Tufts Discovery Award.  Those rare sold-out hardbacks now command $150-$400 online. The seventh printing of the paperback runs about $14, available at bookstores including Broadway Books and Powell's. His second book, Maykovsky's Revolver, comes out in spring 2012.
LISTEN: Matthew Dickman reading Slow Dance at a Narrative Night event in 2008.
READ MORE: Poet Dorianne Laux captures the rare relationship of the "poetry posse" consisting of Matthew Dickman, Michael Dickman, Mike McGriff and Carl Adamshick, in her lovely poem Savages in her book Facts About The Moon.
READ MORE II: The New Yorker profiled the Dickman brothers in an article about twins entitled Couplets by Rebecca Mead.