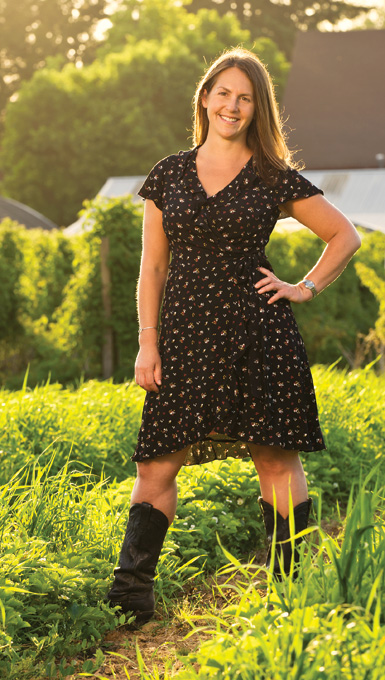 The founder of one of Oregon's most enduring farm-dinner series celebrates 10 years of giving and receiving from the land.
Who she is: Founder of Plate & Pitchfork, a summer farm-dinner series that features farmers, local chefs, winemakers and stellar five-course alfresco meals (plateandpitchfork.com).
What she does: The 44-year-old's duties include disposing of lamb carcasses, washing dishes at 2 a.m. and choosing which nonprofits the series will benefit. This year: Farmers Ending Hunger, Oregon Tilth's Organic Education Center, Food Works Farm and the Sauvie Island Center.
Formerly: The Southeast Portlander started in newspaper ad sales and moved on to public relations and, eventually, development for wineries, restaurants and FoodHub, a web site for professional food buyers.
Her roots: A daughter of scientists who believes in the lessons of her childhood home garden. "We learned what it meant to start a carrot from seed, and that if you left the zucchini on the vine, it would only be good enough for zucchini-raisin cookies."
What motivates her: "People don't know where their food comes from. There are moments at the farmers' market when someone picks up a carrot and says, 'Why is there dirt on this?'"
Her pitch: "If I can get you to come to a dinner and walk away with one 'aha' moment, then we've done good. You can't come to a farm dinner and meet the farmers and not think, 'I want them to succeed.'"
What makes her squirm: Being in the spotlight. "The farmers, chefs and winemakers are the story. Plate & Pitchfork is a catalyst to highlight them."
What she would eat daily if she could: Morels on toast. She and her Labrador mix, Rocky, forage for the mushrooms every spring.
If she could change one thing: Make healthy food accessible to all populations in Oregon, especially the working poor and people outside the I-5 corridor. "It's great that we celebrate food, but it shouldn't be so highly revered that it becomes inaccessible."