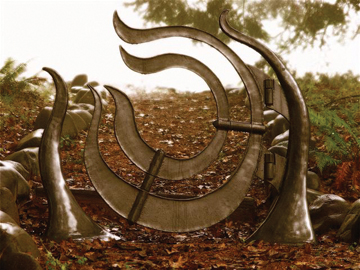 Most children build forts and hideouts in their backyards, but when blacksmith Alan Flashing was 13, he built a forge. "I wanted to make my own knife blades," he says. "So I built a forge in our garage and backyard." Flashing, 57, moved to Oakland, Ore. from Texas 11 years ago. He works in a 5,000-square-foot studio, which houses two coke-and-coal-fueled, open-hearth forges, two gas forges, three large power hammers and tens of hammers. "I probably have 70 hammers," he says. "I make a lot of them to have them exactly the way I want."
  The garden gate (left) is made from steel and brushed to achieve its patina. "Its design came to me after looking at tribal tattoos from the South Sea Islands," he says. He fabricated a custom 70-foot-long vine railing (below) for a couple who owned a nursery. "They wanted something organic-looking, but they also wanted to be able to look through it," he says. "There are more than 100 pieces of 'vine' in that railing, and no two pieces are the same."
  Flashing, who also makes indoor and outdoor furniture as well as other architectural items, likes the longevity of metal. "I like creating things in an extremely enduring medium," he says. "I can heat something as unyielding as steel to more than 2000 degrees, bend it to my will and create something that will last for centuries. And, I like fire, so I guess I have a bit of latent pyromania." The 4-foot by 4-foot garden gate costs $6,000. Custom railings start at $100 per foot.
Contact blacksmith Alan Flashing via his website, flashingforge.com. His work is also at the Palace Gallery (110 1st. St., 541-549-6777) in Oakland, Ore.