When furnituremaker Bill More left Brooklyn, N.Y. and headed west on a train, the trip had an unexpected result. "I met my wife on that train," he says. "She got on in Wisconsin, and neither of us got off until the train arrived in Portland."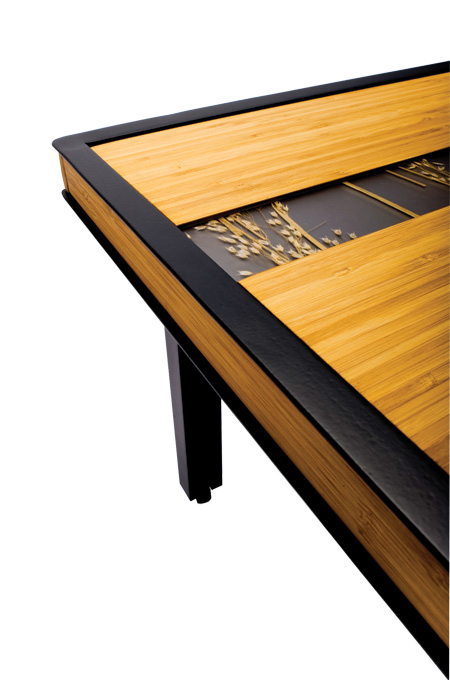 More grew up in New Jersey, where school sparked an interest in building things. "I liked classes like shop where they'd give you tools and just let you work with them," he says.   
He studied architecture at the Pratt Institute in Brooklyn, N.Y. and at the Boston Architectural Center, but after working in architecture for a few years, he changed his career trajectory. "I wanted to have my own shop and physically create the things I had in my head," he said. "When you work in architecture, you're usually working on other people's projects. You rarely get to create them yourself. I like the freedom of being in the shop and creating the things I'm thinking of."
More took a welding class to learn some techniques, but mostly taught himself how to make furniture. Now he works out of a shop near his home in Jacksonville, Ore. His newest work combines steel and Moso bamboo plywood with a resin inlay. "I'd been making a lot of slate-and-steel tables," he says. "I really like the combination of materials I'm working with now. Bamboo is such a light material visually that it balances out the other pieces of the table." And it's easy on the earth, too. Moso bamboo can grow as much as 47 inches in 24 hours and 78 1⁄2 feet high in 40 to 50 days, according to Bamboo, the magazine of The American Bamboo Society.
To make one of his coffee tables (pictured), he cuts 3/4-inch Moso bamboo plywood to size and builds a steel frame around it, which is then powder-coated. All the tables are finished with natural hard-wax oil and have foldable legs to keep shipping costs affordable. "The resin inlay (pictured at right) is the unique part of the table," he says. "Each inlay is set into a groove in the table. Because the resin inlays use natural materials like leaves and grass, each one is different." This 43-by-22-inch coffee table stands 15 inches tall and costs $790.
Contact furnituremaker Bill More via forgedelements.com.