As a child, furniture designer and artist Rachel Sanders knew her future lay in creating pieces for interiors. "I was always reassembling my room," she says. "It was an ongoing project throughout my childhood. Then I'd go around the rest of the house and make sure everything was just so, sometimes to the annoyance of other members of my family."
Originally from the Midwest, Sanders moved to Portland 14 years ago. She has degrees in fine art and interior design from Indiana University and works as both an interior designer and an artist. "Interior design and art definitely work hand-in-hand," she says. "The room can inspire you, and I feel lucky that I've had some opportunities to create art for specific spaces."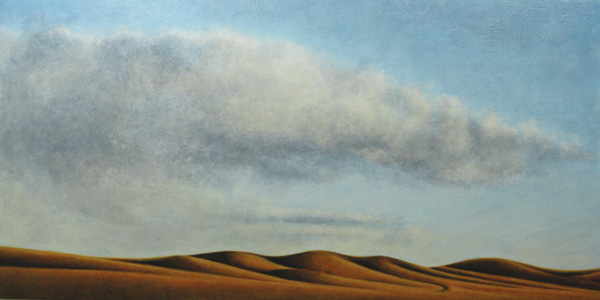 When designing furniture, Sanders starts with salvaged materials. "My concepts are sustainable, so often I'll see an object and it gives me an idea," she says. "I found the cast-steel grate for the top of the Enzo Table (below, right) on the street in Bloomington, Ind. A lot of times, people overlook the sculptural aspect of found objects such as this grate." After having the circle cut for the center, the tabletop was welded to a base Sanders designed. She made the Blade Table (below, left) from a cast stainless steel air-conditioning grate. The base is separate from the table, so the top lifts off.
  Both tables are examples of Sanders' interest in Asian and modern design. "I'm attracted to both modern and Japanese design, so I like furniture that is low to the ground," she says. "When I design, I like to have the furniture be the main thing in a room and not add things to a room that will distract from the lines the furniture creates." The Enzo Table is 31 inches square and 181/2 inches tall. It costs $600. The Blade Table comes  as a set of two tables that can be nested together. Each table  is 24 inches square, but one is 111/2 inches high and the other is 151/2 inches high. The Blade Table set is $1,200.
Contact interior designer and artist Rachel Sanders via her website, rachellorasanders.com . Her paintings are currently on display at the  Blackbird Wine Shop (3524 N.E. 44th Ave., 503-282-1887) in Portland.