For Mar Goman, art is what you make out of the materials you have at hand. "I call myself a multimedia artist," she says. "The media itself isn't as important as what you make out of it. I'll use found objects, old paper, fabrics and rusty metal. I go to junk shops and antiques shops and even old garbage dumps."
Goman, who was born in Fall City, Wash., has lived in the Pacific Northwest most of her life and makes her home in Portland. "I grew up in the 1950s and 1960s, so I was really into science in school," she says. "I always made things as a kid, but I didn't pick up art again until I was in my 30s when I went to Portland State University to study art."
For the last six years, the dress has become an important image in Goman's work, and she has done a series of wall hangings in the shape of dresses and embellished with buttons. "The female form has gotten a bad rap in the history of art, so the shape is a stand-in for the female shape that I can then create on," she says.
For this two-layer wool dress she carefully chose each button. "The buttons are sewn on in rows," she says. "I find the ones that I think will look good, and then I sew them onto the piece by hand. The embroidered figure in the center is related to the wounds we all carry inside us."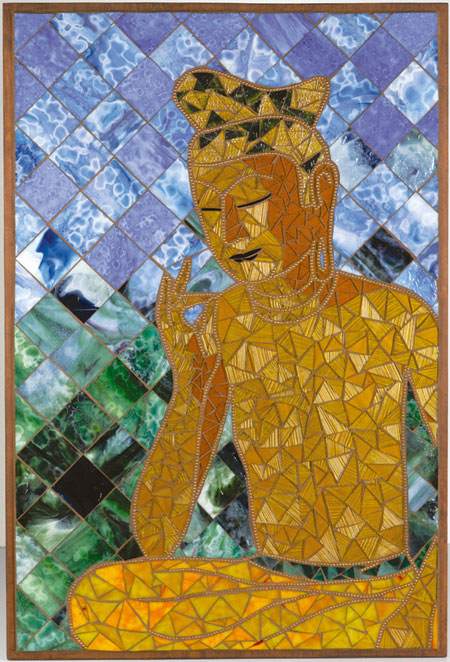 Goman, who works out of a studio at her home as well as one in downtown Portland, has a large collection of items waiting to be turned into art. "I have boxes and boxes of buttons, paint and old suitcases filled with things such as yellow pencils," she says. "I collect them knowing they'll be transformed into something someday." This 17-inch-high by 13-inch-wide wall hanging is $300.
Contact multimedia artist Mar Goman via the Francine Seders Gallery (6701 Greenwood Ave. N., 206-782-0355 or go to sedersgallery.com ) in Seattle. In Portland, her work is at the Guardino Gallery (2939 N.E. Alberta St., 503-281-9048 or go to guardinogallery.com ).