Ceramic artist Gretchen Vaudt professed her intention to become an artist at an early age. "I was going through some of my old things and I found something I'd written when I was in first grade,"she says. "On the paper, it said I AM AN ARTIST."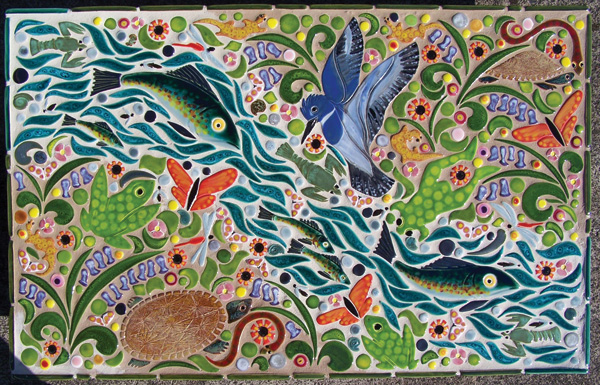 Vaudt, who grew up in Minnesota, started off as a photographer (she'd picked up her first camera in second grade). After attending an arts magnet high school where she focused on film and photography, she studied briefly at the Minneapolis College of Arts and Design before moving to Portland in 1998. "I decided to move here because I wanted a more artistic life," she says.
As photography became more digital, Vaudt transitioned into ceramics. "I really liked the hands-on part of photography," she says. "I used to print all of my images in the darkroom, for example. Digital photography didn't hold the same appeal for me."
After taking a course in ceramics at Portland Community College three years ago, Vaudt began to work in clay, forming her organic-shaped Pinch Pots. Sold in a set of three, the shallow Pinch Pots—perfect for cradling everything from pairs of earrings to teaspoons of, say, artisan olive oils next to a place setting, since they are food-safe—range in diameter from 1 1/2 inches to 3 inches and nest atop each other like seashells. "The bowls are small enough that you can hold a set in the palm of your hand," she says. "I like making them in sets of three because it feels like a little family."
To make the pots, Vaudt takes a ball of clay, sticks her thumb in the center and then pinches the clay until the pot is the size and shape she wants. After she's made one bowl, she creates two more to fit into it. After the bowls dry, she fires them and glazes them in white. "All of
my Pinch Pots are white," she says. "White brings out the shape and texture of the bowls."
For Vaudt, ceramics is about the process. "I like the hands-on aspect," she says. "Working with clay and making each piece is very meditative." The Pinch Pots cost $28 for a set of three.
Contact ceramic artist Gretchen Vaudt via e-mail at [email protected]. Her nesting Pinch Pots are sold at Noun (3300 S.E. Belmont St., 503-235-0078) in Portland.