Denise Sirchie has a passion for making mosaics, one hand-cut piece at a time. Her sculptures and panels begin with the selection of a form (think vintage mannequin, gazelle-shaped knickknack or Plain Jane frame gleaned from a thrift shop or estate sale) and the gathering of materials—mostly recycled items such as jewelry, china, stained glass, marbles, tile and slingshot pellets—from different shelves in her studio, a former detached garage behind her Multnomah Village-area home that her contractor-husband transformed into a cozy mosaic-making place.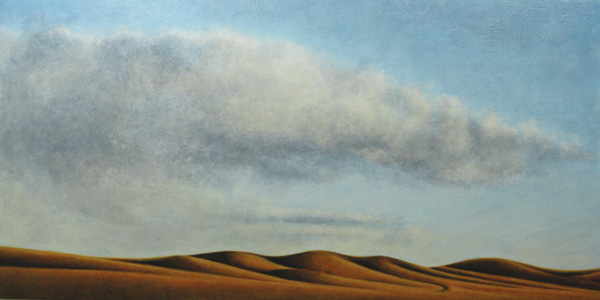 "After I pull together a bunch of possible materials, I wait a day and the forms almost whisper to me, 'That's not me!' or, "That's me, that's me, that's me!'" says the 60-year-old, who was born and raised near Philadelphia. "I'll hand-cut a piece, and once I put the shard on the form, the gates are open and—I go for it! Two-thirds of the pieces end up looking totally different from the way I first envisioned them." Gazella, a 22-inch-tall by 13-inch-wide sculpture, retools marbles, stained glass and beads.
Sirchie learned to sketch, paint and draw portraits during summer art classes when she was a girl. She went on to study at the Philadelphia College of Art, eventually moving to California with her husband and son, where she became a potter before relocating to Portland 16 years ago. A longtime admirer of mosaics, she taught herself the craft and immersed herself in it after treatment for breast cancer nine years ago. Two years ago, she suffered cardiac arrest, and was resuscitated after being clinically dead for 13 minutes. "When you've walked down some of the roads that I've been down, your artwork has a different meaning to it," she says. "I love that there are no boundaries in mosaics, just as I view life itself!" Gazella costs $900. Blue Bird Perch sells for $150.
Contact mosaic artist Denise Sirchie via her website, mosaicsnw.com.
She also takes on architectural commissions such as countertops and hearth surrounds (she once mosaicked the "mouth" of a 21-foot-tall dragon-themed fireplace in an Asian bistro at Cashe Creek Casino Resort in Sacramento, Calif.).