By Nancy Ranchel
The things I do in the name of research. Another Saturday, and perhaps a weekday or two, have been spent in search of alternative shopping so that you, dear readers, don't have to visit the mall.
Here are some ideas for vintage and alternative gifts, arranged by PDX region for your convenience.
SE Hawthorne:
1. For those of you looking for something completely different this year, check out Bee Thinking off Hawthorne. Shannon (my frequent partner in shopping crime) and I saw the sign, got curious, and wandered in. Fascinating store. The amazing staff loves to talk bees, mead (yes, folks, they sell mead), hives, honey, beekeeping, you name it. (FYI, next time a swarm shows up at my house, I know whom to call.) This is a great store for gifts. Go for honey, mead, bee starter kits, bee-keeping tools, lip balm, beeswax candles. All organic, all cool. I'm betting you can cross a lot of names off your list with fun purchases from this store.
NSR suggestion: Pick up several bottles of mead to take to parties. Buy candles and lip balm for stocking stuffers. And heavens, if someone in your life has debated keeping bees, you can outfit them from this store, or get them started on building and caring for hives.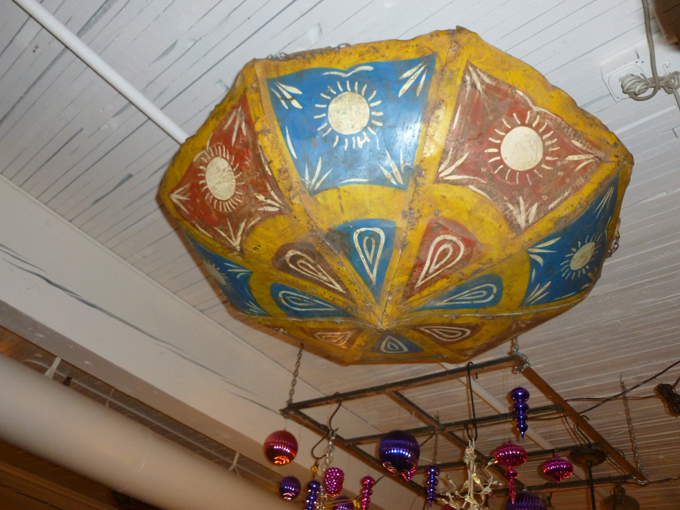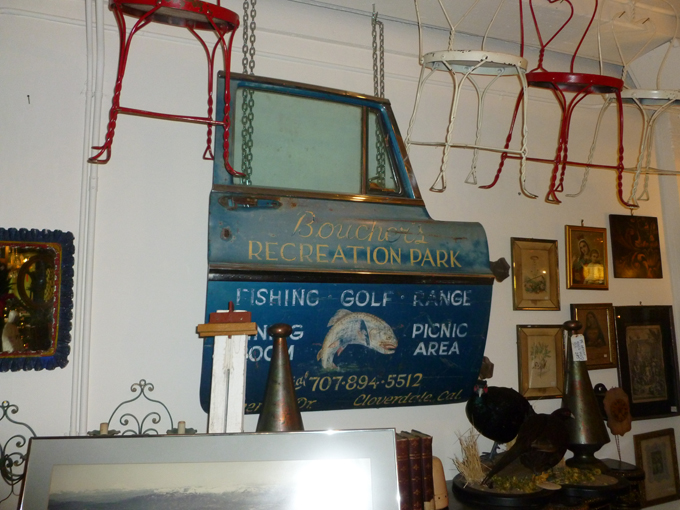 2.  Vintage Pink was our first vintage store of the day, and it was hard to beat. The selection is extensive (it's a multi-vendor space), making it a challenge to leave the premises empty handed. If you're looking for New Year's Eve party supplies, there is a lovely variety of punch bowls and vintage cocktail glasses and shakers (above). If you need a chair, how about the one in the photo to the right?
NSR suggestion: For your hip mid-century modern loving friends, check out the affordable vintage pottery / stoneware right inside the front door. Shannon scored a small piece for $20.
3. The Reclaimory is such a great space. Go for the furniture!
4. Red Snapper is a small store offering cool inventory.
NSR suggestion: Check both of these stores for vintage rings for $20 and under, plus affordable mid-century pottery.
East Burnside (these stores are all next to each other — an easy one-stop shopping experience):
5. Modo Boutique offers vintage and consignment clothes, plus great selections from local jewelers.
6. Hattie's Vintage Clothing has vintage and used newer clothing, plus vintage jewelry. I found great crystal earrings for a friend who is collecting them for her bridal bouquet.
NSR suggestion: These two spots are the places to shop for your hip relative who likes to be noticed. Here you can find a fab patchwork 70s jacket or cool 60s cape. Also, for friends who wear hats or scarves, or like to decorate their coat lapels, check out the vintage jewelry. For under $50 you can find a vintage brooch or vintage clipon earrings — both excellent for lapels or blinging up the ribbon on a favorite fedora.
7.  Lisa Rietz showcases amazing clothes and jewelry from Portland designers. Go here for yourself, and buy yourself something gorgeous — maybe for an upcoming party, or just because the clothes are wicked lovely. (The website says the showroom is on Thurman, but I believe it has officially moved to East Burn.)
NSR suggestion: This is the place where you may want to consider a gift card. If there is a woman in your life who likes to buy local and stand out from the crowd while being top-of-the-line elegant, she'll love something from this store. Get her the experience of finding a new designer with a gift certificate. Tip for guys: Get a gift card for the amount of a dress. Do it!
OMSI area: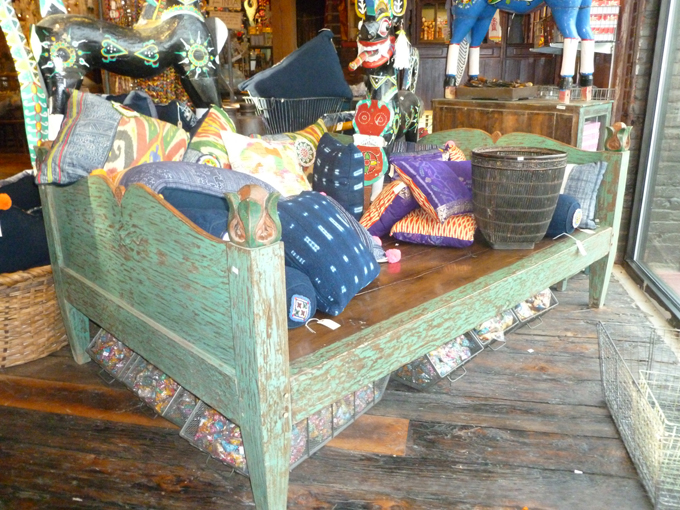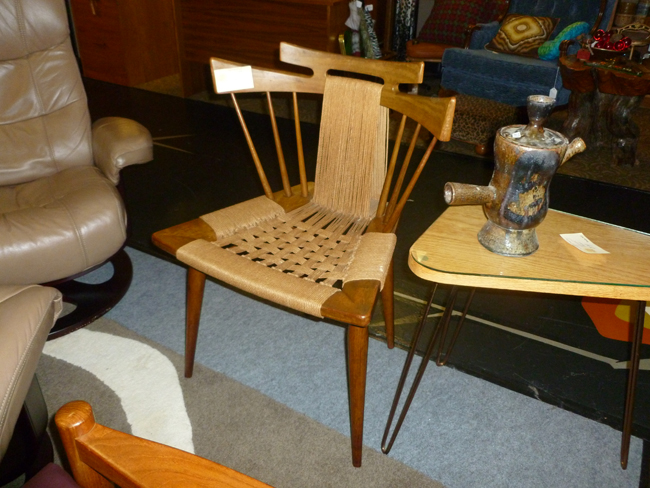 8. Bernadette Breu has moved recently, and is now across the street from clarklewis. My friend Kris and I were on our way to Luce for lunch when we got stuck on Water Ave by a train. We made lemonade out of the train-lemon, and went to clarklewis for lunch instead. When we spied Bernadette Breu, we abandoned our East Burnside plans. I was quite enamored of the metal umbrellas in the photo above and the car door in the photo to the right.
NSR suggestion: Looking for hostess gifts? Check out the fab selection of vintage ornaments. Perfect for holiday parties!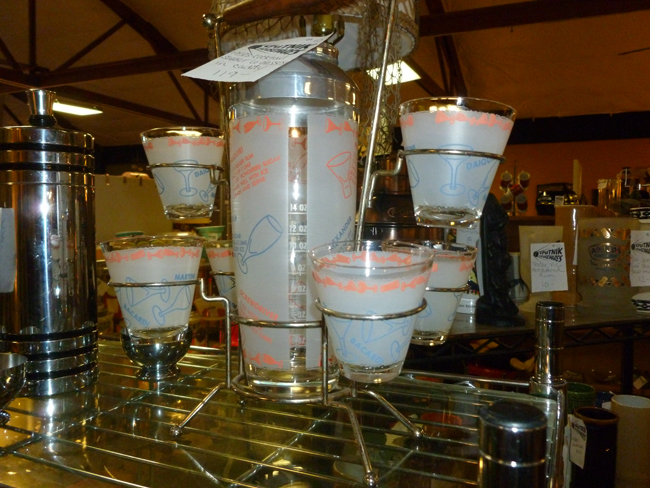 9. Cargo is a tough store for me because it has a lot of new, small, plastic items. But it also has vintage goods made from salvaged materials. I bought several bags made from post-consumer waste for my friend Jess. (Sounds like a terrible gift, right?) The store is a marvel — total eye candy. The new space is huge and fun to walk around with every inch of the store crammed with colorful, blingy treats. Personally, I would love a Balinese day bed (see the photo to the left). Who wouldn't?
NSR suggestion: Buy a reusable bag made from old feed sacks and put a bottle of mead (see point 1 above) in it. Fantastic gift. Alternatively, put a throw pillow made from vintage fabric in the reusable bag. Low impact heaven in the shape of a gift! 
Go on, now — finish up your holiday shopping with neat finds at these great PDX locations. And, share the gems you discover with us here!