Grab some earplugs to protect your hearing when the whistle-blowing trains roll by, turn up your testosterone dial to keep aggressive contractors in their souped-up trucks from cutting you off and head for this lively design district in Portland where everything from paint to fine furniture to balloons for your next THANKS FOR WORKING ON OUR REMODEL bash awaits!
Brush It, Roll It, Do A Faux Finish: The Paint Is Here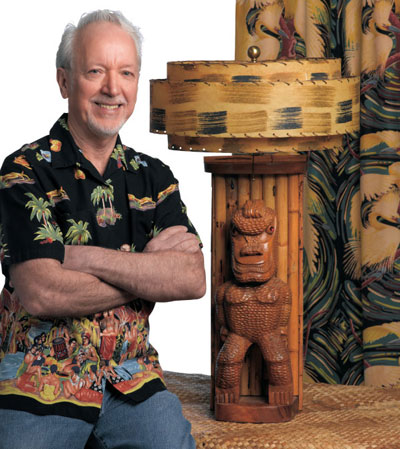 If you're looking for paint, you've got product galore to choose from in the East Bank.
You'll find creative resource specialist Will Martinez at CHROMATIX (222 S.E. Alder St., 503-230-8925 or go to chromatixpaint.com), where you can buy fine architectural finishes such as the Fine Paints of Europe brand from a Vermont-based company whose discerning founder sought out Dutch paints and varnishes to use on his own 18th century home. "I'm the guy who teaches applications like these, using the best paints in the world," says Martinez, pointing to this sample board (right). Also here are Royal & Langnickel faux-finishing brushes and tools ($3.95 for an Ultra-Thin Bristle Fan brush) and Sculpture Stencils ($11.98 for an 11-by-17-inch Harlequin pattern), and many other specialty tools of the painting trade.
Billed as the city's only exclusive Benjamin Moore Paint store, KALEIDOSCOPE PAINT (909 S.E. Salmon St., 503-236-6919 or go to kaleidoscopepaint.com) stocks 3-oz. samples of the brand's entire 3,500-color palette.
Since 1890, MILLER PAINT CO. (317 S.E. Grand Ave., 503-233-4491 or go to millerpaint.com) has mixed quality paint that stands up to Pacific Northwest weather.
Store More!

You wonder whether design consultant and store owner Judy Romano has a webcam in your bedroom when you walk through the storage solutions on display in the CALIFORNIA CLOSETS (1225 S.E. Grand Ave., 503-234-6383 or go to californiaclosets.com) showroom. "Are you wearing only 30 percent of your wardrobe because you can't see the other 70 percent?" she asks.
Does she have extra-sensory perception or did someone in the know let her know that I'm reaching over my boxed-up wedding dress every morning to get to my work clothes?
Vignettes show you well-appointed walk-in closets (and a pantry and a laundry room) outfitted with shoe cubbies, shelves, spaces for hanging shirts or dresses, and reeded-glass cabinets perfect for folded sweaters. You'll also see a range of how much each set-up will typically set you back. (Though every project is custom, a pantry runs $3,200 to $3,800; a walk-in closet with center island, $11,000 to $13,000.)
Accessories large and small, from a pull-out ironing board to a pull-down Murphy bed, inspire you to make the most of whatever space you have, whether it's to store your clothes, your tools or your cereal boxes.
"We do everything from closets to laundry rooms to garages," says Romano. "We organize the whole house."
For Your Fixture Fix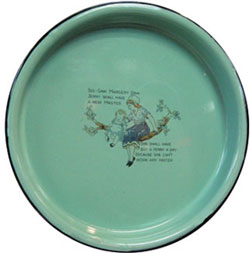 Portlanders won the trifecta of lighting stores with the fixtures, shades, hardware and lightbulbs available at SCHOOLHOUSE ELECTRIC CO. (330 S.E. Martin Luther King Jr. Blvd., 503-230-7113 or go to schoolhouseelectric.com), HIPPO HARDWARE & TRADING COMPANY (1040 E. Burnside St., 503-231-1444 or go to hippohardware.com) and REJUVENATION (1100 S.E. Grand Ave., 503-238-1900 or go to rejuvenation.com), all in this district.
We loved Schoolhouse Electric Co.'s Willamette in Antique Black with a 12-inch-wide-by-8-inch-tall Aria shade in charcoal ($204 for the fixture and shade), which Sarajevo-born Portland artist Yellena James' illustrations adorn.
Packrats will prefer the nooks and crannies and merchandise at Hippo Hardware, which stocks thousands of vintage glass shades along with light fixtures from every era. The business is Underwriters Laboratory-approved to repair light fixtures and lamps.
Preservationists should start at Rejuvenation, which owns the period-authentic lighting market and is housed in a restored 1902 flower market. Before you visit, go online to the antique lighting New Arrivals page for fixture porn such as a "magnificent 60-inch-diameter 1965 chandelier." For $2,450, it's yours!
Dovetails And Rails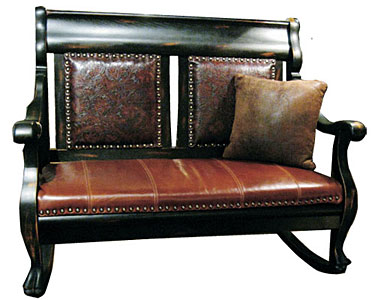 Get ready to rumble when you step into the SIMON + TONEY (105 S.E. Taylor St., 503-721-0392 or go to simonandtoney.com) showroom, where custom cabinetry makers David Simon and Bill Toney display their work. "Fifty trains a day roll through here," says Simon, when an Amtrak train passes close enough to violently rattle the windows in the former farm implements showroom.
We wanted these kitchen cabinets (right) as well as June's Work Table ($3,900), which is topped with an Eastern heart maple butcher block, and The Family Table ($5,200 for a 84-by-38-inch table), which has a handsome Oregon walnut plank top and hand-cut cabriole legs.
Paraphernalia To Fete Your Favorite Crew
Where to find a few things to make your THE REMODEL'S—FINALLY!—OVER! party a silly success? Walk the aisles of THE LIPPMAN CO. (50 S.E. Yamhill St., 503-239-7007 or go to lippmanco.com) and you won't leave empty-handed. Why not present your architect or designer with a fake rhinestone belt buckle in the shape of a dollar sign ($12)? Here, too, are hammer-shaped beer bottle openers ($9.95 each) with stainless-steel heads ("Can be used to hammer a nail—or to get hammered!") for your framing crew. And how to express your happiness with no longer having to cook on a George Foreman grill in the basement? Blow up a few bunches of yellow balloons imprinted with a Smiley face ($15 a dozen, which includes ribbon strands and helium inflation)!
Eat, Drink, Shop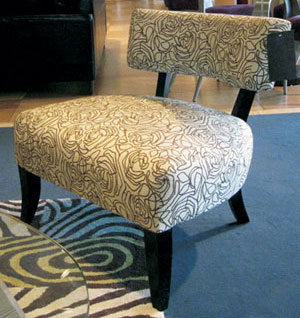 A blue-neon COFFEE sign greets you as you enter the WATER AVE. COFFEE ROASTERS (1028 S.E. Water Ave., 800-655-3955), where you can take a load off and enjoy your favorite barista-poured drink.
For a hearty-but-quick lunch, walk over to THE DAILY CAFÉ AT REJUVENATION (1100 S.E. Grand Ave., 503-234-8189), where lunch is dished up from 11 a.m. to 3 p.m. (breakfast fare—frittatas, burritos and granola—is served from 7:30 to 11 a.m.). We liked the tuna salad on an artisan roll with cukes and organic greens ($6.75) and the smoked turkey avocado panini with Jarlsburg cheese and chipotle aioli on a ciabatta roll ($6.75). 
Typically Not-For-Sale Store Stuff Sold Here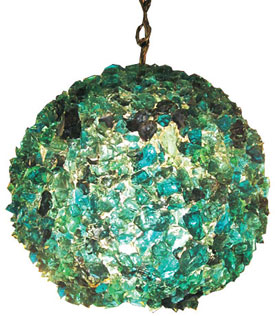 If your signature fashion statement is a  pile-up of pearl bracelets and silver cuffs that climb halfway up each forearm, you need this double T-bar display stand ($25) from Portland Store Fixtures Inc. (110 S.E. Main St., 503-232-4878 or go to portlandstorefixtures.com) to keep the family jewels from ending up in a tangled heap of silver and pearls atop your dresser each evening.
Also here are walk-in-closet-perfect upholstered benches on cubed legs ($96), metal bins ($12), used casters ($6 for a 5-inch-wide roller), used shelving materials perfect for frugalistas ($6 for a 12-by-36-inch maple shelf; $15 for a 15-by-45-inch cherry laminate shelf), screaming deals on tissue paper ($34 for 48 sheets of 20-by-30-inch paper), and vintage mannequins ($60 for a male torso with abs on a vintage wood base). "Two Halloweens ago, I had a guy come in and buy two mannequin heads so he could go to a party as The Jonas Brothers!" says assistant manager Erin Wilson. 
Set On Tile Or Stone?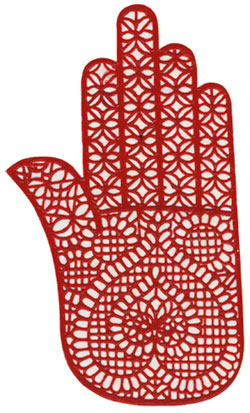 You barely have to move your car to price tile and natural stone finishes in this district. Check out the options at Casa Bella (1901 S.E. Grand Ave., 503-231-4102 or go to casabella.com), Intrepid marble and granite (1140 S.E. 7th Ave., 503-235-2010 or go to intrepidrocks.com), Oregon Tile & Marble (1845 S.E. 3rd Ave., 503-231-0058 or go to oregontileandmarble.com), Pratt & Larson Tile & Stone (1201 S.E. 3rd Ave., 503-231-9464 or go to prattandlarsonshowroom.com), S'tile (345 S.E. Yamhill St., 503-230-9380 or go to getstile.com) and SUrface (1235 S.E. Grand Ave., 503-235-1235 or go to surface-home.com), where interior designer Kara Bertolucci  revealed this dot-tastic Mercedes Mosaic in copper, moss and gray on an ivory background that she'd use as a backsplash in a kitchen. We want it, too!