The Heathman Hotel has hosted some of the best contemporary writers in the world. A newly remodeled room at the downtown Portland hotel pays homage to those visiting authors and Literary Arts, the organization that brought them to Oregon. The bookish theme is not too literal. "I was looking for things that reminded me of being in a library," says interior designer Kat James of Bluevine Studio in Portland. She also tapped her own creative experience and "what I understand about where inspiration comes from" to design a space that implies writers and their studios. The room is a comfortable retreat meant to spark creativity. A room of one's own, as Virginia Woolf knew, is so much more than mere space.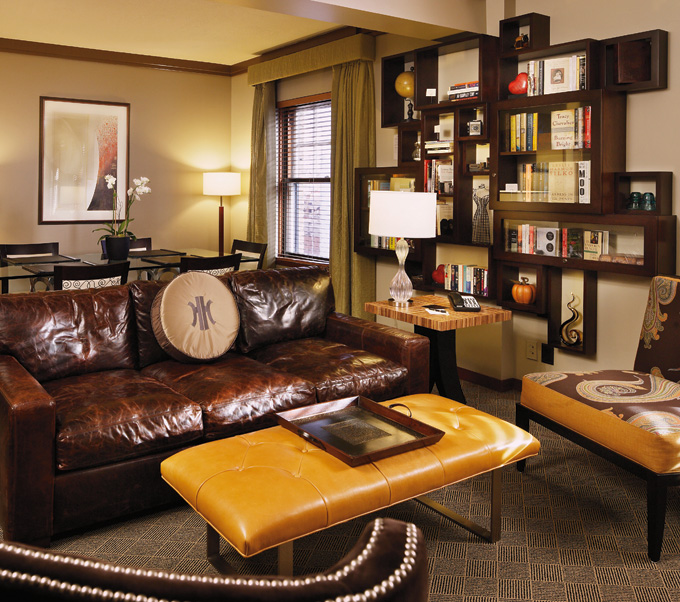 LITERARY CLASSIC: Deep seat cushions in rich, worn leather give the sofa from Restoration Hardware ($5,500; restorationhardware.com) the look and feel of a well-loved leather-bound book.

PAPERBACK EDITION: The wide arms of the Dania sofa ($1,199; daniafurniture.com) are perfect for resting a book or an elbow. It comes in several colors, including a nut brown similar to the inspiration sofa. The weathered-leather look will come with time.

 

 

LITERARY CLASSIC: The ottoman from Mitchell Gold + Bob Williams ($1,180; mgbwhome.com) was custom-covered in marigold leather to echo the colors of the paisley-covered chair.

PAPERBACK EDITION: The legs and shape are different, but the West Elm ottoman ($399; westelm.com) can be had in bright dandelion-colored velvet with button-tufted details.

LITERARY CLASSIC: Custom-built shelves, some with glass fronts reminiscent of shadow boxes, hold pieces of inspiration such as seashells, a bird nest and an antique pencil sharpener. There is also the word "write" on one wall for those who need a little more prodding.

PAPERBACK EDITION: Arrange a mix of different size shelves and wall cabinets with sliding doors to float an asymmetric shape on one wall. The Expedit shelf ($40; ikea.com) in black, white or birch finish also can hold basket "drawers." Like Victorian curio cases or bell jars, they can be used to display rare finds from nature and oddball objects grouped together.

 

 

LITERARY CLASSIC: James covered a slipper chair in a rich brown-and-yellow paisley textile by Maharam (fabrics can be as high as $175 per yard; maharam.com) because she loves the amazing prints and the company's commitment to reducing its environmental impact.

PAPERBACK EDITION: The low profile and shape of the slipper chair at Target ($299; target.com) are similar to the inspiration chair and comes in several big floral-print colors.