Bored by off-white walls but not crazy for color? It's a design dilemma. Garrison Hullinger of Garrison Hullinger Interior Design in Portland demonstrates that neutrals don't have to be bland.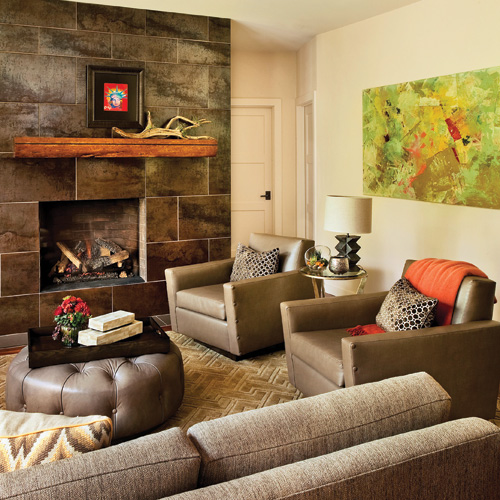 CHALLENGE: The client's home had a nice contemporary feel but "begged for some warmth," says Hullinger. Metal railings on the stairs and a "wall of stone" were great features but added to the cool feel. How to add interest and personality to the new digs?
SOLUTION: Showcase the personal and add texture. The homeowners had an original Peter Max painting that Hullinger wanted to "take center stage" over a new mantel made by Chad Patton of Kirk Alan Wood and Design in Newberg. The rough timber echoes the wood in the stairs and incorporates a hand-forged piece of metal tying the space together.
PRO TIP: "We started with a large-scale, patterned-wool knotted rug and a couple luscious leather chairs that make you want to sink into while reading on your iPad," he says. Pattern, texture and a sumptuous use of leather and fabrics add a feeling of warmth without moving into visually hot colors. "This palette gives the Sidonie Caron piece of artwork a wonderful stage in the room."
CHALLENGE: How to make a small space work bigger?
SOLUTION: Think multi-use. The round-tufted ottoman can serve as footrest, table or seating. A custom sectional (available only to the interior design trade) offers more seating than a sofa, yet the small scale fits the room. Both leather chairs and the ottoman are custom pieces from Patagonia Trading Company.
PRO TIP: "I love boxes and I love trays for keeping things tidy and in their place," says Hullinger. Hide remotes, pens and small games in carved or inlaid boxes that will also add a layer of texture to the room. A wood tray on the ottoman creates a stable surface for drinks and also ties back to the dark wood legs of furniture. "We love mixing metals," he says. It's a design balancing act "that most people don't have a comfort doing on their own."
CHALLENGE: Beauty isn't enough. The room had to function for a busy young family.
SOLUTION: The commercial-grade, custom-upholstered sectional has texture and color variation to help hide small spills. Leather and even faux-leather pieces will last and age well with a little conditioner and regular cleaning.
PRO TIP: "We never use ultrasuede," says Hullinger. "Who wants to see butt imprints?" He looks for fabrics that score high by Martindale method standards, a test to predict wearability. Fabrics are rubbed and tested for durability. Hullinger selected commercial-grade fabrics he would expect to last 15 years in clients' homes. He advises changing out throw pillows and smaller pieces every few years to keep things interesting.