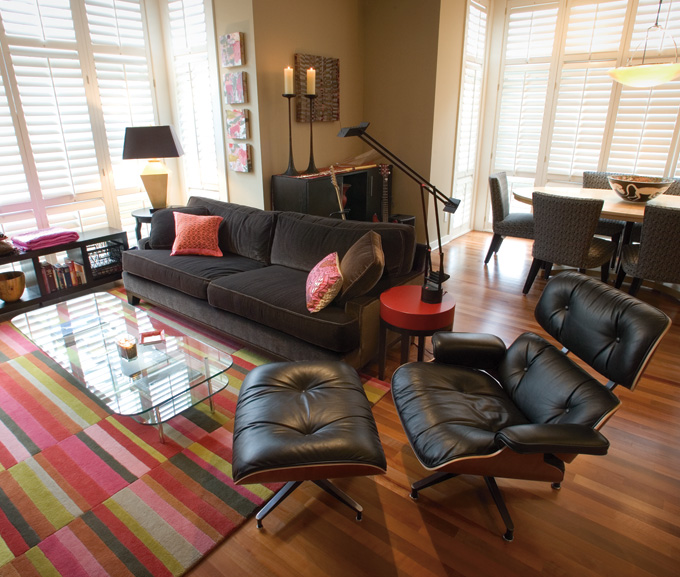 Everyone loves a wide-open space until it comes time to furnishing one. Without walls to clearly define one room from another, a loft presents a unique design challenge. How do you make the place feel homey while maintaining that appealing visual flow? Kimberlee Jaynes Interior Designs shares ideas on how she tackled the issue for a client with a Portland loft.
PUZZLE: The client first placed her furniture along the walls, blocking the windows with the back of the sofa.
SOLUTION: Create "zones" with the placement of foundational pieces such as the sofa and area rug. The back of the chocolate brown mohair sofa now helps delineate the sitting space from the dining.

PUZZLE: All white walls can make a person feel lost in space 
SOLUTION: Jaynes took her color inspiration from a candy advertisement in a magazine — chocolate candy in a hot pink-lined box. When the painters first covered the near wall (not pictured) in vibrant pink, the client phoned Jaynes in a panic. "I'll never forget that shriek. And she is not a shrieker." Jaynes asked for her trust. "Chocolate brown [in the sofa] is going to drink up a lot of the energy that's going on here with the pink." Khaki walls also tempered the bright color. The client loves the final results.

PUZZLE: A little zigzag in the wall between the windows might leave amateurs stumped as to how to use it.
SOLUTION: With the sofa serving as a divide, Jaynes put the dining table by the corner windows and placed a buffet against the zigzag wall. That also helps delineate an area for the client's guitars. Tall candleholders on the buffet make a stronger statement where little ones might feel fussy. To unify the space, colorful art placed on the narrow wall helps anchor the sofa by repeating the vibrant colors of the rug. 

PUZZLE: How do you keep a small space from feeling overwhelmed with stuff?
SOLUTION: "I like large-scale things in small spaces. It doesn't feel crowded. The opposite happens." She also believes introducing different texture makes a room interesting. With the leather chair, wood floors, wool rugs, mohair sofa and lipstick-red round concrete end table, she "wanted a little reflection" so brought in the glass coffee table. Pink bohemian pillows bring the color from the rug and wall up to the sofa. "Using color helps create the rhythm that carries your eye throughout the room." A semi-traditional lamp in gold leaf is an unexpected touch.